Heads up! We're working hard to be accurate – but these are unusual times, so please always check before heading out.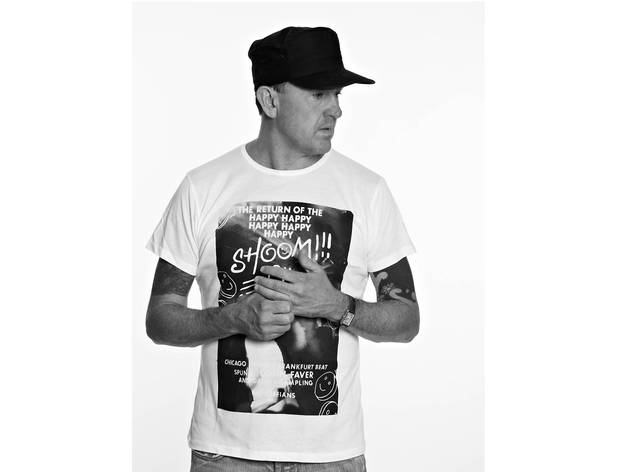 Interview: Danny Rampling
The pioneering U.K. DJ Danny Rampling spins at Cielo.
Though its influence is still felt around the world, the London club night Shoom—an epicenter of the U.K.'s original house-music explosion—was a short-lived affair, opening in 1988 and closing in 1990. But the DJ behind Shoom, Danny Rampling, is still going strong (despite a brief retirement in the mid '00s)—and on Thursday, July 11, he'll be spinning at Cielo alongside fellow vet Sandy Rivera at a party hosted by the venerable Nervous Records.

Time Out New York: I'm guessing a lot of younger nightlifers might not get just how important Shoom was to the development of modern clubbing. Obviously, you could write a whole book about Shoom.…
Danny Rampling: Yes, you could! But briefly: Shoom was the catalyst and the blueprint for the rave scene in the U.K. It was one of a small handful of clubs that emerged in a short period in '88, during what became the Summer of Love. That's when the whole movement was born.

Time Out New York: What was Shoom itself like?
Danny Rampling: It was a small underground club for 300 people, in an unlicensed gym. It attracted a wild mix of people from all walks of life, and it was all about peace, love and unity.

Time Out New York: Sounds a bit hippyish!
Danny Rampling: I would say that it attracted a very colorful crowd. And the vibe of the club spread very quickly. Because of Shoom and a few other clubs—like Spectrum, which was run by Paul Oakenfold, and of course the Haçienda in Manchester—the whole movement spread quickly throughout the U.K., and the rave scene was born out of those parties.

Time Out New York: What do you think the appeal was? Was it strictly the music?
Danny Rampling: Well, Shoom was a state of hedonism—a free state of hedonism. [Laughs] But musically, we played Balearic beats influenced by the island of Ibiza, alongside all this great U.S. house and techno. It was very refreshing at the time. There was all this new music emerging, and so many groundbreaking records from Detroit people like Derrick May and Kevin Saunderson were coming out right at that time. And of course, there was all the great stuff coming out of Chicago, from Frankie Knuckles, Marshall Jefferson, Ten City and everybody else.

Time Out New York: It must have been kind of mind-blowing to be playing all these great tracks that most people had never heard before.
Danny Rampling: It was an amazing time for music. A lot of it was coming out of disco and R&B, so there were a lot of vocals. Songs like "Promised Land" by Joe Smooth sent out really strong messages that reflected the feeling and the collective consciousness that emerged at that time.

Time Out New York: In the book The Record Players: DJ Revolutionaries, Bill Brewster dubbed you the "acid-house evangelist." Did you see yourself that way?
Danny Rampling: I think other people saw me that way. I just thought that I had an opportunity to deejay to a crowd of people, after years of struggling to actually be a DJ. And I had this great catalog of new and exciting music to choose from, which included all of these great acid-house songs from Chicago.

Time Out New York: You were kind of known for really getting into the music.
Danny Rampling: Back in those days, DJs in the U.K. didn't really dance in the booth or anything, which is something that I became known for. That need to dance was something that was generally generated by the audience, and I guess a lot of journalists kind of picked up on that. But I certainly never thought of myself as some kind of messianic character.

Time Out New York: I think other people thought of you as that, though.
Danny Rampling: Well, they did, but that's what it was like back then. David Guetta said that I inspired him to deejay the way he does, in that animated way that he has. I read that in Forbes, by the way. [Laughs]

Time Out New York: You played a few times in New York not long after the Shoom days, right?
Danny Rampling: In the early '90s, for sure. I played at the Tunnel, Limelight, Twilo.… I remember playing this club in midtown where Erick Morillo used to play.

Time Out New York: That would be Centro-Fly.
Danny Rampling: That's right, yeah—I played there as well. And once at the Roxy with Paul Oakenfold. I never really did the American circuit, really—though I do love playing in America. The scene there has changed so much; it's become this widespread scene that is absolutely booming, and everybody wants to be part of it. Well, not everyone—but a lot of people do.

Time Out New York: Do you think that the U.S. scene is developing in a healthy, sustainable way?
Danny Rampling: It's become far more commercial, but I think that it's amazing and that it's long-lasting. It's a very, very positive step forward for the American music industry, and for youth culture in America.

Time Out New York: You've seen the rise and fall of various superstar-DJ cultures. Do you really think this American version is going to stick?
Danny Rampling: You never know for sure, but I think America is experiencing what Britain experienced in the '90s as far as superstar-DJ culture goes—but since America is a much larger country, it's on a much larger scale. I do find this whole EDM thing very positive; the DJs have gone through the roof, getting these huge fees of a million dollars a gig or whatever. But that only makes sense, because there might be a couple ohundred thousand people at that gig, so it balances out.

Time Out New York: So you don't think the EDM scene has gotten a bit bloated?
Danny Rampling: I can understand the criticism, but I think it's to be celebrated. It's a triumph for electronic dance music in the States. And now radio hasfinally gotten behind this music too—that's absolutely brilliant, and it's brilliant for everyone involved in the scene. It's great that America has this now. And whatever you think of EDM musically, what eventually will happen will be that people will mature, and their tastes will as well. The more underground side of things, of the house and techno scenes, will have a new audience as well. I really think everyone will benefit from the rise of EDM in America.

Time Out New York: You rather famously retired from deejaying in 2005. And yet, here you are.
Danny Rampling: I like to say that I just took a break. [Laughs] That was mainly due to circumstances in my personal life. And as a result of that, I wrote a book [Everything You Need to Know About DJing and Success] about deejaying. If I had still been on the DJ circuit, there's no way I would have had the time to write that; it took a couple of years. As a result of the book, I started coaching at the Ministry of Sound DJ school. So something good came out of that break.

Time Out New York: Why did you start actively playing again?
Danny Rampling: That's easy. I absolutely missed deejaying! It's a lifelong passion. It's something that will excite me until the late years of my life.

Time Out New York: Is it the music that excites you, or is it more that you are part of a scene?
Danny Rampling: Deejaying isn't a job—it's a lifestyle. Most people don't like their jobs, I guess, but DJs are blessed to be doing something they love and adore. They're following their passion, and a lot of them have made careers out of that passion. We're in a very privileged position in life: We do what we love, get paid for it and have a great time doing it. It's simply the passion that drives most DJs.

Time Out New York: That's the idea, at least.
Danny Rampling: Yes, hopefully! [Laughs]

Time Out New York: The party you have coming up here in New York is being hosted by Nervous Records. I'm guessing that a lot of the records you played in the '90s were put out by Nervous.
Danny Rampling: Definitely. Nervous is such an iconic New York City label, and I'm very excited to come back to New York to play at this party, especially since I'll be playing alongside Sandy Rivera. I'm really looking forward to it.

Time Out New York: What can we expect from you? Will you be playing old stuff, newer material or some combination thereof?
Danny Rampling: I think I'll probably be playing a small amount of classics, but what inspires me as a DJ is playing new music. If I have to play an all-classics set, it doesn't really excite me.

Time Out New York: After three decades of deejaying, you still want to seek out and play new material?
Danny Rampling: That's always been my dharma, and I love to do that now more than ever. And it just gets better and better. And it's nice that deejaying is finally being taken seriously. [Laughs] It's an incredible time to be a DJ.

Nervous Records Party: Danny Rampling + Sandy Rivera is at Cielo Thursday, July 11. For more on Danny Rampling, go to dannyrampling.com.
Follow Bruce Tantum on Twitter: @BruceTantum