Heads up! We're working hard to be accurate – but these are unusual times, so please always check before heading out.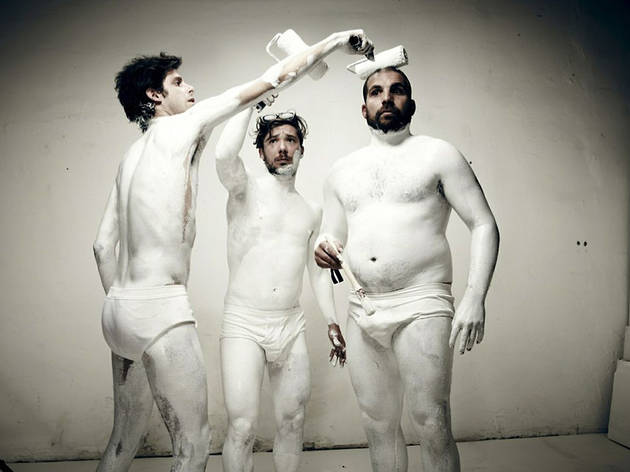 Interview: dOP
The French trio dOP goes sailing with the ReSolute crew.
The music of Berlin-based Frenchmen Clement Zemstov, Damien Vandesande and Jonathan Illel—together known as dOP—could simply be described as "electronic house with vocals." That portrayal would hardly do their recorded sound justice; the combo's tracks, many released on the Circus Company label, are both refined and forceful, capped by Illel's expressive, alternately hushed and bluesy singing. But Zemstov, Vandesande and Illel (who's also known as Joe and Jaw) really shine really shine in a live setting, transforming into a barely-under-control, semi-improvisational party machine, as much a part of the action as anybody on the dance floor. In short, they're perfect for a boat bash—which is where they'll be performing when they join DJ Tennis at the ReSolute Is Sailing gig on Wednesday, July 3. TONY caught up with the dOP boys for a quick chat in the midst of their recent Australian minitour.

Time Out New York: What time is it over there?
Jonathan Illel: It's one in the afternoon. Early! We are here to play three gigs in Melbourne and two gigs in Sydney. It's our first time coming over here.

Time Out New York: Really? That's surprising.
Jonathan Illel: Yeah, it was difficult to convince us to come to Australia. [Laughs]

Time Out New York: Australians like to party—and it seems like you guys might like to party as well.
Jonathan Illel: Yes, we do have that reputation.

Time Out New York: It's more than a reputation—I've seen you play a few times, and there often seems to be a bottle of vodka involved. And the bottle features heavily in a video of a recent Boiler Room performance.
Jonathan Illel: That can happen. That was actually one of my sober concerts. That's what sober looks like for me.

Time Out New York: Sober or not, it looked like a great gig. You guys have been playing together for a long time, long before dOP started, right?
Jonathan Illel: June 21 marked 20 years since we did our first concert together.

Time Out New York: Wow!
Damien Vandesande: We were 13. We were just doing covers of songs that we liked, from Led Zeppelin, Metallica…whatever. Herbie Hancock, too—it was a really strange mix. Jo was singing, Clement was playing drums, I was playing saxophone.… It was fun.

Time Out New York: You actually were in several bands together before dOP, right?
Clement Zemstov: Yeah, yeah—many!
Damien Vandesande: And we've been doing dOP for five or six years.

Time Out New York: How did you move from being in traditional bands into doing electronic-based music?
Clement Zemstov: It first happened because we were making a record for a project we were working on—and we realized, just before releasing, there was absolutely no dance music on it, and it would be pointless to release it without any. Around that same time, we began to connect with the Nôze guys from Circus Company, and they said the same thing.

Time Out New York: Did you know much about dance music at that point?
Clement Zemstov: We didn't know much about house music or anything—just impressions. But we did this house track.

Time Out New York: It must have been a good one, since you're still doing it six years later.
Damien Vandesande: Actually, Nico from Nôze said to me, "You have good ideas, but the song is shit! Maybe you need a little help to focus?" [Laughs] We were willing to do anything to succeed, so we said, Sure! At this time, we were working in a hip-hop studio, and the guy there had convinced us to work a lot for just a little money. And Nico said, "Wouldn't you rather work almost not at all, for a lot of money?" We were like, "Okay, we'll join! Where can we sign?"

Time Out New York: That does sound like a better plan.
Damien Vandesande: And Nico was right!

Time Out New York: But it seems like you actually work pretty hard. You tour all the time, don't you?
Clement Zemstov: We're either playing, or we are in the studio. We love what we do, so we don't mind working all the time.
Jonathan Illel: We do enjoy it. A lot! We like having adventures, too.

Time Out New York: You guys are known for your live sets, but when you started doing this, a live set in the electronic-music world generally meant a guy standing behind a laptop.
Damien Vandesande: Clement actually has a laptop. He's just so small that nobody can see it. [Laughs]

Time Out New York: Maybe all those keyboards and whatnot are just for show.
Clement Zemstov: No, no—we are a live band, and we can play live music. Whatever machines we use, we're still a live band.

Time Out New York: You use a lot of things that some people might consider to be a bit retro, like the Rhodes piano, Moog synthesizers and a lot of Boss stomp boxes.
Damien Vandesande: For sure. The sound is better, and it's just so much better for live shows. And it just looks better.

Time Out New York: And it's probably more fun for you guys, too.
Clement Zemstov: Exactly.

Time Out New York: Another thing that differentiates dOP from a lot of electronic music is your use of vocals.
Clement Zemstov: Some people even advised us to drop the singer.
Jonathan Illel: And we said no! That would have been a big mistake.
Damien Vandesande: When we started, minimal music was really big, and if you put in a song, you could get shot for it.
Jonathan Illel: And now it's the big fashion.

Time Out New York: It is the fashion—but even nowadays, people don't often use vocals quite like you do. Jo's voice is tougher and rawer than what you usually find in electronic music.
Jonathan Illel: Raaawwwrrr! I am able to do a really loud way of singing, so that's what I do.

Time Out New York: It seems as though you do a lot of ad-libbing when you are performing live. Do you ever run out of material?
Jonathan Illel: Only when I'm high! [Laughs] But really, sometimes you can get bored, like when the party is bad or something. But most of the time. I'm into the vibe—and I get my words right.

Time Out New York: In your performances, how much of what you do is planned, and how much is improvised?
Damien Vandesande: The base of our music is planned. But the way we play it is always improvised. It's like playing jazz—you know the song, but you can do a lot of things within it. The base is there to create new things on top of it. Whatever happens, happens.

Time Out New York: Do bad things ever happen?
Clement Zemstov: Sure. It can depend on our mood, or a lot of things that we cannot control. You don't always have control over the magic of improvisation.
Jonathan Illel: For me, it's all about the sound. If the sound is great, I really enjoy it. And when you really enjoy it, you can create better, and you have more fun.

Time Out New York: It will be fun when you play here on July 3—you'll be playing on a boat.
Damien Vandesande: We are very excited by that. We've already done boat parties, but to do one in New York is really amazing.

Time Out New York: You guys seem like you'd be perfect for a boat party—when you're on a boat, you just want to party and dance.
Clement Zemstov: And nobody can leave!
Jonathan Illel: I don't think we've ever had a bad show on a boat. Every time has been very nice. We did one in San Francisco where we passed by Alcatraz; we did a great one in Miami; boat parties in Berlin are always nice.… Boats are always good.

Time Out New York: You'll get some nice views on this one. The boat will probably go near the Statue of Liberty, under the Brooklyn Bridge and that sort of thing. I've lived here forever, and that's still kind of fun.
Damien Vandesande: Yes, it's the same for us—you can know a place very well, but when you see it by boat, it's magic.

ReSolute Is Sailing, featuring dOP and DJ Tennis, is on Circle Line Sightseeing Cruises Wednesday, July 3.
Follow Bruce Tantum on Twitter: @BruceTantum