Heads up! We're working hard to be accurate – but these are unusual times, so please always check before heading out.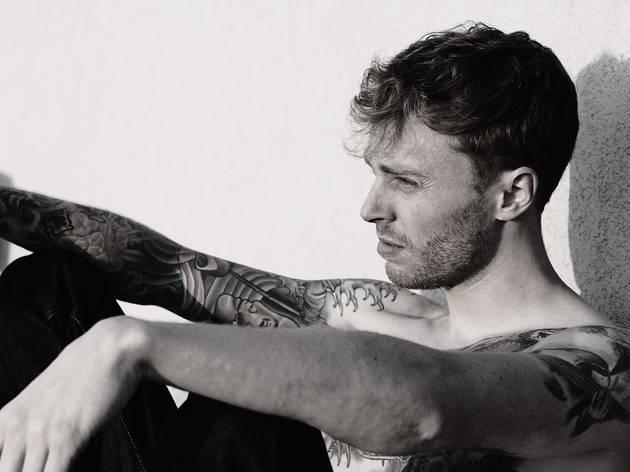 Interview: FaltyDL
The evolution of the talented FaltyDL's sound continues with the release of a new album.
In the late aughts, Drew Lustman, better known as FaltyDL, came to the electronic-music world's attention via a series of intricately crafted, jungle-tinged IDM EPs. But his latest album, the beautiful Hardcourage—which sees him moving from the Planet Mu label to the venerable Ninja Tune—repositions Lustman as a creator of deep, sumptuous and emotionally engaging gems. He'll be celebrating the LP's release with a gig at Mister Saturday Night on Saturday 26.

Does the name of the new album have any particular significance?
In the past year and a half or so, while I was making the album, I was also deciding what label to release it on, as well as getting into a new relationship and moving to a new apartment. You know, the kind of life stuff that happens to all of us. But at one point, I was like, Fuck it—I'll just give this album to Planet Mu, I won't change apartments…I'll try not to challenge myself with anything. It took a lot of courage to go through with everything.

Hadn't you also released a track called "Hardcourage" just prior to the album coming out?
Yeah, it's a little bit confusing, I guess. That one is not on the album. I think that, at the time, I simply liked the way that word sounded. But began to realize that it meant a little bit more to me than just the name of a track, so here it is: Hardcourage.

I was going to ask you about the label change. Was there any particular reason for that?
I love the experience of traveling and seeing amazing places, and I don't take that for granted—but I don't love touring. So the idea was that I could hopefully get into a situation where I could make enough money off of selling music that I don't have to rely on touring so much.

Considering the current state of the music biz, that's quite a dream!
Yeah, exactly. But I think it's still possible to do that, and Ninja Tune really came correct with the offer. It's a bit bittersweet, because I love working with Planet Mu so much. I'm definitely with them, though; I hope to find some way to work with [Planet Mu boss] Mike Paradinas in the future, if I can. I will admit there were some growing pains with Ninja, trying to get the track listing together and trying to see eye to eye on a bunch of other things. But so far, it's really been pretty amazing.

So now your music had come out on two of the most idiosyncratic, and two of the most prestigious, of the world's dance-music labels.
Yeah. With Planet Mu, it was a big mission of mine to get on that label. There was a good year of me sending demos to Mike. I was really into the music on that label. I've always been attracted to English labels, like Planet Mu and Ninja Tune. I actually don't even know what it's like to be on an American label. [Laughs] I was actually thinking about sending a demo of tracks I want to release under my own name to some Brooklyn labels, like Mexican Summer. That might be a totally different experience.

I think I first heard you about six years ago, on the Rapidly Harvested Asparagus EP.
Oh, so you were the one!

Yep, that was me. Even though there hasn't been a radical change in your style from record to record, if you look at where your music is now compared with where it was then, there's a huge difference. Did that evolution come naturally to you, or is it something you had to work on?
I've got the Rapidly Harvested Asparagus tracks on my computer somewhere, but I haven't really listened to them for years, and I suspect I'd be terrified to hear them. It's the kind of thing where I'm so close to it that I don't really notice the gradual change; you don't really notice how much you're growing when you're in the middle of doing it. Of course, I have made a few conscious choices. One of them was to just slow things down. I mean, I was trying to sound like Squarepusher back in the day.

Were you a big fan of his?
Huge, and I still am. I do get easily influenced by the music that I listen to, not to mention by life experiences.

Over the years, your music has at various times been lumped in with IDM, bass music, postdubstep or any number of ill-defined genres. Do you feel your music currently belongs to any particular scene, or are you simply doing your own thing, and your music stands apart?
I'd love to be able to say that it's my own thing and I stand apart; I'd love to be able to say that I'm the best at doing what it is that I do. [Laughs] But really, with a lot of these longer house tracks I've made recently…well, I would say my heroes have changed over the years, and I'd love to see myself on a Detroit lineup with Moodymann and Theo Parrish. That would be my dream. I've moved away from the IDM, electronic kind of thing.

The first single from the album, "Straight & Arrow," definitely does have a Detroit deep-soul feel—it's not exactly like a Moodymann track, but it has that vibe to it.
I'm definitely influenced by those guys, along with younger artists like Floating Points. I feel very comfortable doing that kind of music. What's interesting is that when that single came out, people started saying that I was actively trying to sound like Floating Points or Jamie xx, or that I was doing big-room house. I don't even know what that means!

That you are like Swedish House Mafia, I guess?
[Laughs] Yeah, right!

A lot of the music on Hardcourage, "Straight & Arrow" included, has a wistful, yearning feel to it. Does that emotive sound stem from your personality?
It's definitely part of my personality, and it's something I'm always striving to have reflected in my music. You have a license to be as emotional as possible in your music. I think it was Burial who made it okay to be really emo with your music. And thank God he did, because I love putting my heart on my sleeve. Sometimes I wonder if I'm trying to be to dramatic in my music, but I think it's important. I find myself comfortable in putting it all out there, and it's coming from a real place.

You're putting it out there in a somewhat abstract way, so listeners can have their own interpretations of the music's emotive qualities.
Well, that's what all the music that I really love does as well. Once I put music out, it'sreally not up to me what you think of it. I hope it touches you in some way, but it's really none of my business how you interpret it. I just hope you interpret it in a meaningful way.

Beyond the songs themselves, the tonal quality of the album is really beautiful. Without getting too deeply into the technology, what kind of methodology did you use to produce the album?
I think I've just gotten better in using my samples in a way that sounds more natural. From a purely technical standpoint, I attended the mastering sessions for this album, which is something I don't normally do. I used the same guy I've been using for four or five years now—he knows my music really well—but I sat there with him. And I brought some really quiet files of my music, so there was a lot of room to work with. Basically, I can use either the $20 compression plug-in that I have on my computer, or I can use a $10,000 compression analog rack at the mastering house. I think the $10,000 sounds a lot better.

Ed Mcfarlane of Friendly Fires provides vocals for one of the album's tracks, "She Sleeps." How did that come about?
I've actually known Friendly Fires pretty much since they started, because I was friends with their touring bass player. When they would come to New York, I would go and see them, and just hang out. They were really young then, like 21. Ed used to be like, "So, Drew, when's your next bif album?" It was a little bit competitive, but in a fun way. At one point last year, I sent him a couple of my tracks, saying, "Hey, here's my latest stuff." Literally an hour and a half later he sent back a vocal demo, asking what I thought of it. I said, "This is great—let's finish it!" It was a very super natural. I hope to do more with him.

So we can expect lots more vocal material from you in the future?
There are a few people that I've been listening to lately who I would love to work with, but I don't want to start releasing vocal tracks just to get an album reviewed in a certain way or whatever. It has to really work. But I'd love to work with Ed again; I'd love to work with Amber Coffman from Dirty Projectors; I'd love to work with Thom Yorke. That last one might be pretty difficult to do.

He's a fan of yours, isn't he?
I actually opened for Radiohead when they were in New York, and I've deejayed with them a few times at after-parties and stuff. But I don't push it; I don't want to do anything to abuse the little bit of musical admiration that we have.

I love the album's colorful cover, by the way.
It was done by this guy Scot Bendall, who works for a company called La Boca. He's done a bunch of record sleeves over the years, for DC Recordings, Warp Records and lots of other things, too. But mainly he's a graphic designer who's done work for a lot of big clients. He's done some really awesome stuff—really playful, with really cool color techniques.

Does the image itself—an abstracted version of a woman's face—have any significance?
That's my girlfriend! With the mole and everything. And on the back of the cover it's me. If you get the vinyl, it's a gatefold cover, and if you open it up you can see how our heads kind of meld together.

You're playing the Mister Saturday Night party this week. Will this be a DJ set, or is there a live aspect to the gig?
Well, I'm kind of pissing off my agent, because I'm supposed to really be working on my live setup right now, but I've had so much stuff going on that I'm a bit behind. I have an Ableton setup and a controller, and I'm building a bunch of lights and stuff. And I'm thinking about getting some dancers involved to do some kind of weird onstage antics. I want it to be something fun, but it's not quite there yet. For now, I'm still very much enjoying deejayinng.

The first time I heard you deejay was probably about five years ago, at Dave Q's Dub War night at Love.
Dave actually moved to South Africa, but he's coming back in a month, and I'm going to ask him to start running a night with me. It'll be a Blueberry Records night.

Blueberry is your new label, right?
Yeah. And I haven't told anybody about this night yet, so there's your scoop!

FaltyDL plays Mister Saturday Night on Saturday, Jan 26.