Heads up! We're working hard to be accurate – but these are unusual times, so please always check before heading out.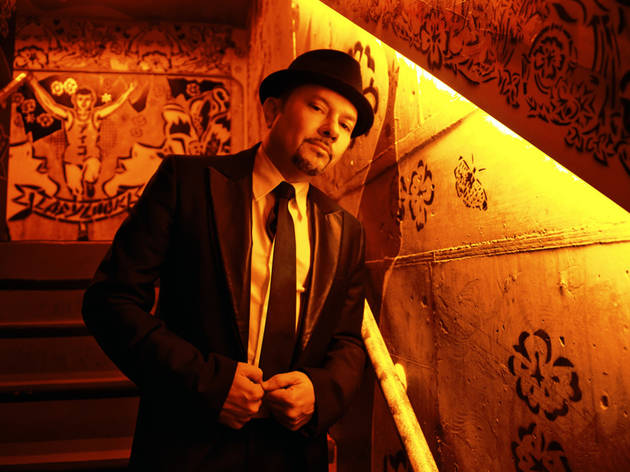 Interview: Louie Vega
The veteran DJ-producer Louie Vega and his Element of Life combo release a new album.
Louie Vega might be best known as one half of the iconic Masters at Work duo or as an international-superstar DJ in residence at Cielo's weekly Roots fiesta—but for the past decade, much of his energy has been taken up by his sprawling Elements of Life combo. The band just released a new double-disc album, Eclipse, bringing together many of the artists who performed on its 2004 debut LP (including Josh Milan of Blaze and Anané, who's also Vega's wife); it's the first release in years on the storied Fania label. On top of that, Vega is slated to be one of the grand marshals at this year's Dance Parade, coming up on May 18.

Time Out NY: I feel like I have to start out by congratulating you on your status as a grand marshal.
Louie Vega: I'm very excited about that, man! I've never been a grand marshal before. I've always heard about the Dance Parade, and it's really nice they they're giving that kind of recognition both to myself and to what I've been doing.

Time Out NY: It makes sense; over the past two decades, your own history has been intertwined with that of dancing in New York City.
Louie Vega: Sure, it has. But I still never expected to be on a float. I kind of just want to be wearing a sash and wave at people. [Laughs] But I'll try and make it interesting. We'll probably do something where I'm deejaying live, and I'll probably have Josh, [percussionist] Luisito Quintero, maybe Anané and a few other people, so we can do a little bit of the show. And then maybe do a show at the end of the parade [in Tompkins Square Park] or at the after-party later that night.

Time Out NY: The theme for this year's Dance Parade is "Unity Through Dance," which is certainly a theme you've explored throughout your career.
Louie Vega: All my projects have been about that. Especially Elements of Life; that's all about sending positive messages out to the world. It's about unity, it's about a celebration of life, and it's about bringing languages, rhythms and cultures together. It's about that melting-pot effect that I've always had with my music and my parties.

Time Out NY: Let's talk about Eclipse. I finally heard the album on a real system, and I have to say, it's immaculately produced. How difficult was it to get it to sound so good?
Louie Vega: It was hard. I'm pretty finicky about all that stuff. I always want to make my records sound great so they'll stand the test of time, and that takes a lot of work. This particular project took a long time, like four-and-a-half years.

Time Out NY: Why so long?
Louie Vega: You have to remember that I'm touring a lot, so I'm working on it between gigs; it was a little bit here and a little bit there. But it actually helped a lot to be traveling around the world, because I got inspiration from so many different places and people. I get inspiration from all kinds of things: I can get it from hanging out with my son, from hanging out with my wife, from checking out different artists, from hearing something at a party.… So many ideas for the album came about in so many different ways. If I had done the album in six months, it probably would be a different album. It's the result of everything I've been experiencing over all that time.

Time Out NY: Have you been touring more than usual?
Louie Vega: With the deejaying thing being so huge now, I'm playing a lot in so many places. But it's very important to get inspiration from all these different energies you get in different countries. This album is very multicultural—African, Latin, jazz and soul—and it's wonderful to travel to all these places, because it feeds into the music.

Time Out NY: Elements of Life's previous album was based in Afro-Latin jazz, and while there's plenty of that on Eclipse, it seems as though you've broadened the sound by including more R&B, soul and gospel elements. Was that by design?
Louie Vega: When we started on the second album, I did want to add some more elements. But that doesn't come just from me; I was working with 15 different people with 15 different minds. I'm the leader; I'm the visionary; I'm the guy who decides on the concepts and ideas, and I arrange them all together in the way that I do. But there's all this input that comes from everybody, and I wanted them all to be part of this project so that I can bring in all these different shades and colors. Ideas were flowing, and it just kept going. Even Anané, who's been busy doing so many things herself, contributed so much.

Time Out NY: Is it true that she didn't originally plan to take part in this album?
Louie Vega: Yeah, she wasn't going to be doing this one! But I have a studio at home—I'm down in the first level, and she'll be upstairs—and every time the door would open and close, she would hear a little bit, and she finally said, "Man, I really want to be a part of this!" I had always wanted her to be involved, so I was like, "Yes!"

Time Out NY: You have a lot of vocalists on this record. There's Josh and Anané…
Louie Vega: Yeah, and now we have Cindy Mizelle and Lisa Fischer, and we have the poets Ursula Rucker and Oveous Maximus. They all add a whole new thing; they all add different colors. Now there's storytelling and all these beautiful songs and strong messages that make you think. There are a lot of things we wanted to say on this album—there are a lot of lyrics!

Time Out NY: It all seems to mesh very organically with the music.
Louie Vega: There was such an incredible team of musicians. It made me feel so good—so confident—because I had such a powerful foundation. It's a very live album. There are a few sprinkles of electronic sounds, but yeah, it's a very organic record. And I think that the music went so well with all the soul that was coming from the vocalists.

Time Out NY: This is the first new music that Fania has released in ages. How did that come about?
Louie Vega: Michael Rucker, who heads up marketing at Fania, knew I was working on the record, because I had been doing some work for Fania. I did some remixing for the label, and it was actually of one of my uncle's songs.

Time Out NY: We should mention that your uncle was the great vocalist Héctor Lavoe.
Louie Vega: That's right. He was one of the Fania All-Stars and a great recording artist. Anyway, Michael wanted to sign the record. He loved it. I was like, "Wow!" But at that point, we only had CD One.
Time Out NY: CD Two includes that 33-minute medley, "EOL Soulfrito," as well as a few housier versions of CD One's tracks. You hadn't produced them yet?
Louie Vega: Not at that point. Michael said, "Why don't you do a second CD of club remixes?" I said, "You know what? I'll do a couple of remixes, but I don't want the second CD to be this whole remix thing." I do this night at Cielo every November that's a tribute to my uncle and Fania. I would take my band and go to the club and just play almost all Fania music. I'd be deejaying, and then at 11pm I'd do a live show with the band, when we'd play a lot of Héctor favorites and a lot of other Fania favorites, like some Celia Cruz songs. Finally, I was like, "We should record this!"

Time Out NY: And that ended up being "EOL Soulfrito"?
Louie Vega: Yeah, but I think Michael thought it was just going to be a song or two! [Laughs] He definitely didn't know it was gonna be a half-hour piece. It's not exactly a Fania medley; it's really the Elements of Life with a more Fania-driven feel, or maybe Fania with an Elements of Life flavor. Anyway, I created this piece, and it kept growing and growing, one song into the other. We spent a lot of hours pulling that all together. It's an homage, and it kind of tells a story within the Fania story itself. I actually got to use some of the Fania masters, which was crazy. My uncle's voice is in there; you can here my uncle's voice talking in the sessions.

Time Out NY: Very cool.
Louie Vega: It really was. So it ended up being this 33-minute piece. And it's so great that my uncle's in there through all these little bites from the masters, and he's sort of taking you on a ride through the party. He's saying things, ad-libbing in and out throughout the piece. I'm really excited by it and really proud of it.

Time Out NY: It must be so fulfilling for the album to come out on the label your uncle recorded on, and also to be the first new record they've put out in years.
Louie Vega: Fifteen years! I didn't even know it had been that long until Michael told me that. I was like, "Are you serious?" It's a huge honor to be part of a catalog like that, one that's so full of amazing music. I mean, there's all that great Latin music, but if you look at the people they've worked with—people like Stevie Wonder, Bob James, Manu Dibango, Santana—you see that there's a lot of great people from rock, jazz, pop and whatever that have been there too. Everybody wanted to get down and do something with Fania. Everybody wanted to work with the Fania rhythm section. And to be a part of that is unbelievable.

Time Out NY: It's probably one of those things that makes people realize how amazingly their life has progressed.
Louie Vega: You're absolutely right. I'll put it this way: It's time for a documentary. You know what I mean? [Laughs] I've been deejaying and producing music for so many years.… This is all really good.

Time Out NY: What's more satisfying for you nowadays—deejaying or leading the Elements of Life band?
Louie Vega: I love deejaying, of course; that's where my heart and my passion is. And I love the band, too. The cool thing is that I get to mix the two sometimes. If I do a live show with the band, I'll often deejay afterwards. And with Anané and Josh Milan, the band has two other DJs, and the musicians always want to join in with the deejaying. It doesn't get much better than that!

Time Out NY: Speaking of deejaying, I've noticed that you've been spinning a bit with your old Masters at Work partner, Kenny Dope. You have a gig coming up at Le Bain soon, as part of the Red Bull Music Academy festival.
Louie Vega: Yeah, we're spinning on May 3. Kenny and I are gonna do a whole big setup for the first time in New York in a long time. We're pretty excited about that.

Time Out NY: Is this a signal that Masters at Work are going to get active again?
OLouie Vega: ur fans have always been asking us, "When are you gonna do something?" And now we're thinking that maybe it's time. Music is in a pretty good place right now, and you can hear elements of the music that we made within what's going on right now. The sound of '95 is definitely a big part of the sound of today. It's really wonderful that our music is still relevant, but there was always this mystery of whether Masters at Work was gonna do anything again. So we've been talking about it, and this past year we've done some shows—some really good and high-end shows, like the Crosstown Rebels party at the BPM Festival. It was so great to have that audience hear us, a whole new generation. And it's going to spread the love even more if we work together.

Time Out NY: Are you planning on recording together?
Louie Vega: We are! We actually got together one or two days, and we already have, like, eight tracks. The energy is there, man, and we're really excited.

Elements of Life's Eclipse (Fania) is out now. Red Bull Music Academy Presents Masters at Work is at Le Bain Friday, May 3. Vega is also spinning at the upcoming Armada Fania Club and Pop-Up Store on Friday, May 24th. The Seventh Annual Dance Parade & Festival is Saturday, May 18.

Follow Bruce Tantum on Twitter: @BruceTantum