Interview: Mathew Jonson
One of techno's most inventive artists, Mathew Jonson, heads to the Bunker.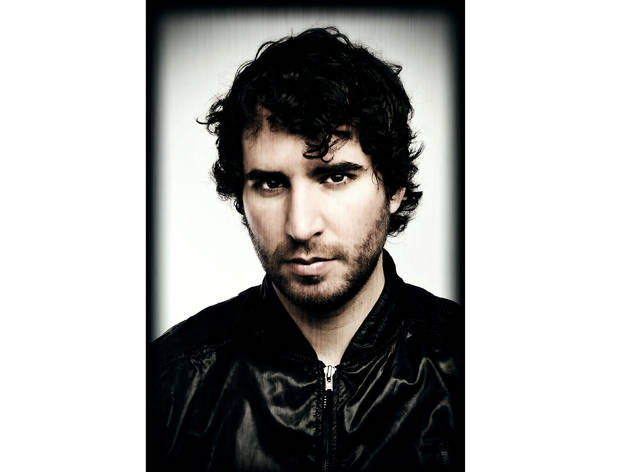 The Bunker
in a joint effort with Nathan and resident Derek Plaslaiko.
You've been living in Berlin for six or seven years now—do you still find it a creatively inspiring place?
Actually, it was less inspiring when I first moved here. [
Laughs
] Back then, my studio wasn't on the same level as it is now. But now, I have this studio that's like a spaceship. It's incredibly inspiring to be in. It's bigger and more open—just a really creative space. The last studio didn't have the right energy; it was really difficult to write in, and I really needed to conjure up a lot of energy from inside myself to accomplish anything.
How long have you been in the new space?
About a year now. It's a real breath of fresh air.
You work largely with analog gear, right?
Not really—I work with digital stuff, too. [Pause] Okay, yeah, it's, like, 70 percent analog. I like the interface of analog stuff, I like the sound, I like the design—I just like the way it looks! I like everything about it.
Not to dwell on ancient history, but I've read interviews where you've cited Herbie Hancock's "Rockit" as your biggest inspiration. Is that really true?
Definitely! Well, it was, many years ago. It was the first thing I can remember hearing and thinking, Holy shit, what is this? I was listening to music like Michael Jackson and getting into break-dancing stuff, but I wasn't really exposed to it that much because they weren't playing much of it on the radio stations in Canada. And you definitely didn't see much of it on TV. But one day, my dad was just scrolling through channels, and we hit this break-dance competition. They played "Rockit," and then it went to commercial and they didn't say what it was. But it really stayed in my head, and I tried to remake it with the synthesizers that I had.
You were already fooling around with synths?
Yeah—and even though I spent a long time on it, I didn't do a very good job of re-creating it. And it was a year before I even heard the actual song again. I didn't even really know who Herbie Hancock was back then. I kind of knew him through "Watermelon Man," because we used to play that in jazz band in school. But "Rockit" was so different, it took me a while to realize that the same guy made both songs.
Do you recall anything else hitting you hard as a kid?
Oh, sure. Early 2 Live Crew, Chaka Khan…all that kind of stuff really made its mark on me.
You come across as an artistically ambitious producer. Do you ever find it difficult to balance the practical needs of the dance floor with your creative urges?
There is a bit of balancing, for sure. I do make a lot of different kinds of music in the studio, and I guess that's my outlet. I spend a lot of time working on music that might sound more like ambient or classical or whatever.
But it's not as if when I'm playing in a club I have the idea of killing the dance floor. [
Laughs
] I find it very enjoyable to play music that has rhythm, and it's very easy for me to be in that environment.
It's a fun environment to be in, isn't it?
Definitely. But I guess there are times where I feel a little out of place. Like if I'm playing at one of these big clubs in Ibiza, and everyone else is playing the same kind of sound, that can get a little bit boring. Sometimes I'll think to myself, Why am I booked here?
I doubt if you would ever dumb down your set in that kind of situation, though.
I might not play the absolute
weirdest
stuff that I have…but I don't usually play the weirdest stuff in a club, anyway. I do read the crowd, and I realize that people have paid money to get in and have a good time. But I wouldn't say I ever dumb down my sound—I would call it being empathetic. If it's a big room and they want high-energy music, I'm not going to force them to listen to superdeep house or something like that.
I suspect you'll be able toplay whatever you want at The Bunker.
Yeah, I'm really looking forward to that. I'll be playing together with my brother as Midnight Operator for an hour and a half or so; we'll both do solo sets, too, and we'll jam some with [The Bunker resident] Derek Plaslaiko. It's going to be all over the place—but at the same time, I think you'll see proper sets from each of us as well.
I'm guessing that even if it's all over the place, there won't be too many jarring breaks in the sound from one person to the other, right?
Oh, you'd be surprised. [
Laughs
] What I do with my brother can be pretty different from what we do on our own. But still, it should work out okay.
How much gear do you bring out with you when you play live?
It depends on the venue and what I can fit on the stage, or what kind of tour I'm on and what I can actually bring with me. I always have a few drum machines, a 24-channel desk, a computer, some MIDI controllers, a TB-303 and an SH-101—or at least one or the other [of the classic bass synthesizers]. So I guess it's a pretty big setup, compared to most people these days.
Why so much? It must be a bitch to carry around and set up.
It allows me to improvise. It allows me to play music in a lot of different styles. I can play a melody or bassline along with the drums, and it can sound like hard techno or breakbeat, or it can be deep and dubby, or anything I want it to be. That's the freedom of playing live in general: I can really change things around.
Do you ever do straight-up DJ sets anymore?
Only for fun, really. I'll go down to one of the smaller clubs here to deejay, or very rarely one of the bigger ones. Like, I played a drum 'n' bass set at [dub techno artist] Deadbeat's birthday party at Watergate a while back. I've played at [outdoor Berlin venue] Club der Visionaere with friends a few times, playing Moodymann, Theo Parrish and that kind of stuff. But it's not a regular thing at all. To be honest, I don't focus on it at all.
I assume that you are busy enough as it is.
Yeah, my agent knows not to push DJ gigs on me. I spend my time in the studio, and when I'm not doing that, I spend my time hunting for synthesizers.
That's a never-ending quest, isn't it?
I'm looking for stuff on a daily basis. And I still go to record stores a lot. But I don't look for music like a DJ. If you're a DJ, you have to be constantly looking for stuff and going through promos…and that's the last thing I want to be doing. My focus has been on producing for years; I was producing ten years before I was ever deejaying, and my focus has always been on producing. I think that to do something well, it helps to focus on just that one thing.
You seem to love collaborating with other producers as well; there's Midnight Operator, there's Cobblestone Jazz, there's Modern Deep Left Quartet, and lately you've been playing with [Swedish duo] Minilogue, among other things.
Yeah, I love collaborating. It's about the music that ends up getting produced, and it's about experiencing all these different kinds of energy that you wouldn't if you were working alone. It's a natural thing—if you have the right combination of people, you can really have these experiences, you know? It goes a lot further than just throwing ideas at each other. Every time you work with a different person, it's almost like traveling to a different country.
What's up next?
Before I go to New York, I'm going to Victoria, and we're going to be working on a new Cobblestone Jazz album that we started last year. It's almost done, so hopefully we can finish it up in the days that I'm there. And it will be nice to be home anyway, since I only get back there once or twice a year. And then Nathan and I are trying to put out a few records before the summer; we really like playing together, so we're going to be working to make that happen. I guess that's about it, project-wise. Oh, and then Modern Deep Left Quartet has a ton of music that we've been sitting on for a while, and that's all being edited and readied for release. I'm not sure if that's going to be an album or a series of singles, but there's lots of stuff there.
Busy!
Well, 2013 was pretty much taken up by my album. But I think 2014 is going to be focused on Cobblestone Jazz, Modern Deep Left Quartet and Midnight Operator, along with doing some shows with Minilogue here and there. It's going to be a good year, I think.

The Bunker: Mathew Jonson + Hrdvsion + Derek Plaslaiko + Thema Nights is at Output Friday, December 20.