Live set: Interplanetary Prophets' Ital
In the run-up to Interplanetary Prophets' U.S. debut, check out a live set from the duo's Ital.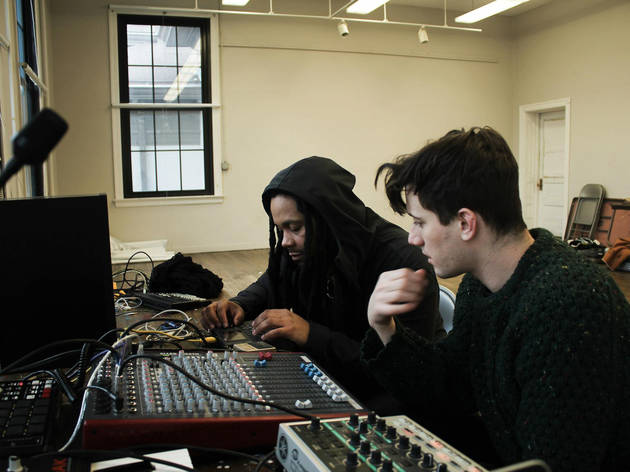 It's not a pairing which immediately springs to mind: Chicago's Jamal "Hieroglyphic Being" Moss creates heady, dystopian music which, despite its experimental bent, is firmly rooted in the four-to-the-floor sounds of his hometown and Detroit; Washington, D.C.'s Daniel "Ital" Martin-McCormick, who came to semi-fame as a member of post-hardcore band Black Eyes (and later, of No Wavey outsider-rock combo Mi Ami) makes a kind of almost-house that seems to exist outside of tradition. But put them together, and the results are amazing, in a totally out-there sort of way. Released under their Interplanetary Prophets moniker and released on Planet Mu, Moss and Martin-McCormick's Zero Hour EP takes the duo's shared love of thoughtful grit and distills it into something that's starkly fearsome, approaching a sort of growling, machine-funk version of free jazz. Interplanetary Prophets will be making its U.S. debut via a live set at the Zone affair at Body Actualized Center(Zone is the new crossgenre collaboration between self-titled magazine and Vivian Host, better known as Star Eyes of Trouble & Bass) on Saturday, November 2—and to warm you up, here's an Ital solo session from a recent gig at Hamburg, Germany's Golden Pudel club.
Zone: Interplanetary Prophets + Hieroglyphic Being + Unicorn Hard-On is at Body Actualized Center (143 Troutman St, Bushwick, Brooklyn) Saturday, November 2.