Q&A: Cabaret Voltaire's Richard H. Kirk
The mid-'80s output of the visionary electronic-music unit Cabaret Voltaire is feted with a box set.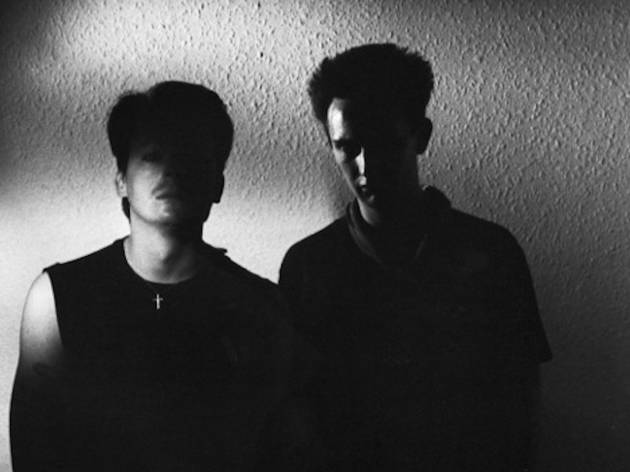 You wouldn't expect a band that lifted its moniker from an iconic Dadaist nightspot in World War I–era Zurich to be your run-of-the-mill pop combo—and Cabaret Voltaire is anything but run-of-the-mill. Formed in the gritty English industrial town of Sheffield in the early '70s by Stephen Mallinder, Richard H. Kirk, and Chris Watson, Cabaret Voltaire mirrored the city's dystopian edge with a sound that was raw, experimental, political and uncompromising. But by the early to mid-'80s, the pioneering band's music—while still exploratory and unconventional—had crystallized to the point where you could actually dance to it in the world's more forward-thinking clubs. That's the period chronicled in a new box set, the Mute label's #8385 (Collected Works 1983–1985), brimming with album tracks, 12-inch cuts, previously unreleased material, concert footage and more. Time Out New York caught up with Kirk for a phone chat about the group's evolution, the box set and Cabaret Voltaire's future.
Time Out New York: As I was getting ready to speak with you, I was listening to the 12-inch vinyl of "Sensoria." I can still remember hearing that song at New York clubs like Danceteria.
Richard H. Kirk: I once visited there myself! It's hard to believe that it's been three decades. Where did all those years go? [Laughs]

Time Out New York: Are you surprised by the continued interest in the electronic music of that era? Besides the new Cabaret Voltaire collection, there are reissue labels like Minimal Wave and Dark Entries, and Trevor Jackson's new Metal Dance 2 compilation just came out.…
Richard H. Kirk: Yes, I saw that—there was a Cabaret Voltaire track on the first Metal Dance, I think.

Time Out New York: Yes, he included your 1980 track "Seconds."
Richard H. Kirk: That's right. Anyway, it's difficult to say why people are fascinated by the music, but from my point of view, it seems as though we've been reliving the '80s for the past ten years, in one way or another. Here in England, for instance, we're reliving Thatcherism. Just like in 1982 or '83, everything's been cut back, and we're in what seems like a recession. So many people are unemployed; it's like a rewind, politically speaking. But that doesn't really explain why this kind of music is still popular. Maybe it's because it was rubbish, in some ways. [Laughs]

Time Out New York: In what way was it rubbish?
Richard H. Kirk: The music that's made now is very slick. Everything is programmed, and everything is perfect. With Cabaret Voltaire, in the '83-to-'85 period, there were a lot of electronics, sequencing and drum machines—but there were also a lot of real instruments involved. It was quite messy, really. It wasn't in perfect time, unlike so much that comes out today. We simply didn't have the technology to do it. So maybe that's one aspect of the appeal; the music had a lot of imperfections.

Time Out New York: Are there any other aspects that you can put your finger on?
Richard H. Kirk: Well, there was a lot of fairly groundbreaking music at the time, and that always seems to be a factor. That's why people go back to some '60s and '70s music as well; they find things in that music that's lacking in modern music. I don't know—it's a bit weird!

Time Out New York: I suspect part of the allure is that it's simply cool-sounding music.
Richard H. Kirk: I'll agree with that! [Laughs]

Time Out New York: In the period leading up to the years covered by #8385, Cabaret Voltaire was transitioning from a purely underground, experimental unit into a band that was making moves into the clubs and even the pop charts. Was that a conscious decision, or was it simply the way things progressed?
Richard H. Kirk: I think it's a bit of both. In 1981, Chris Watson left the band, and in order to move on, we felt like we had to try something different. We couldn't just carry on as we did when we were a three-piece. As for the dance floors, we were probably listening to a lot of New York dance music of the time, the kind of electro that the city was doing. We realized that as long as you could get a good groove together that would work in the clubs, you could still get away with including more subversive elements, while attracting more people to the sound.

Time Out New York: I was going to mention that you weren't abandoning Cabaret Voltaire's innovative inclinations; your music was still a bit weird.
Richard H. Kirk: It certainly was, compared to the kind of commercial, pop-oriented sounds of that era. But when we brought out The Crackdown 30 years ago, it actually hit the Top 40 over here. What we were doing was an experiment within pop, and I think the experiment succeeded.

Time Out New York: As you say, you even reached the charts. Considering the kind of music you were making, that's very successful.
Richard H. Kirk: Part of it was due to the fact that we changed labels; we moved from Rough Trade to Virgin/Some Bizarre. There was better distribution and promotion than what we had in the past.

Time Out New York: So the success was largely due to the mechanics of the record business?
Richard H. Kirk: To an extent, certainly. But we had also changed the music to make it a bit more user-friendly. [Laughs] In that period, we had a decision to make. We could have become more esoteric, more extreme and more experimental. But I felt that we had already done that; we had covered that ground all the way from 1973. There didn't seem to be any point in doing it again.

Time Out New York: You mentioned that you were listening to a lot of New York dance music at the time. In 1982, Cabaret Voltaire released a version of "Yashar" remixed by John Robie, who was one of the producers most responsible for New York's electro sound. How did that come about?
Richard H. Kirk: John actually came to us through a mutual friend about remixing that track. He had heard "Yashar," and he really wanted to get his hands on it. We said, yeah, let's let him do it—and the result was fantastic, I think. What he did with that song was a bit of a catalyst for us. It made us think about the potential of stripping the music down and making it a bit emptier, a bit more minimal and club-friendly. It was a big stepping-stone from what we had done before to what we ended up doing in the period covered by #8385.

Time Out New York: That was such a fertile period for cross-pollination between experimental electronic material and pure dance music.
Richard H. Kirk: Yeah, it was, and the result was just so futuristic-sounding at the time. At least, it sounded that way to me. It was music that had never been done before. Obviously, people had been experimenting with electronic music for years, but the music of that period was somehow kind of glossy and shiny, but also kind of dark and cold, if that makes any sense.

Time Out New York: Most of Cabaret Voltaire's music is now licensed to Mute, which is the label behind #8385. I'm guessing that you have a long relationship with the label's Daniel Miller, who people might be more familiar with as the creator of the 1978 synth tune "Warm Leatherette."
Richard H. Kirk: Oh, sure—we knew Daniel back in the '70s, when he first started out. We use to bump into him at Rough Trade; he used to run Mute out of there in the early days.

Time Out New York: Besides the album tracks on #8385, there's a wealth of bonus material, like previously nreleased songs, barely seen video, recordings of performances and a ton of written material. Who was responsible for compiling that? It seems like a mammoth undertaking.
Richard H. Kirk: It was my project, really. I've been working on this for two years, and I'm positively shattered, you know? [Laughs] But now it's finally coming out. I think it's a good collection of work; it's pretty much everything from that period. It made sense to put out all that extra material, as it's all bits of the jigsaw that were missing. I found those recordings of live shows on VHS tape—they're not broadcast quality by any means, but to me, they're really good documents of that period. Particularly the one from Hammersmith Odeon, where you can see the visual projections. I'm sure people will complain that they're not very good quality—but that's all there is! We very rarely did TV.

Time Out New York: Cabaret Voltaire never struck me as being much of a Top of the Pops sort of organization.
Richard H. Kirk: God, no. The truth of the matter is, even when we had a bit of chart success, the mainstream was a bit wary of us. We never got our records played on daytime radio, and at that time, well before the Internet, daytime radio was the key to commercial success. If daytime radio had been willing to play some of those singles—if people would have had the chance to hear them—they would have gone out and bought them. People like John Peel would play them late in the evening, but that's about it.

Time Out New York: So what's next? You said in past interviews that there could be some new Cabaret Voltaire material in the works. Is that still the plan?
Richard H. Kirk: Well, Cabaret Voltaire is basically just myself nowadays. What I want to do is to make it more of an art project, an installation project or film of sorts, rather than a live band. I'm not a young person anymore, and I think that might be more appropriate as a way forward. We were kind of doing that in the earlier days anyway, with a lot of film projections and a lot of experimentation. I've been thinking about it a lot, and I feel that's the direction I want to go. But I'm in no rush—whatever I do, it has to do justice to Cabaret Voltaire. It has to be good, otherwise there's no point. It wouldn't be for money, certainly; it would have to be from the heart, like it was in the early days.

Cabaret Voltaire's #8385 (Collected Works 1983–1985) comes out on Mute Tuesday, Nov 5.
Follow Bruce Tantum on Twitter: @BruceTantum