Tensnake: "When I'm in the studio, it's a little bit like meditating"
After scores of great singles, Germany's Tensnake finally releases his debut album.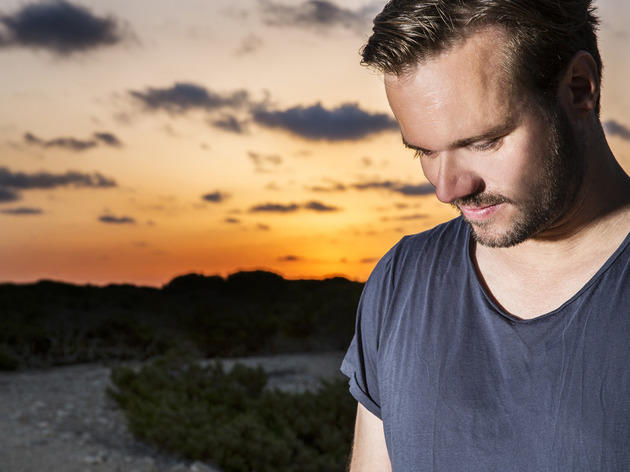 Ever since the release of the 2006 single "Around the House," Hamburg, Germany's Marco "Tensnake" Niemerski has made a name for himself by fusing the joyful abandon of glittering disco and R&B with the heads-down earnestness of deep house. It's a template that's brought him countless club plays and an inescapable worldwide hit (2010's Anthony & the Camp–sampling "Coma Cat")—but until now, no album. That's about to change, because on March 11, Astralwerks will be releasing Tensnake's Glow, a rhythmically and sonically diverse collection of cuts that counts Chic's Nile Rodgers, superproducer Stuart Price, Jamie Lidell, U.K. rising star MNEK and vocalist Fiora among its guests. And New Yorkers are in for a treat: To celebrate the release, Tensnake will be taking control of Output's bad-ass sound system on Thursday, March 6.

When "Coma Cat" became such a big tune, did you ever think of transforming yourself into a hit-making machine? There must have been some temptation to at least try to go that route.
I never tried to follow that up; I never tried to make a second "Coma Cat" at all. I'm not a big fan of copying what you've already done, and I've always tried to stay creative and inspired. It sounds pretty cliché, but once you start to let money determine your creative output, then it's the beginning of the end. But having said that, I don't mind making money by making music. [Laughs]

Were you surprised at how that song took off?
Totally. I didn't expect it at all. I remember that when I finished it, I played it for a friend whose opinion I appreciate a lot. I asked him if I could even release it at all, or if it was too corny. Especially in Europe, the club sound then was very dark, with no vocals at all; it was all about minimal.

And what did your friend say?
He said to release it! And maybe that was the beginning of a little change. These days it's normal; with people like Disclosure, a lot of tracks suddenly have vocals. I'm not saying I started that trend, but I think people were ready for it, and "Coma Cat" happened at just the right time.

One reviewer described your sound as "a midpoint between unapologetic populist hedonism and a sense of deep-house restraint." Is that an assessment you would agree with?
I always find it hard to describe my own music. I certainly don't mind hedonism in music; I grew up on '80s radio! [Laughs] And maybe because of that, I like song structures and vocals. And I do like deep house. But I listen to lots of stuff. I like lots of '90s hip-hop; I had an indie phase, where I was listening to a lot of bands like the Pixies; I was listening to a lot of Sisters of Mercy and dark-wave stuff. And I take little pieces from everything and putd them together.

I can't really say I sense much Sisters of Mercy in your music.
Well, I have to say that my older brother's record collection was the biggest element in my influence, and that was mainly boogie and disco.

You definitely can hear the boogie and disco influences. Does that account for your melodic sense as well?
Thankfully, it seems like that comes naturally to me. Melodies are important for me—I think they are the most important. When I listen to music, I don't pay attention to the lyrics at all; I'll just be listening to the rhythmic patterns of the words, and their melody. Melody can take you away. When I'm in the studio, it's a little bit like meditating—you can be working on a loop for hours and you get kind of lost.

Hence the Sister Sledge song "Lost in Music."
Exactly. Music overall has the wonderful ability of taking you away. You can almost go on a holiday, and that's why I love music so much. And apparently, I'm told, I do have a soft spot for what you might call tropical elements in my music.

It is generally sunny-sounding.
And I can understand how some people might think that is cheesy. But you also can have sadness mixed in with those tropical sounds, so it's okay.

It's safe to say that Glow has a little bit of both. What took you so long to make an album?
Mainly insecurity, I would say. That, plus a hard-drive crash.

Seriously?
Yeah, about two years ago. I didn't have any backup, of course, and I almost had an album done. It was the end of the world for me, because I was convinced that every track on it was a smash, and it was all so good. But in hindsight, it was positive because it led me to a whole new direction; it gave me the time to really think about what I wanted to do. It was really a collection of club tracks, and I realized that I don't like albums that are collections of club tracks. So I sat down and thought about what kind of album I really wanted.

And what was that?
I realized I wanted the kind of album you would buy back in the day. When you used to get an album, you might just buy it for one or two songs, but over time, you would discover the album's other songs. And then it would mean so much more to you. And that was my main idea—to create something you would want to listen to from beginning to end, something that's very diverse and doesn't get boring. And I think that worked out. [Laughs]

You obviously still feel that albums are a viable art form.
I think so. I mean, now you can instantly have everything you want, of course. But I'm not sure that this is the best way. We all know that anticipation can add a lot of excitement. I grew up in the suburbs, and my parents had to drive me to a record store, or I had to catch the bus. And that would lead me to really appreciate the music that I got. I think listening to a whole album is sort of the same thing. But it's the times, I guess—what can we do?

We can complain about it!
Yes, we can! [Laughs] But it still doesn't change.

One of the guests on Glow is recent Grammy winner Nile Rodgers. How did that hookup occur?
I had heard that he was looking for new, young producers to work with. As we all know, he was sick—he had cancer—but now he had all this new energy and wanted to make as much music as possible. So I sent him a message on Facebook—of course, I didn't expect a reply. But after ten minutes, I got a message back. He was in Milano that night, and was telling me all about this Chic show he had just played.

You must have been pretty excited.
I couldn't believe it! And that's how it started. He apparently knew about "Coma Cat"—which surprised me even more—and had tried to reach out to me before this.

And so you just started working together?
Actually, after that, there was silence for half a year. But suddenly, his manager sent an e-mail saying, "Nile is in Hamburg for three days. Do you want to record?" I was like, What the fuck is going on? I wasn't prepared at all. I kept thinking, No, I'm not ready for this! I can't do this! But I sent him two demos, and he got back to me and said, "I love them. Let me be your session guitar player." I was like, Brilliant!

And so you just jumped into the studio with him?
It wasn't that easy. I was playing in Berlin that night. And then, the next night, he was in Berlin, but I was going to London or somewhere. Finally, when he was back in New York in his studio, we did a Skype session. I was nervous. I had a bottle of red wine, so I could feel a little bit calm and confident. [Laughs] But he made it so easy. He's totally cool.

I'm guessing he was feeling pretty good about how well "Get Lucky" had done at that point.
This was even before "Get Lucky" came out.

In that case, were you happy that "Get Lucky" got so big, or did you think, Damn, Daft Punk beat me to it!?
I was happy. I loved that whole Daft Punk album. It's funny, when their album did so well, in interviews people kept asking me about that record's success, and I would always tell them that I'd rather have that one be a success than some crap album.

What do you think about the rise of EDM over here in the States?
I think it's great for the U.S. scene. It's been nothing but rock and hip-hop for so many years, so when people complain about how big EDM is in America, I always think, Come on—they just have to catch up! It'll help people discover other electronic music. I mean, house music comes from America, so it's time that people find out about it.

Another person you worked with on the album is Stuart Price, who, like yourself, has a bit of an '80s fixation.
He was great too. I flew out to L.A., where he has a house and studio—which are both very nice, of course—and we hung out for a few days. It was beautiful to work with him; he's a very grounded, very open guy. And he works so fast! I'm very lazy—well, not lazy, just slow. But, for example, he knows what elements to put in and what to leave out.

Fiora handles vocals on a few of the album's cuts. What can you tell me about her?
She's originally from Australia but lives in Berlin, and we have a mutual friend in Berlin who introduced us. She's worked with a lot of EDM guys, like Armin van Buuren and Seven Lions. So we're from different worlds, but she has this amazing voice, and she's such a great writer. We started with just one song, "See Right Through," and then ended up doing half of the album together.

And then there's that MNEK kid, who I think is about 20 years old.
Yeah, he's this new talent from the U.K.—a very talented guy. He writes, records, he has a great voice and can just do everything. He's a really up-and-coming guy. He was also nominated for a Grammy this year.

Yes, he cowrote Duke Dumont's "Need U (100%)," which was up for Best Dance Recording. Maybe all this Grammy stuff will rub off on Glow!
Oh, I don't know about that! [Laughs] I'm just happy to be here. I'm enjoying all of this.

Are you planning any kind of live tour this year?
At the moment, I'm sticking to deejaying. But next year, I'm going to try and put a live show together, like a concert—drummer, players, singers and everything. But I'll never be able to get everybody on the album together. I mean, Jamie Lidell, Nile Rodgers…that's not going to happen. But we're working on concepts. I want it to be a real band. I want the magic to happen.

Input: Fixed Presents Tensnake + Juan MacLean + JDH and Dave P is at Output Thursday, March 6.
Follow Bruce Tantum on Twitter: @BruceTantum