Heads up! We're working hard to be accurate – but these are unusual times, so please always check before heading out.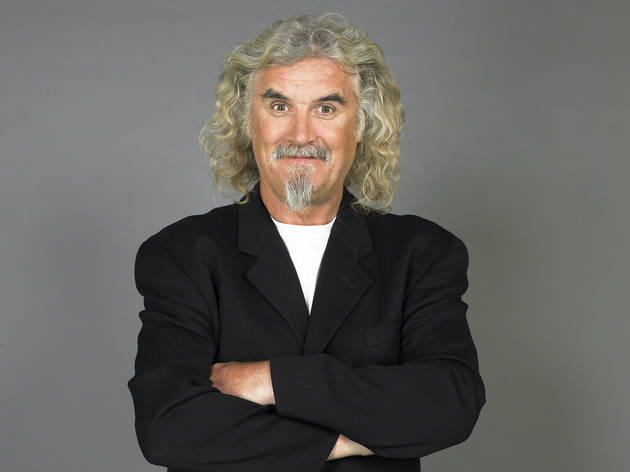 Billy Connolly
The Big Yin expounds on Chaucer's fart jokes, speaking Dwarvish and the irreplaceable f-word
Few can match Billy Connolly's reach and longevity in the entertainment industry. After a short-lived folk music career, the Scot turned his attention to comedy full-time; he's remained a wildly popular international presence for 40 years, while compiling a massive catalog of stand-up specials that showcase his rowdy storytelling skills. He's also become a documentary producer and a reliable character performer in films such as Brave and the upcoming The Hobbit. TONY spoke to the NYC resident the day after he received an award from the British Academy of Film and Television Arts.

Congratualations on your BAFTA award. What does it mean?
I think I should die now. Or retire. I think these lifetime achievement ones are gentle hints that you should bugger off.

You play a dwarf in the new Peter Jackson movie, The Hobbit. Did you approach this differently than you would playing a man?
Well, you have to speak Dwarvish. So you can't help but approach it differently.

So you've picked up a new language?
No, I've already forgotten my line. Well, I had about four lines, but they're all along the lines of "Come on, lads, let's show them what for!" I have the best line in the movie, but I'm not allowed to tell you. James Nesbitt [the Irish actor who plays fellow dwarf Bofur] was seething with envy.

Your energy during your stand-up sets doesn't seem to have diminished with age. How do you explain that?
I haven't a clue. I've gone on sick and come off well. I've gone on sick and remained sick after the show was over. I had a virus in Australia and I couldn't cancel—it was the Sydney Opera House—and I had to stop and go for a pee. I told them, "I have this virus and it makes me pee a lot. Oh ho, pee time." I went offstage and peed in a bucket—so we miked the bucket.

Paradoxically, you address crowds in an intimate way. How do you envision them?
I try very hard to unite them all as one big animal, as though I'm speaking to them in a bar. I've never had difficulty communicating with strangers. In fact, I rather like them—some of them turn out to be the most interesting of people. If you stick to cigar smokers, fly fishers and banjo players, you can't go wrong—a bit dodgy on the banjo player front, but most of them are nice.

How do American audiences compare with others around the world?
I find them rather nice and badly spoken of by people who know nothing about them. I think Americans generally are. Look at what you've given the world, for crissakes: rock & roll and Hank Williams, jazz and Chuck Berry. Holy fuck, you can retire on that!

When you perform here, do you find people listen differently?
No, but I thought they would have trouble with my accent. If I use obscure language, they'll have a problem with it. I'll be raging and I'll say, "A sleekit old bastard"—sleekit means, eh, untrustworthy—and then I'll explain it to them. Skunner is another one: a repulsive person who makes you physically ill, like someone who chews with their mouth open. There's a lot of lovely ones.

The best Americans have to offer these days is douche bag.
But you know, I love douche bag. [Laughs] The one I love also is doofus. I think it's a beautiful word with a friendly ring to it. A doofus to me is an overweight, clueless guy, but likable.

This reminds me of your list of childish things you say men never get over: knickers, bums, farts and so on. Why do you think that's so?
In Britain, we've taken great joy and pride in vulgarity since the days of Milton and Chaucer talking of farting and belching. There's a thing that really irritates me when some pretentious prick posing as a comedian says, "Fart jokes," then looks down his nose as if they were easy to do and then goes on to tell you about Kierkegaard. Go fuck yourself.

Ten years ago, you prided yourself on your computer illiteracy. How has that changed in the intervening decade?
Not at all. I Amazoned two things today and it was the first time I've ever bought something—if indeed I have. Maybe if they had invented brand-new words to go along with [computer technology], but a lot of the words they use have old meanings and they don't relate to the new meanings.

Well, what's nice about English is that you can simply turn a noun into a verb, like you did with Amazon.
Yes. [Pause] I hadn't even realized I'd done that! [Laughs]

You've had a long relationship with the word fuck—
Oh, yes!

As it becomes more mainstream over time, do you feel protective or are you proud of it?
Where I was born, it was part of the mainstream. Scottish author James Kelman has lots of swearing in all of his books, and when he was interviewed in one of those British Sunday supplements he said, "If you can give me the English equivalent of fuckin' beautiful, I'll write it down." I was watching Barcelona play football last night and they did some things that were fuckin' beautiful, you know? There's no equivalent.

I often think of what Tommy Tiernan said: "The English language is a brick wall between me and the audience, and fuck is my chisel."
That's nice. A little pretentious, but nice. He's Irish, you know; they try so hard.

But it is lovely.
It's fuckin' beautiful.

Billy Connolly performs in The Man Live Thu 6 and Fri 7.