Heads up! We're working hard to be accurate – but these are unusual times, so please always check before heading out.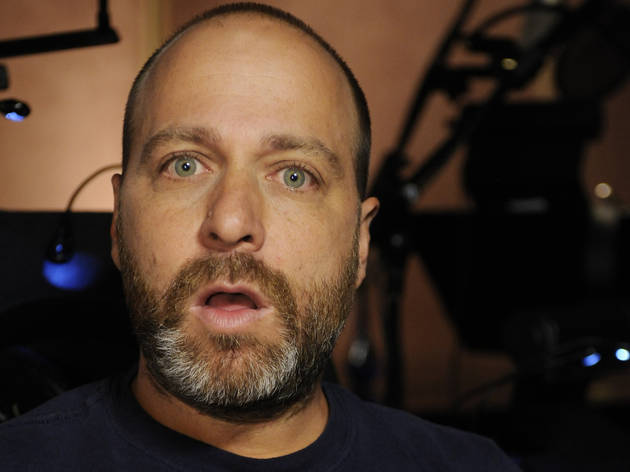 H. Jon Benjamin
The Archer star brings his canceled Comedy Central show on the road.
For more than a decade, H. Jon Benjamin has voiced characters cherished by comedy nerds—the pathetic, boozing soccer coach on Adult Swim's Home Movies, the talking can in cult flick Wet Hot American Summer. More recently, he's played the titular patriarch on Fox's Bob's Burgers, as well as the sex-crazed, alcoholic spy in Archer, the FX series that has been picked up for a fourth season. The dry-witted baritone's goofy send-up of TV news magazines, Jon Benjamin Has a Van, got the chop from Comedy Central last year; but Benjamin and Van's cocreator—stand-up Leo Allen— are flouting convention by touring a live version of the now-defunct show.

Is this your first time going on tour?
Ten years ago I went on tour with Eugene Mirman and Brendon Small, but it was just three shows. And I remember being the old Jewish man—by the second show, I was miserable and exhausted. I decided I'm not built for that kind of lifestyle. And by the third show in Philadelphia, I literally just stood up and talked about how tired I was. I'll just have to pace myself better [on this tour].

How did Jon Benjamin Has a Tour come together?
When we used to have [Jon Benjamin Has a Van], we were sort of planning on doing a tour to lead into a second season. So we started with the notion that we were getting one— and boy, were we ever wrong. The show got canceled, and everyone was available. So the tour is the only thing left standing.

What does the live show entail?
It's pretty anticlimactic; that's the way I would describe it. If you like anticlimax, you'll love this. It's like The Firing Line meets [Pause] the last episode of M*A*S*H. No, there are a couple of surprises—we'll have some guests—but mainly it's a variety-esque show.

Will you show any videos?
Yeah. We did a version of the show in San Francisco at Sketchfest. I think we'll do it like we did there. We showed three or four bits that didn't air on the first season of the show.

Are there any bits you were proud of that didn't make it onto Jon Benjamin Has a Van?
We're not showing this, but we made a fake commercial for the pilot. It was supposed to go in the first episode. It was a penis-enlargement ad where the way it enlarged, you attached it to the tip. So it enlarged [your penis] by the size of the pill. So you didn't ingest it, you just put it on your penis. [Laughs]

On Jon Benjamin Has a Van, you seemed to revel in annoying people on the street. Are you like that in real life?
Yeah, but I can't do that to everybody. I have a kid now, he goes to school and it will reflect poorly on him. But in day-to-day interactions, I will very often have to contain myself. It's like, you know, I'm fighting it. So if you talk to me and you're seeing that I seem tense, that's what I'm doing. I'm pretending to be serious. Your characters on Archer and Home Movies have really old-fashioned, un-PC mind-sets.

What do you find so funny about men not adapting to the modern world?
In both cases, they're allowed to act like that without reproach. Archer is in his bubble in the spy world, but he works for his mom in the family business. So I think he can't get into too much trouble. And he kills people for a living, so it helps to have a gun, or a license to kill. If you're in a predicament, you just shoot someone. But with Coach McGuirk [on Home Movies] it was the opposite. He was in a different kind of bubble, where no one cared about his life. And he doesn't really affect much of anyone, including the kids that he [coaches]. He goes home to his apartment and he lives alone. So he's just a sad guy. It's really sad. That was my favorite part about him, that he was sort of a sad alcoholic.

Did you see that you're one of our 50 funniest New Yorkers?
I heard about it. I was impressed with myself.

You were number 15.
Somebody mentioned it and said like, "You're not funnier than Jerry Seinfeld." And I'm like, "Yeah, I am. I definitely am. They definitely got that one right."

Jon Benjamin Has a Tour hits the Knitting Factory on Thu 3.