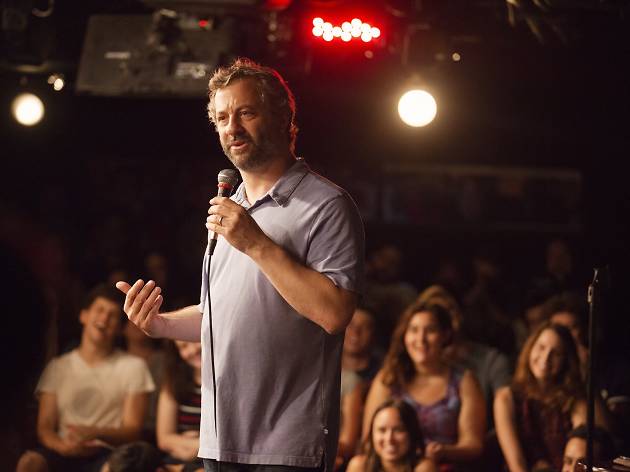 Apatow has recently refound stand-up as a passion after ditching it for nearly 25 years. In that time, he made hit films, like The 40-Year-Old Virgin, Knocked Up and, most recently, Trainwreck. So, we're not that upset, but we're happy he's back on the stage with a bunch of friends—and he's really funny. Need proof? Check out his set on The Tonight Show Starring Jimmy Fallon.
Rating Breakdown
5 star:

0

4 star:

0

3 star:

1

2 star:

0

1 star:

0
So, a rundown, for anyone that missed NYC ComedyFest this year the "friends" were Mike Birbiglia (whom I missed, sadly--can't review him, but know you have he chance to see him if you like him) and Adam Sandler.

Judd was fresh and congenial, covering growing up weird, the oddness of being "like a troll in a corner" to his beautiful wife and daughters, the stage fright that kept him from stand up (till now!), coming up a screenwriter with Ben Stiller (he was asked to write a movie for the Rolling Stones), fatherhood ("my kids don't think I'm funny, and it REALLY pisses me off, 'cause that's all I got"), and for 30 seconds, meeting the President (everything from writing jokes for him that the President used the same night he killed bin Laden--"--I felt like I had killed bin Laden!") to selfies to his insights into what the leader of the free world really wants to talk about when he has the most serious job on earth (talk about movies!), the strange feeling of getting into stand-up just when Bill Cosby was no longer esteemed for it. (It wasn't as big a part of the act as one would think, but imagining the jokes Bill would be reduced to after his crimes were finally taken seriously...pretty funny.) He tells one particularly funny story of taking his daughter to a Mel Brooks roast he was slated to do jokes at....and leaving, since the evening starts with her dress splitting and he's preceded by comics that take all the color out of his time.

I could have happily listened to him for the rest of the show (but that's a burden of a lot of material). His recollections include photos with famous coworkers and haircuts past.
....Then he brought Adam Sandler out, who mostly spent his half hour or so with his musical shtick. To his credit he had one funny song about an a$$hole kid coming over for a "bad playdate" and one about Chris Farley, but...meh. I was hoping for the other "friends" that have appeared at Judd's Largo shows, and actual stand-up. The show ended with the duo singing about astronauts 69ing in space.
The Carnegie Hall tickets for a two hour show ran from $50 to $95; I ended up paying $76 (ticket plus fees) in total for my second tier seat). I hope to see much more of Judd in the future....with different friends, and for a lower price.