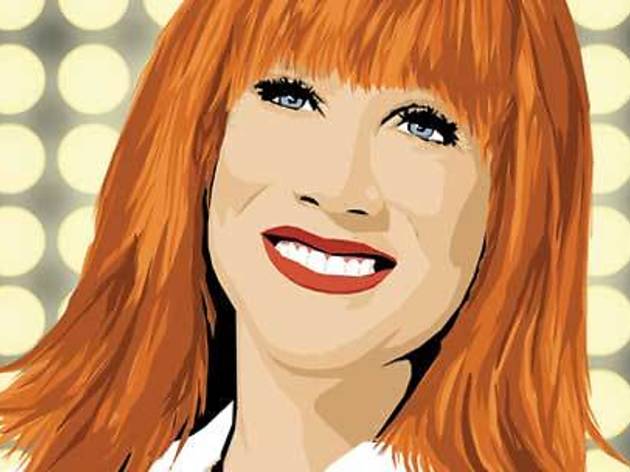 The Hot Seat: Kathy Griffin
Is this D-lister on her way up to C?
Kathy Griffin has made a career out of biting the hand that feeds her. Her ragingly successful stand-up act—she's filling WaMu Theater four nights this weekend—is fueled largely by how she mocks celebrities. What makes it compelling is her unflagging desperation to be included among the ranks of those she lampoons. But now that her Bravo reality show, My Life on theD-List, has won two Emmys, can Griffin remain the outsider that her career demands she be? No worries; she's up for the challenge.
RECOMMENDED: Full list of Hot Seat interviews
Are you excited about returningto the Garden?
Kathy Griffin: Is it still called the WaMu Theater? Did it fold? Do you think they'd be interested in renaming it the Kathy Griffin Happy Place?
At least that would get them some publicity.
Yeah, and I'm not folding anytime soon.
So your investors are supporting you then?
Oh, I've been getting personal financial advice from Suze Orman. She can do anything. She should be running the country. She'd go in there and flip it, make the White House financially sound. Really, the President should be living in a small condo.
What would they use the White House for? Kathy Griffin shows?
I could sell out the White House. There are a lot of gays in D.C.
How did you get such a large gay audience? By design or circumstance?
Circumstance. They're not afraid to go there. They're an unshockable people. When you're having your civil rights questioned on a daily basis, you need to go out and laugh at a few dick jokes.
What will happen to your show when everyone likes you?
It'll never happen. I will always piss people off. I just flipped Jann Wenner the bird at a charity event.
What?!?
Rolling Stone put together this comedy issue and I wasn't in it at all. I went up to him and flipped him off.
Fans are accustomed to you taking people down a notch. Who is untouchable?
Anyone who doesn't take themselves too seriously. I recently met Bette Midler, whose career I've always admired. And she was very self-deprecating, so I got nothing from it for my act. I'm not worried, though; she'll have a public meltdown at some point. Oh! I just saw a picture of myself!
Are you googling yourself while talking to me?
No, I'm watching TV. The Bonnie Hunt Show teased an appearance I'll be making. But I do google my name every day, first thing in the morning.
Some people wake up to coffee...
Any celebrity who says they don't is lying.
As a true Hollywood girl, would you like to contribute to the age-old L.A. versus New York argument?
New York audiences, at least, are way better. L.A. audiences suck and I'd say it to their faces. They're too jaded. You know what everyone in L.A. wants to do? Everyone wants to go to The Price Is Right.
Well, maybe you should start giving away cars on your show.
Maybe I will. That's the genius of Oprah—when someone suggested to her that she give away cars, she just instantly said, "I wiiiii-iiiiill!"
Is an Academy Award next on the list?
Well, first it's the Grammy. I really want one. I love my Emmys. I named them Emmy and Emily. And they're so much better than real children.
If there were a fire, that's what you'd grab?
Yes: my two Emmys and the picture of me on Oprah—it looks like she's laughing hilariously at something I said.
And that's it?
Well, my dogs, of course. And then the two Emmys. And the picture of me on Oprah. My mom's on her own. She can get herself out—and she'd grab her box of wine, which is flammable, so then she'll just roll down the driveway in flames.
Kathy Griffin performs at the WaMu Theater Thu 19–Sun 22.
You might also like
More on Kathy Griffin
See more Hot Seat
See more in Comedy