Heads up! We're working hard to be accurate – but these are unusual times, so please always check before heading out.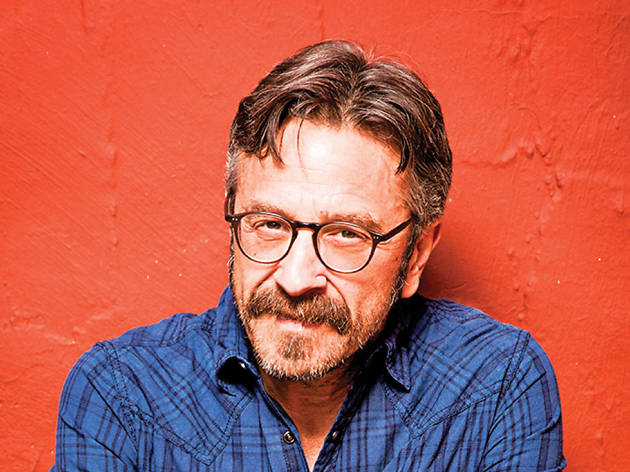 Marc Maron talks feral cats and returning to New York
The stand-up and WTF podcast host is coming to BAM, but he's leaving the kitties at home
Marc Maron may have abandoned New York for L.A., but the city is still very much a part of him, and that's why he's so excited to be heading back to town for his Maronation show at the iconic Brooklyn venue. We talked to Maron about the difference between writing comedy in NYC and L.A., and of course, exactly what's going on with all his cats (because who doesn't love men with cats?)

Was there a reason you chose BAM for your New York show?
It's an amazing venue, isn't it? I just did a live interview with Terry Gross there for RadioLoveFest and it's one of the best places I've ever performed.

What are you going to be talking about on this tour?
I just shot a special in Chicago, so the material's pretty tight now. I'm talking about a lot of the things I talk about—anger, sex, food, cats, Jesus, childhood.… I hit most of the important things.

I notice anger came before food and sex on that list.
Doesn't it usually? A lot of the anger material I'm doing now is about trying to be less angry. I'm trying to help people! That's the mission.

Are you excited to be coming back to New York as part of the tour?
Yeah, I always like coming back. I love New York, you know? New York is in my heart, man, I've been there on and off for many years.

Do you feel like your writing changes, depending on whether you're living in New York or L.A.?
Your brain operates at a different pace in New York. There's more immediacy to everything about life in New York—in L.A, you spend a lot of time in your car, being frustrated. Time sort of spreads out differently—New York eats time; L.A. seems to just drag it on. Part of the shift in material for me when I moved to L.A. was that I became a little more focused on my own life, almost specifically, both observationally and intellectually. In New York, I was focusing outside of myself a great deal.

So do you think L.A. has a reputation for being so self-obsessed because people have so much time to think in traffic?
I think that certain types of person are self-obsessed no matter where they are. But there's something spatially different about being in L.A., the amount of time you spend with yourself. It's almost impossible to spend time alone in New York publicly. Just going by the mode of transportation, you'll have someone's face almost touching your face almost daily. But you are part of a larger body, you definitely feel in New York like you're a working part of that city somehow, if you're in it. There's a symbiosis that happens pretty quickly. Then you can use the city as your battery.

Last time we spoke to you, you had only two cats at your place in L.A. Has that changed yet?
There's a lot of cats around. I have two of the original Astoria cats still, then I had another, but that one disappeared. There's a couple of cats that come around outside and eat, that can range from one to four.

How do these cats always seem to know how to find you?
I think they're out there and one guy will say, "Hey, Maron's still putting food out if this one doesn't pan out." So they'll come eat at my place. Then someone will put wet food out somewhere and I'll lose a cat for a couple of days. A week. A month! A cat I hadn't seen in years came back to die under my house. I don't know why he came back, but I guess I should feel flattered somehow.

How did your cat collection start when you were living in Astoria?
I felt bad for these kittens that were eating out of the garbage. I was waiting for someone to deal with it, but I ended up trapping all these kittens in boxes and bringing them up to my apartment, not realizing they were wild. It was just me in this disastrous situation with four feral kittens; I couldn't get them out of my house, but they didn't like me and they were all angry. I actually took two of them to L.A. and now they're 11 years old. They're still a little tweaky, but they're definitely a lot sweeter than they used to be.

Is there a difference between feral New York cats and feral L.A. cats?
Feral cats are feral cats. Of the ones that eat outside, I would say two out of the three are really wild. They're difficult; it takes a lot of patience I don't have to warm up to feral cats who actually live outside. You get to know them, but I don't really touch them. There's one out there who's deaf—I don't know how it survives. But feral cats are feral cats no matter where they are. In New York there's less predators; up here they're up against possums and raccoons and coyotes, all kinds of shit. In New York, they're just up against cars.
See the show!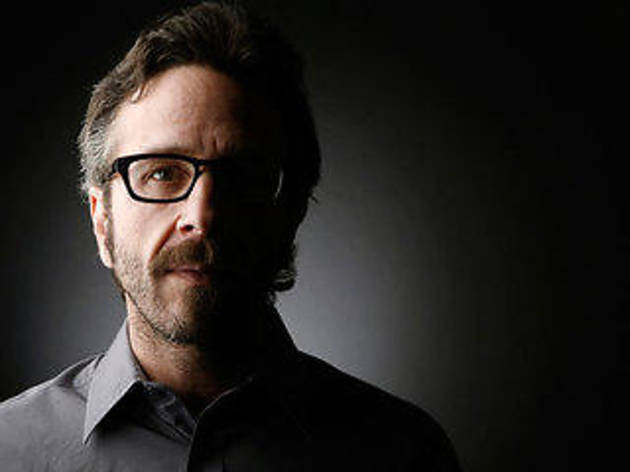 The irreverent ranter Maron, who has hosted programs on Air America, performed his own one-man shows and written a book, is one of the reasons for New York's alt-comedy boom. These days he's swapping time between the stand-up stage and his WTF podcast with comedy luminaries.