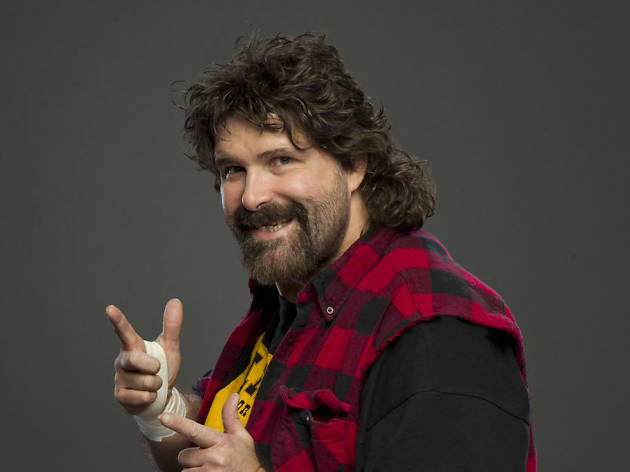 Mick Foley interview: 'It's so much easier to tell people what a tough guy you are, as opposed to backing it up'
The hardcore legend talks comedy, Santa Claus and the infamous Hell In A Cell match
NYC is the greatest city in the world, and as such, has no shortage of different types of comedy—improv, sketch, free comedy shows, the funniest men, the funniest women, the funniest everything—but even here, it's not often you get to go and laugh at a professional wrestler. Leap on the opportunity when Mick Foley—hardcore wrestling legend, former world champ, WWE Hall of Fame inductee, New York Times best selling author, documentarian and all around pretty busy dude—steps onstage at the Bell House to share some of his favorite stories from his time in the squared circle (or more often, outside of it, being beaten with chairs).

Do you consider your current show to be stand-up or storytelling?
I wish I had a moniker for it—I wish I could label it the way WWE labeled professional wrestling as "sports entertainment." The words "wrestling-centric storytelling show with an emphasis on comedy" don't leap out at you on a marquee, so I call it comedy, but it's more spoken word than punch lines. It's geared toward wrestling fans, but I make it interesting for anyone who's brave enough to peek their head in.

Which other wrestlers do you think would be good at performing a show like this?
Everyone's got unique stories, it's just a matter of whether a guy is actually willing to take the time to work on it. I know Dolph Ziggler is spending his off nights doing open mikes, there's a handful of guys who are really working on it. I think they've looked at what I've done and said, "I can do that" and the truth is, they probably can. The work is the main thing—there's a lot of guys out there trying to get booked just to do the Q&A, and to me, the Q&A only works when it's done in addition to a show, not when you come out there and say, "Here I am, I put no work whatsoever into what you're about to see, ask me questions!"

Are there any wrestlers you think should never try it?
[Laughs] I mean, sure, if a guy has had great challenges with a five-minute professional interview, they probably shouldn't think about handling a mike for any great period of time. There are guys who thrive completely on the action in the ring and see the promotion as a necessary evil, whereas I think it's so much easier to tell people what a tough guy you are, as opposed to backing it up. Each passing year the ratio became higher—by late 1999 it was 90% talking a tough game, and 10% backing it up.

But you did back it up, of course—you've taken some of the most famous bumps in wrestling. Are there any you really regret?
Any number of them, but just in general, dropping elbows onto concrete floors. Structurally, you know, it's not the best idea in the world. I actually have trouble getting around, and it's almost exclusively due to that one move done so many hundreds of times, often in small gymnasiums, during my formative years. So yeah, if I could go back in time, I may have realized that you don't have to put on the best show possible every single night. But then, if I hadn't had that mindset, I wouldn't have made it to where I did.

What was going through your mind before the infamous Hell In A Cell fall?
I was thinking it was the worst career move! Or the worst decision of any kind I ever made. I couldn't figure out how I could only be 16 feet in the air, yet the people had turned into insects below me. They literally looked like ants.

Did Undertaker say anything to you before it happened?
I think he said, like, "Here we go." I was asked by Jim Ross if I ever thought of calling an audible, and I said absolutely, I just think I was so scared that the words couldn't come out of my mouth. It was terrifying!

How did you convince the WWE to let you do it?
I told the two biggest lies of my life, first when I reported that I had already been on top of the cell during the day and felt completely comfortable there, and then when I managed to convince Mr. McMahon that the landing would be just like the landing for an elbow from a similar height. I really thought I could do it, and convinced the powers that be that I was confident and comfortable. Which I was, until I actually got on top of it, and then I became neither in a hurry.

You have a documentary out about people who work as Santa Claus. What made you want to investigate that particular subject?
It struck a cord with me because it reminded me so much of wrestling, the guy who goes from being featured in the supermarket next to Spiderman as an action figure to wondering what the next step in his life is gonna be. There are five real bearded Santas: One is in a shopping mall, another specializes in home visits, one of them has a great job at a high end department store, another guy is always kind of finding that job at the last minute. And another Santa, Jim, he's the nicest man you'll ever meet but he's also a lightning rod because he's a gay Santa in a world that is not altogether ready to admit that there are gay Santas.

Because there are rules for magical creatures, obviously.
Yeah. There's a big uproar in the community calling him disturbing, which is really a code word for "I don't want to admit that there are gay people in my line of work." He's an amazing part of the movie. I'm not hoping for great reviews across the board, but the people that have seen it have been surprised by the substance behind it; it's not a light and breezy documentary, it's a really good character piece about people who feel driven to be this iconic character.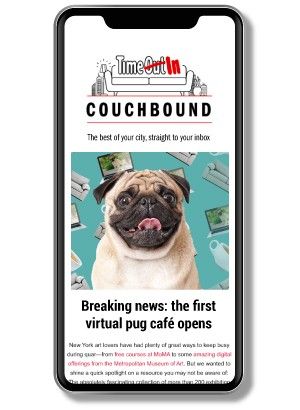 An email you'll actually love
Sign up to our Couchbound newsletter and bring the city to your sofa
Subscribe now
See the show!
WWE Hall-of-Fame member and three-time WWE championship winner Mick Foley graces the stand-up stage with his charmingly wild wit every comedy fan will love. If you're a wrestling fan, well, consider that the cherry on top.