Myq Kaplan interview: 'The biggest mistake a comic could make is to be afraid to try'
The wordplay-loving stand-up talks unhelpful hecklers and mushrooms in the park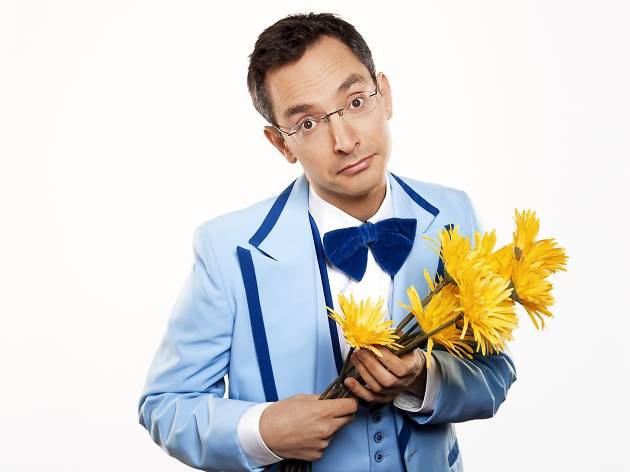 Myq Kaplan's Pre-Birthday Comedy Show and Freestyle Rap Extravaganza Unless People Get Scared
, takes place tonight, Monday, October 6, at
Union Hall
in
Park Slope
.
How did you get your start in comedy?
I was actually trying to get my start in music as a singer-songwriter, as opposed to a "joker-joke writer." I was in Boston for school and looking for anywhere to perform. I found the Comedy Studio, and also found that I really enjoyed saying things in between songs almost as much as playing the songs, if not more. So I kept doing that. Sometimes I say I got into comedy because it was easier than carrying a guitar around all the time. I'm not saying that now though.
What was your very first gig like?
My first time onstage at a comedy club, I was planning to play a couple short funny songs and then found out I was following Jonathan Katz, who I'd watched as a cartoon on TV, and he was closing his set with a song, so I got intimidated. I think I said something to that effect when I got onstage, like, "I've never done comedy before and the most famous person in the room just did the same basic thing that I'm going to do right now." And I believe people enjoyed that, and my songs. His was better though, I bet. Though it's not a competition. Neither comedy, nor life. We all win and we all lose!

What's the least helpful thing that's ever been shouted at you onstage?
Good question! If you want to come to my show and shout this out, then that would be the answer to the question, as well as the question itself. A real meta-heckle. But since that hasn't happened yet, I'm not sure.… I guess I would say that most of the time when people yell at the stage, it's unhelpful. But also, it doesn't happen as much as people think. So I'd rather focus on the positive. The most helpful thing people have yelled at me is nothing, and it happens a lot!
Your Wikipedia page describes you as "a vegan and an atheist." Is that the correct order of priority for you?
Sure! I actively eat every day but I don't actively not believe in God every day. That would be weird. Wake up, have breakfast, concentrate real hard on there being no God… I think that since veganism is about action and atheism is about belief, the former is definitely more substantial than the latter. I think it's much more important to address problems that can be solved that exist in the real world, like factory farming, than to just sit around and wonder about things that can't be known or resolved. So, while I wouldn't come up with the idea of describing veganism over atheism as my priorities, I would say that I prioritize positive action over passive belief.

What's the key to making a New York audience laugh?
Are you trying to take my job from me? You think I'll unlock the secret answer and you can stop doing interviews and start doing comedy? You think it's that simple? Well, okay then. Good luck. The key to making a New York audience laugh is to say things that they find funny. Next question!

What's the biggest mistake that most new comics make?
I don't know. Maybe all their mistakes are equal. I think a mistake that this comic—me—could make is to claim I know about anyone else's experience. Not that people aren't making mistakes, but your question makes it seem like mistakes are bad. Mistakes are how people learn, so I think the biggest mistake would be to be afraid to make mistakes. The biggest mistake a comic could make, new or old, or even people who aren't comics, is to be afraid to try. Whatever it is. Whatever you want to do, try. Do something. Don't be afraid.

What do you like to do in NYC when you're not working?
Mushrooms. The park. My girlfriend. Mushrooms in the park with my girlfriend. Eat. Read. Tai chi. Think. Walk. Do a tai chi walk through the park on mushrooms with my reading-eating girlfriend. And play guitar.