North Coast's Doug Widick: "We're not saying, 'Look how silly rapping is!'"
With the hip-hop improv group extending their run at the PIT, co-founder Doug Widick talks rap, comedy and being approached by SNL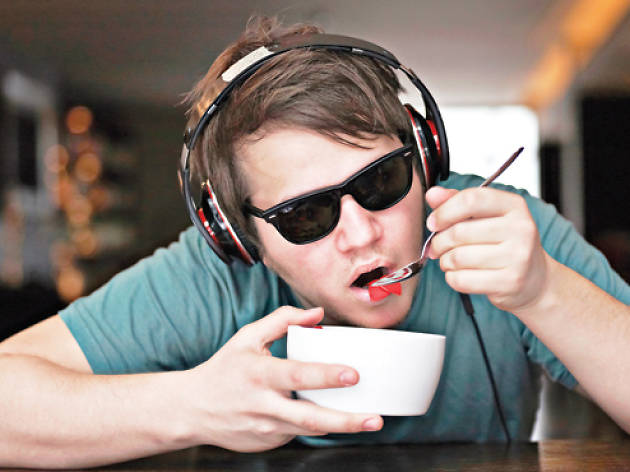 North Coast
are a dream combo—every show, the group creates hilarious on-the-spot raps that all link together into a larger (normally awesomely bizarre) story. Originally scheduled to perform at
The PIT
, one of the
best comedy theaters in New York
for just two months, the group have been such a hit that their run has now been extended through till the end of March. We caught up with co-founder Doug Widick for a quick (non-rhyming) chat.
Your group is incredibly tight. How long have you been performing together?
We've been together for five years now. The current core cast have been working together for about four years—there was like an early cast, and we had to make some tough decisions in the early days because we wanted the free styling to be really strong. Myself and James Robilotta are the founding members—we conceived the group, but we're the only two founding members left.
Rapping, dancing and thinking up jokes all at the same time seems like an awful lot of plates to keep spinning at once.
Yeah—we decided that regular improv wasn't hard enough, so we gave ourselves more to do. It's like when people are a politician and a father, but they're also a diplomat, and they're also building houses in Uganda.
And then they're going out at night and fighting crime in their underwear.
Yeah, exactly!
Were you guys all huge rap fans to start with?
James is a huge hip-hop head. I was always a fan, but he was like a full-on aficionado. But North Coast actually heightened what was a passing joy for hip-hop into a full-on love and obsession. Our first coach, Glennis McMurray, of the famed musical improv team, I Eat Pandas, created our opening with us, and she was like: "If you guys are gonna do this, you all have to completely submerse yourself into hip-hop non-stop for at least a year." That changes the game for your taste buds for the music—it takes it to a whole other level.
It's important to note that you guys aren't trying to spoof rap music—it all seems to come from a place of real appreciation and joy.
Yeah, we've been really careful about that from the beginning. We never want to seem like we're making fun of hip-hop—everything we do comes from a place of reverence and respect for the craft, particularly freestylers. We really feel like freestyling is a craft in itself—we're not saying, "Look how silly rapping is!" We want the hip-hop world to come watch us—we've paid our dues, we've practiced and we want them to hear us drop some polysyllabic rhymes.
The guys from Lonely Island have said a similar thing—that if they ever look at one of their songs and feel that the only joke there is, "Look, it's white guys rapping!" then they drop the song.
Absolutely. I feel the same way.
Have any of your team ever taken part in a rap battle?
That's an interesting question, because we've done a lot of comedy rap battles, but I don't know how many of us have done the legit battling scene. I'm not opposed to it—we used to hit up the Union Square freestyle site all the time.
Do you all have different styles of hip-hop that you prefer, and that you bring to the table?
Yeah, for sure! James is based out of New York, but he has this huge love of Southern rap. I really love New York-based rapping, I'm not a huge fan of west coast as much as I am of east coast style. Everybody in the group has kind of a specific flow. Richie has a back of the beat type of flow, and even his vocal placement when he raps is very specific. Raero is kind of like a female Beastie Boy. So yeah, everybody definitely has their own flow that's inspired by a different regionalism of hip-hop.
Have you ever started a verse and realized halfway through you had no way of finishing it?
That definitely doesn't happen now—the support level is so high, if that does happen, someone just jumps right on top of you, and it keeps going. But in the early days, there were definitely some silences. The way we teach it in the classes now is that if you can't think of anything to rhyme, you rhyme the thing that you couldn't rhyme with. So you'll say, "Alright, we're in a store, and I'm about to buy some beef, alright, but there's a sword and a sheath." So you rhyme the thing that you couldn't rhyme, and it gets you backed out of the corner.
You've been approached by both Saturday Night Live and The Book Of Mormon – how did that come about?
I auditioned for
Book of Mormon
a year ago, and it was like, we're gonna keep our eye on you, we're gonna hold onto your headshot in a file in Midtown somewhere. But they saw me a year later at the Chicago sketch festival, and contacted me about auditioning again.
SNL
did reach out about submitting the tape, but there's been no in-person audition yet.
It must be amazing to know you're on their radar.
A scout who saw North Coast reached out to me about submitting a videotape of characters—I almost fell over! I'm like, you must've gotten the wrong Douglas Widick, because this guy barely makes his bed. It's definitely surreal to ever receive an email from those types of offices. You don't even think you're on the map at all, and then someone reaches out to you, and you realize that people really are looking for new talent, and it's exciting because it gives you a reason to keep working hard. That's at the core of it all. North Coast have literally done probably over a thousand shows in the five years we've been together. We've done weekly runs, we've had weeks where we've done four shows in a row in addition to holding an audition and teaching classes. We are so lucky that North Coast has gotten to become one of those improv teams that does it a lot, and sometimes gets
paid
to do it, which is an even smaller minority. We don't take it lightly at all, which is why we're super blunt and stringent about the quality of our show.
North Coast perform every Saturday at The PIT at 8pm.