Heads up! We're working hard to be accurate – but these are unusual times, so please always check before heading out.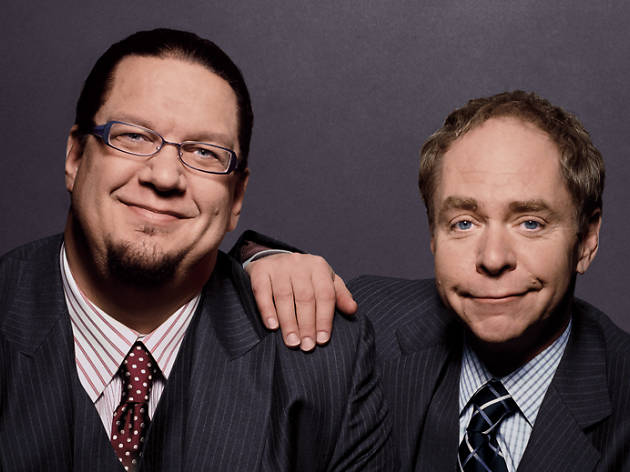 Penn and Teller are back in town!
The magicians leave their regular Vegas haunt for their first New York run in over two decades
It's been a long time since maverick illusionist duo Penn and Teller performed any Broadway shows, but after 23 years (by their estimate), they're finally heading back to the Great White Way for a six-week run at the Marquis Theatre. We talked to them about their "shit ton" of new tricks, and the origins of their trademark blend of magic and comedy.

What brought you back to New York after all this time?
Penn: We came back because we did two runs on Broadway and they both went very well. I must confess that even after 22 years in Vegas, there's still no place I'd rather be than New York.
Teller: The bottom line? Adventure. We have all sorts of grand new material to bring to New York, which as we all know is kind of the center of theater and the universe.
Penn: It also just seemed like the time was right—it's not a financial move and it's certainly not a lack of work move. It just seemed wonderful to be in New York for two months. I'm afraid we're doing it mostly because we want to.

Are New York audiences harder to impress than Vegas audiences?
Teller: I've never been able to define who our audience is. At one time the joke was, "blue hair for all reasons." We have a component of people of all ages, so I don't know what a New York audience consists of. I think it's primarily a tourist audience, like Vegas, but I think the flavor of the tourist audience is probably different.
Penn: The answer is of course yes, but there are other things in our favor. Since we left New York we've developed weirder, odder stuff. We've gotten stranger as we've got older, so I'm really looking forward to how New York likes the weirder stuff. This may be hubris and pride coming before the fall, but I have a little part of me that thinks the stuff in our show, people in New York are going to like more than the people in Vegas.

Will you be unveiling any new tricks on this run, or is this a collection of greatest hits?
Penn: It's either a metric or imperial shit ton of new stuff! The producers wanted it to be a retrospective of the full 40 years, and there is a bit in there we've been doing for 35 years, but that's about 10 minutes of the show. There's other stuff that'll only be three months old by the time we get there. I would say about three quarters of the show, we've never done on the East Coast before.
Teller: There are quite a number New York has never seen before, from very small to gigantically large. From breaking and restoring an egg to a vanishing African spotted pygmy elephant.

You guys were one of the first really funny magic acts. Did that come naturally?
Penn: The odd thing about the way we work is that the last two things added to our bits are the comedy and the magic. We get ideas that seem good to us, then we start monkeying about with those and writing a structure, then we say, how do we make the trick work? Then it ends up being funny.
Teller: To me, magic is not a comfortable form. It's a form where you can't just sit and watch passively, it gets under your skin because there's a contradiction between everything you know and what you think you see. That contradiction gnaws away at you as you're watching, and it very naturally generates laughs because it's two ideas in conflict colliding in a surprising way, which is a big part of what a joke is.
Penn: When you hear about your comedy heroes, the phrase "class clown" comes up all the time, and that was not me. It definitely wasn't Teller! I always thought I would be a serious writer, but every time I got a chance to speak or write, it ended up funny. I don't think I've decided even now whether you're laughing at me or with me, but I've grow to the place where I no longer care. I used to lie to myself and say I was in on the joke, but I'm afraid as I get older I may just be William Shatner.

Was the humor originally a reaction to the more tediously serious magic acts around at the time?
Penn: We've never been a reaction to anything, we're just two people who wondered 40 years ago if magic could be done without being insulting and with heart and some thought. That seemed like a crazy idea, but we hated the guy in a tux with a lot of birds torturing women to bad rip-off small-dick white boy Motown music.
Teller: We were pretty repulsed by pomposity and self-importance in magic acts. In the list of places where pomposity and self-importance are not appropriate, I think in a magic trick is the top choice.
See the show!
The iconic illusionists make their first appearance on the Great White Way since 1991's The Refrigerator Tour. With their trademark brand of carnival-barker braggadocio—and utter silence—they will amaze and confound audiences for a strictly limited six-week engagement. This year Penn & Teller also observe the 40th anniversary of teaming up for magic and laughs.