Rising stand-up Ron Funches, visiting from the west coast, wraps NYC audiences in a big bear hug
Giggle along with the sunny, mellow and measured comic Funches, who opens for fellow stand-up John Mulaney at Carolines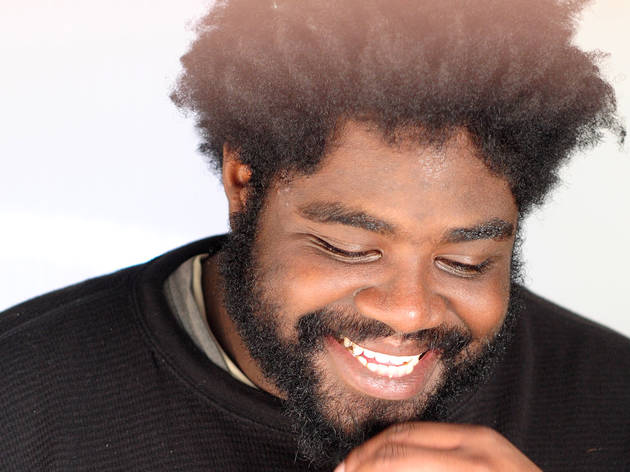 After hearing Ron Funches say ten words, you might be convinced he's one of the sweetest people alive—and you're probably right. His stage persona feels entirely believable: He's a pleasantly rumpled and gentle presence who (in the words of his bio) "you just want to hug and squeeze…like a big stuffed bear." Or maybe he's like Eeyore's smirking cousin, with whom you'd want to smoke a blunt and laugh until you pass out.

He tells jokes in slow and subtle waves. His pauses are long—unimaginable for many comics—but not empty; part of the joy of watching Funches is using this time to process where his train of thought is coming from and where it's heading. In a bit about moving from his hometown of Chicago to the relaxed environs of Portland, Oregon, he confesses the change has helped him enjoy things he would not have otherwise: "Like iced coffee or white women… [Pause] I'm just kidding, coffee is gross.… [Pause] Every time I drink some, I get really sick… [Pause] which leads me to believe I may be allergic to energy… [Pause] which is something I learned you cannot put on a medical marijuana application." At certain moments, as when he recites a piece of "stoned poetry," his id will leap out, along with a flash of rage that takes the crowd by surprise. These moments of emotional honesty only make him more endearing.

The recent L.A. transplant has appeared on Conan and is big on the West Coast radar—he was No. 1 on L.A. Weekly's "Comedy Acts to Watch in 2013" list—but has popped up only occasionally in NYC, for events such as the Eugene Mirman Comedy Festival. Fans will have a chance to get acquainted with a longer set at Carolines this weekend—and map out the best way to go in for a hug or pass the J.

Run Funches opens for John Mulaney at Carolines Thu 21–Sun 24.