Heads up! We're working hard to be accurate – but these are unusual times, so please always check before heading out.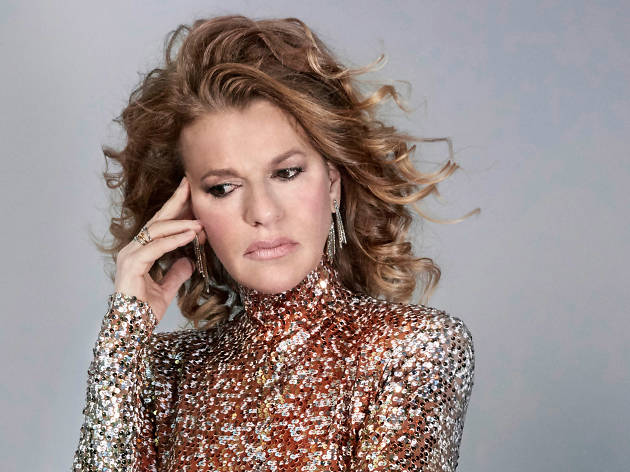 Sandra Bernhard on her divine New Year's Eve show in NYC
Alt-cabaret and film legend Sandra Bernhard talks about her Joe's Pub show Sandemonium and her SiriusXM series Sandyland
She has served self-aware camp on TV and film for more than four decades, with scene-stealing performances in The King of Comedy, Hudson Hawk, Roseanne and many more. But it's onstage at her cabaret shows where Sandra Bernhard rules without peer, and for many fans, her Joe's Pub NYC New Years show is a sacrosanct annual tradition. Before she sings and waxes poetic on politics, art and life at Quick Sand from December 26—31, the SiriusXM host and multihyphenate chatted with us about her career and evolution.
In a lot of your appearances on shows like The Late Show with David Letterman, it seems like you were brought in to be unpredictable. When you're hosting, do you ever find yourself playing the straight man?
No, because I continue to be the one who's unpredictable, even though I'm the host. If somebody seems a little low energy, I'll mix it up in the way I would if I were a guest. I kind of play guest and host sometimes with certain people, so it kind of lets them off the hook. Not everyone is good about getting underneath what they want to say about their work, so I jump in.
You have a very big performance persona, but in real life you seem very centered. Was that separation a conscious choice?
When I was younger, the two were sort of merged, and I later pulled them apart a little bit. Certainly in my teens and twenties and maybe into my thirties, and before I had my daughter, I was a little bit wilder, just in the sense of going out and being brash and fun and over-the-top. But after a certain time, you just can't do that anymore. And with the advent of social media and Instagram, you just naturally tone yourself down, because what something looks like on a picture is not necessarily what it was. It's just not worth having that conversation, because I try to be a person of some weight and merit and intelligence. I work a little harder now to try to keep things more in check.
You've said before that you're not interested in self-deprecation in your performance, especially as a woman. How did you make that choice?
It came from growing up exposed to the late '60s, the Feminist movement, seeing so many women that I admire—from Carol Channing to Carol Burnett—having to take second position to men, and also having to do these bits like "I'm so ugly!" It's funny, and it works, and I think it's fantastic, but I just felt like: Isn't it time for the new generation that fought for women's equality to take that moniker of being confident and self-assured? I was just tired of it. It's easy to be offbeat and put yourself down, but it's more challenging to not be the girl next door, and have the confidence and wherewithal to be comfortable in your own skin. That was the path that I chose. I don't know if it was conscious when I was young, but I was like: I'm rocking, I'm cool, I'm the next wave, and I'm going to be happy and enjoy my life, and enjoy who I am. It always worked for me, even if it underneath it I was having second thoughts or doubts about myself, which we all do when we're sensitive people.
Do you think that the way women make fun of themselves in comedy has evolved at all?
I think it's devolved in some aspects. It sort of started with early Sarah Silverman bits—"my boyfriend, anal sex," all this weird shit. To me, it sort of like: Is that really what you like? Or is it just trying to be shock value? What are you really feeling? Because this doesn't mean anything to me. I love Sarah—I think she's brilliant and she's evolved a lot, but a lot of women do that same thing. Drunk dating, and not knowing how many guys fucked you the night before...I find that disparaging and self-deprecating in a different way. It's worse than Totie Fields or any of the comedians from Joan Rivers's days, because that was their life and they had to fight to get onstage. But now? Is that really where you want to take it?
Do you feel any pressure to be overtly political in your live show?
How many times can you watch the news and then come see a performer talk about something that's been totally broken down a hundred times in the course of two days? No, I'm never going to do it verbatim. My work has always been inherently politically because of who I am, and I'd rather entertain people and take them by surprise, because that's what people need, and that is also political. It's more important to engage people and entertain them and lift them out of their funk, and I think that is also a political statement.
With film and TV appearances, your stage shows and your SiriusXM show Sandyland, you have a very broad audience.
Yes, and certainly since doing Sandyland, I've been introduced to people who totally take me off guard. People call me from Mississippi and Arkansas—housewives and their daughters who bond over my show—it's amazing! It's life affirming and fabulous, and I feel connected with so many new fans and with people have come to my shows. They really come out and spend money to see me live. I'm so touched by it. In turn, I think they get something that's so different from what they hear on the radio. They get a real night of old-fashioned entertainment that not a lot of people are capable of doing. So I never feel like I'm cheating people, which is another important thing to me.
What do you leave people with when they see you, especially these new fans?
They get to be up close to somebody and feel the honesty and the emotion; to see somebody in the flesh, you see what they're made of. If you've got the talent, you've got it, and if you don't, you don't, and it's all there on the line when you're onstage. Especially in the smaller venues and little theaters I perform in, you're on top of them. You see them and they see you, and it's a real deep connection.
How do you view your evolution as a performer?
I feel like I've been able to strip away layers of artifice in my work and as a person as the years have gone by, and I feel like every time I get closer, and release parts of my past, then I can access parts of my emotion that I wasn't in touch with. That's a really exciting thing, if you're a person who wants to do this your whole life and you're not just doing this to get somewhere else. It really matters to you. I'm developing a TV project with Justin Vivian Bond. It's based on our play that we wrote about five or six years ago called Arts & Crafts, and it's about two friends who have been apart for many years and get back together at a wedding, and then both of their lives intersect and they effect huge changes on each other—hopefully over many seasons. It's a New York show, but it's not cynical—it's got a lot of humanity and emotion and fun.

I love that about both of you: You're not into irony, cynicism or bitterness. It's real.
Right. That's what people need and want more than ever. On Twitter, there are so many people doing these these sort of off the cuff snarky [tweets]. It's funny, but that's what I did when I was 19. You don't want to come pay $65, $100 to see a performer be snarky for 50 minutes. You want somebody who pulls this shit apart and puts it back together again in a way that makes you understand the world and your life, and opens you up and liberates you emotionally. That's our responsibility and you can't phone it in.
Are there any memories from this Joe's Pub show that you look back on fondly?
It's so funny, because I've done so many performances over the past 40 years. I just performed in St. Louis last week, and I felt like that was one of the best performances I've ever done. It was a weird setting, I went on later than I wanted to, they had other people that I didn't want to have on the bill, and yet I channelled my truer, higher self and went out and did a great show. That was a memorable night, because there were obstacles in the way that sort of irritated me, but I rose above them. That's all you can really want to experience as an artist—to stay in the moment, stay centered, and always give the audience a reflection of what's going on, without them knowing personally.
See Sandra Bernhard Live!
The Divine Sandra's best work gives pop culture a big, sloppy kiss, while simultaneously biting it on the lip. Her annual year-capping residency at Joe's Pub blends irony, wistfulness, sentiment and tongue-in-cheek (or are they?) rock songs. This year's edition, backed by the Sandyland Squad Band, promises "a brief respite from the endless madness" of the ever more stressful news of the world.