Heads up! We're working hard to be accurate – but these are unusual times, so please always check before heading out.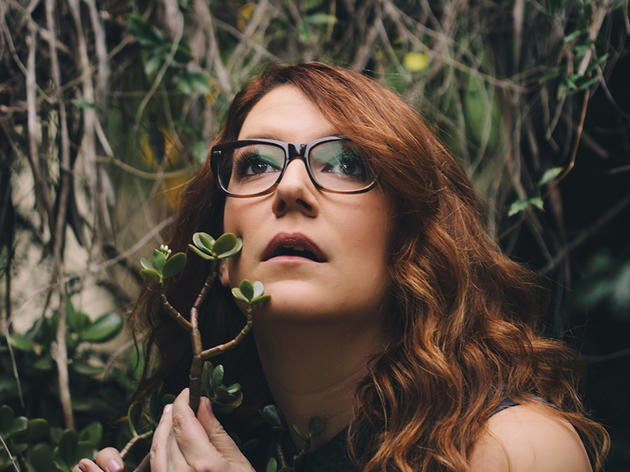 Sara Schaefer interview: 'New York is really my comedy home'
The former Nikki & Sara Live co-host talks gender representation and toilet naps
For fans of Nikki & Sara Live (or those who were present at our Women of Comedy 2014 show back in November), the news that Sara Schaefer is heading back to NYC is always welcome—especially when she's here to record a comedy album. We spoke to the brilliantly self-deprecating comic about her time in the New York comedy scene and the eclectic career path that led her to this point.
If your new comedy album was a YouTube video, what would the first comment be?
Probably "first," "gay," or some comment about my appearance. And then once those are out of the way hopefully at least one "LOL."

What made you choose Union Hall as the venue to record the album?
I've had a bit of a funky career in that I've been doing stand up for over a decade, but haven't toured as extensively as some people who've been doing it that long. For the first eight or so years of doing comedy, I lived in New York City (Brooklyn, specifically) and had full-time jobs that kept me off the road for the most part. So New York is really my comedy home, and there are a few rooms I've spent a lot of time in. Union Hall is one of them. I really love the people that work there.
You have a very varied resume—everything from blogging for Late Night With Jimmy Fallon to being a financial analyst. What's the worst job you've ever had?
I actually don't have a "worst" job; I see them all as pieces to the puzzle. I've had some really awful, terrible low moments in every job I've had—even the big "dream" ones have lonely, soul-crushing days. I think the idea is to find a job that has the fewest of those days in a row. In other words, I am really, really, really glad I don't work at a law firm crunching numbers anymore.
You based a web series, Day Job, on your experience of having to work at that law firm. What's the best way you've found to kill time at a job you hate?
Before the days of Twitter and Facebook, I would do all kinds of things. I would Google stuff. Secretly write sketches, jokes. I would find excuses to walk around the office and talk to people, just to keep myself from falling asleep at my desk. And worse came to worse, take naps in a bathroom stall.
You were also a writer on Who Wants To Be A Millionaire. What exactly were you writing?
I wrote the questions! Along with several other writers. It was pretty challenging—you had a certain number of questions you had to write each day, and it was tough because you had to come up with something that had never been written for the show before. Sometimes it felt impossible to find something fresh, but it was a fun challenge and I really enjoyed it.
We've talked before, during the Late Late Show controversy, about the lack of diversity in late night TV and the implied suggestion that "women can't be funny" that still seems to rear its dumb, ugly head sometimes. Do you think there's anything left to say on that particular subject beyond muffled screaming?
Beyond the muffled screaming, no. I do think the new myth that seems to pop up is that there are "so few" female comedians. That is the go-to explanation for many people when there is scrutiny of gender representation on our screens and in the writers' rooms. They'll say it's because there aren't that many women doing it. That's just not true anymore! There are tons of us. I get annoyed with that question and try to dispel that myth whenever I can.