Heads up! We're working hard to be accurate – but these are unusual times, so please always check before heading out.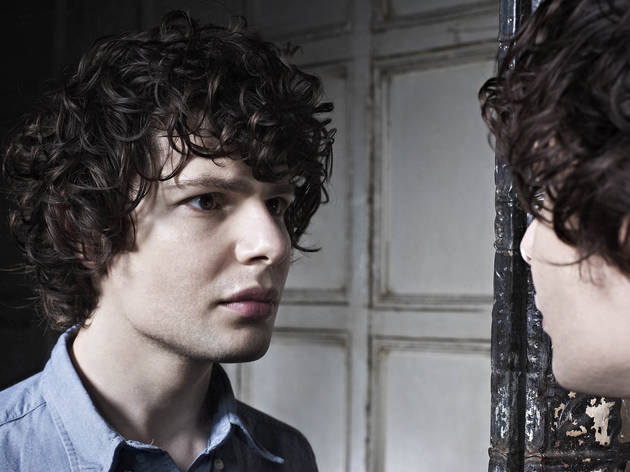 Simon Amstell
The U.K. stand-up star properly introduces himself to NYC with Numb.
He'd been performing for years, but Simon Amstell didn't get a lot of attention from the British public until he hosted a pair of saucy TV series—including game show Never Mind the Buzzcocks, which found him baiting celebrities with their own media-constructed personas. Since then, he's found success in an autobiographical BBC Two series, Grandma's House, and in searching, self-depricating stand-up shows. Though he visited NYC on the tour for his last special, Do Nothing, he'll give New Yorkers more than just a taste of his act during a four-week run of his confessional new show, Numb.

How does it feel to have to introduce yourself to an entire population who doesn't know what you do?
It's nice to be new, really. In the U.K., people come with expectations now, and there's already an idea of what the show may be. Here, I'm a stranger, and it's interesting to see what they're laughing at.

What's been different thus far?
I don't know what happened at UCB last night, but "Hello" was a very funny word. Also, I have a set-up line about what any of us are really doing with our lives, and they really laughed at that. That, to me, was just the beginning; but they were like, "You're right, we don't know what we're doing with our lives." In some places on the U.K. tour, they were like, "Well, we're married, we have children, and that's what we're doing. Why are you asking us? Please stop talking. We were happy!" [Laughs]

You come across as genuinely vulnerable in your stand-up, but on a long tour like this, how do you balance that vulnerability with showmanship?
Generally, you're talking about yourself in the past. But you have to keep the feelings alive when you're telling the story; otherwise it's kind of dead. I talk about this breakup in the show, and I have to remember that pain, because it's almost as though it never happened. This real thing that broke my heart is now just the words breakup on a bit of paper in a list of other words: "Hotel, breakup, Amsterdam." It's both incredibly helpful and healthy, and horribly unhealthy.

Your relatively brash persona on Never Mind the Buzzcocks is so different from both the gentler tone of Grandma's House and your stand-up. Is this a progression or a regression?
When I was growing up, it wasn't my dream to host that show. But I really enjoyed being that cheeky, naughty guy in this celebrity world, and I feel I had said all I had to say about it. When I stopped doing that, I really wanted to draw a line, but it is quite fun to be that guy occasionally. I want to sort of reintroduce him a bit to my current personality. That sounds insane! "Reintroduce him to my current personality." Oh, God!

What do you like about this sort of shy character?
A lot of the sitcom [Grandma's House] was about this actor I became obsessed with who was shy and introverted. His life seemed very beautiful and artistic, and my life seemed cheap. Do you remember Jared Leto from My So-Called Life? These guys that do well sexually—they just sort of sit in the corner with their hair. And I thought, Why couldn't I do that, rather than being in the middle and shouting?

Maybe the bottom line is the hair.
You just have to have this hair that falls over your eyes, yeah. Then you can just move it outside of your eyes, and then it's like, Who's that shy guy in the corner who just moved his hair behind his ears? I wonder what he's thinking about? He's never thinking anything.

There were definitely themes and ideas to take away from Do Nothing. What are the messages here?
I think the best message is… What did Gandhi say? "Be the change you want to see in the world?" But people have to go through the fire and learn for themselves. I even forget my own messages. I had to relearn Do Nothing before recording the DVD, and while I was listening to the CD, I was like, Fuck, [the message is] acceptance! I'd forgotten it six months later—and it didn't come easy. [Pauses] I think Post-it Notes are the key. Sometimes you go to people's houses, and they look like maniacs, because they've got all these Post-its all over the fridge about love and compassion. You have to do this.

If all of your friends did that, you'd never forget.
No, you'd just think they were maniacs. That's what happens: Who's this maniac I'm friends with?

Is there anything in the show you think New Yorkers will gravitate toward?
It's about disconnectedness, loneliness, depression, anxiety—that feels like it will work in New York, right? [Laughs]

Do you have a grand career trajectory?
I'm constantly trying to remind myself that I'm going to die, so I start living. People say, "Where have the years gone?" So last year, I thought, I'll make a list and sort out these years right now, so I don't leave anything out. 30 to 40, 40 to 50, 60 to 70, 70 to 80, 80 plus. And all I could think of to write was, "More of the same." And then, after 80 plus, "Autobiography?" That's all I had.

Can you foresee any pitfalls in that plan?
Sometimes on a long tour, you're about to go onstage and you think—like a drama queen—I just can't go on. And then you have to remind yourself this is exactly where you wanted to be. One night in Glasgow, my body was really tired, I just didn't want to do it, and the dressing room was a bit grim. I didn't feel like I was in show business; I felt like I was a traveling Hoover salesman. I phoned my mum, and she said, "When you go onstage, you're not in Glasgow.… You're in Vegas!" And it really helped. I don't have to be anything different because I'm in Glasgow—it's about bringing the show to this place, right here.

Simon Amstell performs Numb Tue 10–Aug 9.