Heads up! We're working hard to be accurate – but these are unusual times, so please always check before heading out.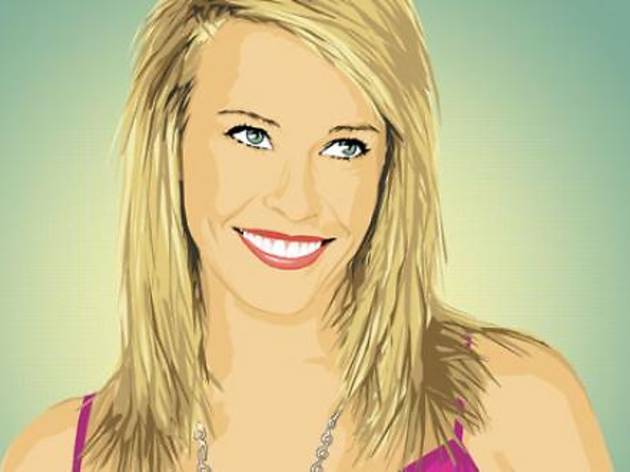 The Hot Seat: Chelsea Handler
The acerbic comedian, who is headlining Radio City, is an excellent liar.
Chelsea Handler's entire career is based on her considerable talent for being a lovable smart-ass. As the brash host of E!'s Chelsea Lately, a popular daily bitchfest, she targets the celebrity news cycle and the self-satisfied stars in it, often mocking D-listers right to their faces (but usually with a smile—maybe that's how she gets away with it). She also maintains a busy schedule deprecating herself as a stand-up and autobiographer: Her collections of personal essays, including 2008's best-seller Are You There, Vodka? It's Me, Chelsea and the recently released Chelsea Chelsea Bang Bang, chronicle not only her family life but her noteworthy adventures with booze, pills and casual sex. We caught Handler in the makeup chair in preparation for her show's shoot.
RECOMMENDED: Full list of Hot Seat interviews
For a hedonist, you're remarkably accomplished.
Thank you. I appreciate that compliment.
You're the youngest of six kids. Do your siblings see you differently as your star rises?
They just take me more seriously than they used to. Once you're the person paying for most things, you can call pretty much all of the shots. So if they want their kids to go to college, they have to do what I say.
Does dredging through all the celebrity gossip excite you? Are you the kind of person who calls Us Weekly "the news"?
I can't really read anything in those magazines anymore. You have to balance your brain out with other activities to keep sane. If this were really all you were talking about, your IQ would be disintegrating. I'm pretty sure mine already has.
How do you balance it out?
I read, like, heavy shit. I go to the gym a lot. I watch a lot of the History Channel and my new favorite channel, the Smithsonian Channel. They have a lot of great documentaries about Hitler.
That's one subject documentarians can always find more to talk about.
I know. Hitler is a home run.
Are you really as great a liar as you are in your books? You're like Odysseus!
Yeah, I'm a really good liar, I'm really good at improvising, and I can be pretty convincing. Early on, I learned how to get out of embarrassing situations or how to explain my father's collection of 50 [broken-down] cars in the driveway. I got my boyfriend to go to a fake dog funeral at the Santa Monica pier. That one makes me proud—it's a chapter in my new book—but it'll be hard to top.
If you continue to exploit your embarrassments for comedy, you're going to continue to be very boring tabloid fodder.
Well, exactly. You have to embrace your shortcomings. That way nobody can ever say you lied.
You looked great on the cover of Playboy in December, but did they tell you what to do with your hands? It looked like they were asking you to hold an invisible sandwich.
Yeah, they were trying to imitate those old Coppertone ads. You're pretty much right on the money.
Would you have considered posing nude?
I wouldn't mind showing my boobs. I don't have any problem with that, but I don't think anyone wants to see my coslopus.
Is that Yiddish?
No, it's my word for pikachu.
Oh, right—that's "lady parts" in your lexicon. You'll have to publish that eventually; I only just figured out that your term of endearment, "nugget," can be used broadly.
Yeah, it can be for little things or big things. Basically, it's anything I want to squeeze.
How much cuddling can your Chelsea Lately sidekick, Chuy, endure?
He can endure a lot. But I've actually lost interest in cuddling with him. I've been around him for two and a half years; I'm over it. [Noise in the background] Can you hear me? That's the blow dryer.
It sounds a little like heavy breathing.
Yeah, it's also my makeup artist—she's Samoan.
Does that indicate heavy breathing?
Samoan? Yeah, they're really overweight.
I guess I wouldn't notice unless I saw someone larger running.
Haven't you ever had sex with a fat person?
No.
Well, you should! We have some one on staff—are you straight or gay?
Straight.
Oh. I can't help you out.
Chelsea Handler is at Radio City Music Hall Sat 15 and Sun 16. Chelsea Chelsea Bang Bang is out now.
You might also like
See more Hot Seat
See more in Comedy