Heads up! We're working hard to be accurate – but these are unusual times, so please always check before heading out.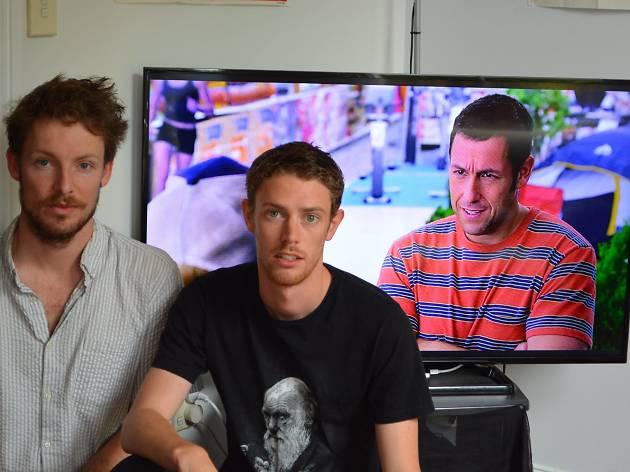 These comedians have watched Sex and the City 2 every week for a year
The men behind the podcast The Worst Idea of All Time tell us about the struggle of watching horrible sequels
When New Zealand comedians Tim Batt and Guy Montgomery decided to watch Grown Ups 2 once a week for a year and record their thoughts, they gave the podcast the perfect title: The Worst Idea of All Time. This year, they took on the two-and-a-half-hourb behemoth Sex and the City 2— and boy, how fans enjoy watching these two suffer. We checked in on their mental health before their final episode recording party at the Bell House on March 3.

You guys are in New Zealand, soon to head to the U.S. What watch are you at now?
Tim Batt: Our most recent watch was number 49—we made sure that we timed it out correctly for our final stop in Brooklyn.
Guy Montgomery: Somehow we wound up being slightly ahead of ourselves. We were so excited to watch Sex and the City 2 we're ahead of schedule. We still have to watch the movie, of course, it just might be an 8-day gap instead of a 7-day gap.

Still, I hope you enjoy that day's respite.
GM: I appreciate that, but the longer it takes between viewings just means you have to try to turn it around the next week. Once we watched it twice in a row.
TB: We watched it back to back in a departure from the normal format. We were recording the entire time but we were watching. It was a five-hour episode. People were quite into it which I did not anticipate.
GM: If you randomly spurn everyone, they love it.

What will the live show be like?
GM: We're not gonna make everyone watch Sex and the City 2 because it's too long and a massive downer. The delight will be us having our final discussion about the film. Then we'll do a Q&A, and we'll both do roughly half an hour of stand up comedy, which is maybe slightly selfish.
TB: In New Zealand we have a very healthy does of self loathing. I don't know if you're familiar with tall poppy syndrome, but if you're too ambitious, those around you will knock you down. When you're given an opportunity our normal reaction is to run away from it.
GM: Even in Canada everyone's very forthright about their intentions and I was really taken aback. I was like, "Wow, people are doing so much." It took awhile to realize people in New Zealand are doing the same things, but we just sit on them until they succeed.

You've never seen the series or the first movie, correct?
GM: We've never seen the first one. We're just looking to analyze the movie.

Did you ever see Grown Ups after the first season of your podcast?
TB: We ended up watching it and it was surprisingly bad.
GM: You can sit around watching Grown Ups 2 all you want every week, but accordingly our expectations became staggeringly, misleadingly high.

Was it at least better than the sequel?
GM: I think no.
TB: To watch one movie then its precursor after that seems unfair, but I'm gonna agree with Guy on this one. I think the first one was somehow worse.
GM: We are the world's leading experts on Grown Ups 2 and Sex and the City 2, respectively, and we are probably the least qualified people because we've destroyed objectivity.
TB: What do you think of Sex and the City 2?

My friends and I are huge fans of the series, but overall I think the movie was badly done and pretty racist. I always think of the scene when Samantha is holding up condoms and screaming at everyone.
GM: There's something to be said for the intent of that scene.
TB: The movie was filmed in Morocco because it was too racy for Abu Dhabi, even though it was supposed to be bought and paid for by [Abu Dhabi], but it kind of mirrors what happens in the movie. It's kind of sunshine and happiness then the whole movie turns on Abu Dhabi and starts shitting on it. We get the cultural importance of what Sex and the City the show was. It was relatively ahead of its time for having four leading ladies and talking about sex on television. That was pretty new and exciting stuff and I applaud them for it. That's kind of what makes viewing the movie so tough—because it abandoned everything the series was about. But what do I know? I'm just a dude that's watched the film 50 times.

Does this movie make you think a certain way about Americans?
GM: Well, everything we have here in New Zealand comes from America. Your first time in America everyone is speaking in American accents and the only sort of real interaction and exposure we've had has been through media and podcasts, so you get over there and everyone's having really banal conversations and you're like, 'Wow, these people sound like movie stars.' Someone's at Walmart and you're like, "What are you doing at Walmart? Shouldn't you be on a set?"
TB: Growing up in New Zealand the sole exposure to America was movies.
GM: But now that we're grown up, we also enjoy the freak-show political campaigns.

Who's been your favorite guest on the podcast?
TB: Watching the movie with Paul F. Tompkins was one of the most magical experiences of my life. We went to his house, he got us some pizza and we watched the movie in silence, which Guy and I generally don't do. But Paul was like, "We're gonna do this properly and absorb the film."
GM: I was really upset by that idea. Eventually we broke him. I've admired and idolized Paul F. Tompkins as a comedian for years, and meeting him purely as just another fanboy and as a fellow creator of funny things and having that mutual respect was deeply satisfying.

How has the success of the podcast changed your life?
GM: With Grown Ups 2 it was a thing for us to do together. We had no idea people would start paying attention. People caught wind of it and the enjoyment of watching two people struggle. But then people started paying attention and we were like, "What would be hard to do?" And we decided on Sex and the City 2 because it was so long.
TB: The first season was when we were figuring out how to do the podcast in general. It was very exciting because we started getting listeners, and the second phase has been a real grind in the salt mines every day.
GM: The thing is, people love salt. They eat it with virtually every meal.
TB: We take it for granted, but someone's gotta go get the salt. Getting salt isn't that fun, but watching people enjoy salt is very rewarding.
TB: The trips to America have been the biggest thing. We went to L.A. twice for the L.A. Podcast Festival. And [having podcast guests] like Paul F. Tompkins and Paul Scheer, and getting to do standup with Kristen Schall. I wouldn't trade the price of the podcast for a million years.
GM: The good fortune of the podcast is it started off slower and was just us talking, and by the time it became popular it was already developed. There's no external influences on it and it's just us talking shit, and the fact that people like that is great. In terms of locally, we have pretty much zero New Zealand exposure.
TB: Which I think is good. We get to speak of fans of the podcast and then we come back home and no one gives a shit.
See the show!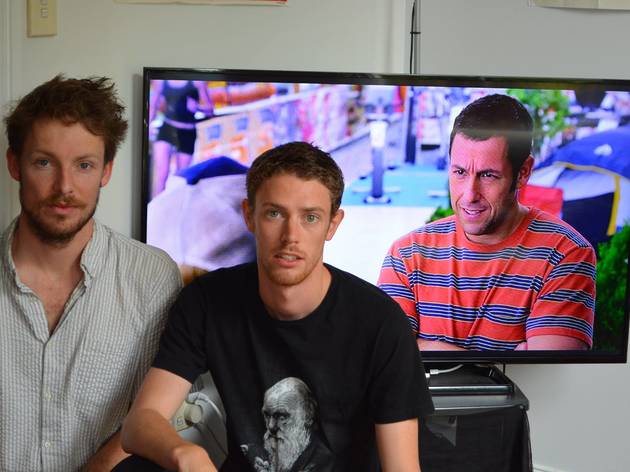 New Zealand comedians Tim Batt and Guy Montgomery have spent a year watching Sex and the City 2 weekly, just for shits and giggles and the amusement of the audience of their podcast, The Worst Idea of All Time. Now they'll discuss their final viewing with a live audience, plus a half-hour of standup from Batt and Montgomery, who've long suffered for their art.