Tom Scharpling
The host of WFMU's The Best Show, teams up with rocker Ted Leo for a Sandy comedy and music benefit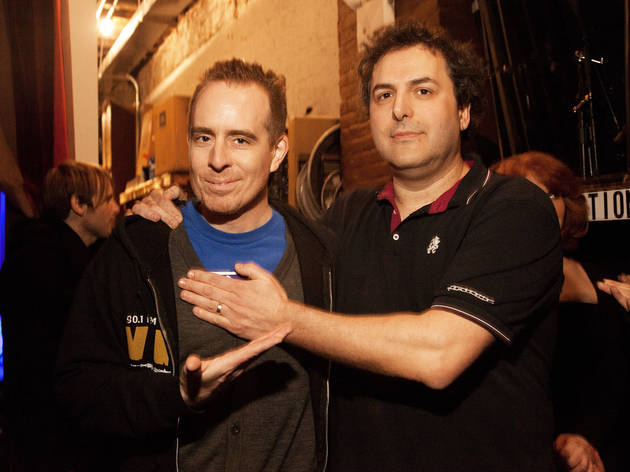 After seeing the devastation wrought throughout New York and New Jersey by Hurricane Sandy, longtime pals Tom Scharpling, host of WFMU's call-in radio program The Best Show, and Ted Leo, who may just be the funniest dude in rock, combined forces to help the recovery efforts. We asked Scharpling about A Very Special Hurricane Benefit Show on Friday 7.

How did you and Ted come up with the idea for the show?
Ted grew up in New Jersey, and I grew up in New Jersey, so it happened to our state, you know? We feel very responsible for trying to help the area out. We've seen some images, and that's where I spend my summers, and now it's unrecognizable. As soon as we were able to talk, we were both on the same page; like, we have to do something.

You guys have collaborated before; how did you meet?
I was a fan of Ted's music and [we met] through the radio show, ultimately. He apparently would call and not say it was him, which, I don't know if that's true or not. But we started talking, he came on the show and we became friends. He's somebody who I had admired as an artist, and I admire him even more as a friend. We're of the same mind in a lot of ways.

Proceeds are going to Occupy Sandy and the Stephen Siller Foundation on Staten Island—why those charities?
Occupy Sandy seems to really be doing something impressive with how they're mobilizing, and being very smart in how they try to help the situation. I think what they're doing comes from a similar spirit to maybe how we approach things. We don't have all of the resources of the world, and I think great stuff comes out of that. The other organization is based on Staten Island, [which] got hit so hard. It's a place that gets overlooked in so many ways. Occupy Sandy is covering a pretty wide berth—they're helping everybody in the path of this whole thing—but Staten Island got fucked so hard that it was like, let's do something that aims specifically at the borough.

You've got a great lineup for the show—John Hodgman, Andrew W.K. and Julie Klausner are among the performers. Was everyone just like, "Yes, absolutely," when you asked them to participate?
One of the things Ted and I tried to do was say, "Let's put a show together that doesn't feel like the kind of shows that go on." What we're trying to give people is not the kind of stuff you see in shows around New York. And I love everybody who does those shows—I love New York comedy as much as anybody could—but I was trying to do something that people had never seen before. Everybody gets what we're going for, and they're totally into it.

So what can attendees expect?
We have some great packages of things we're going to auction off, and it's going to be a great split between music and comedy and weirdness and heartfelt stuff. I just hope that it's going to be a night where people think, Wow, I've never seen anything like that before. In a good way. [Laughs]

You've also been asking people to donate to WFMU, which airs The Best Show and got slammed during Sandy. How's the station doing now?
The station really took it on the nose. The transmitters got hit and our record fair was supposed to take place the weekend after the hurricane, and that's a huge source of revenue for the station. Things are already so tight up there as it is, and to lose something like that and have damage to the transmitters at the same time was a pretty big blow. So we're trying to kind of raise some money that can help the station get back to normal. Even if there was no hurricane, it's a pretty tight operation. I'm doing a T-shirt that people can get for a $50 pledge; it's designed by Coop, who does a lot of stuff. I'm not in this to create a collector's item or to create something exclusive or something where people feel like they missed out. It's a special thing for a special occasion, and we are trying to convey the urgency, that the station needs money now.

A Very Special Hurricane Benefit Show takes place Friday December 7, 2012 at the Bell House; tickets are sold out.