Heads up! We're working hard to be accurate – but these are unusual times, so please always check before heading out.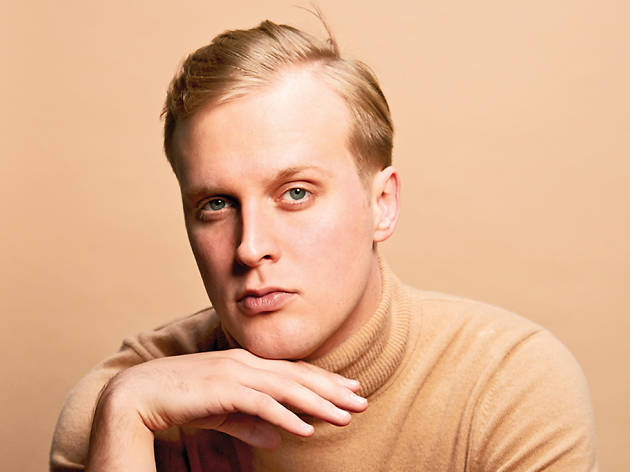 We talked to comedian John Early about Showgasm. XXL
Early told us about his flagship variety show's impending end, his Netflix stardom and his BFF Kate Berlant
For arts venue Ars Nova's annual benefit, resident performer John Early and pals (Ana Gasteyer, Kate Berlant and Cole Escola, to name a few) combine comedy, music and a heavy dose of the bizarre on Thursday, April 21 for Showgasm. XXL. And did we mention the open bar? Early talked with us about what makes Showgasm so special, Netflix stardom, his episode of The Characters and why his alter ego is so hard to watch.

Showgasm has been your monthly variety show at Ars Nova for years. How would you describe it?
It's really a place for [my cohost DJ Hamm Samwich] and I to force people to watch our friendship. It's a place for us to process the world outloud in front of people and get drunk in public. What's been so beautiful about it for me is the kind of performers that we've put on the show, the kind that you can only see in New York. I've gotten to give my friends a platform, and Ars Nova has never questioned my taste. It's the perfect expression of what I'm interested in and I hope it feels like a party.

What will Showgasm. XXL be like?
Every year there's a big show that's a benefit for Ars Nova—Ars Nova being the place that supports emerging artists, so people in the early stages of their career. [Ars Nova is] the reason why I have any semblance of a career. They gave me a show, Showgasm, almost four years ago and it's where I developed my comedic voice, and I made all these videos for them to promote the show that then became like my Netflix special I have right now. It's been very pivotal to my career and to the careers of people like Billy Eichner and Bridget Everett. The benefit helps keep the organization alive. It's usually 150 people max and this time it's at Marquee, so it'll be a bigger crowd and bigger lineup. The show will be a little tighter than it usually is—I think we will still be drinking. Even if it feels more polished and we have big name guests, we want to keep the typical Showgasm energy alive.

You got to create whatever you wanted for an episode of Netflix Presents: The Characters. What was that like?
Netflix had seen my solo show Literally Me, and they wanted to do some sort of unconventional special, something where people do characters, and we're living in this time where a lot of comedians are coming to notoriety through the freedom of the Internet and not abiding by TV standards. I had always had this idea for a half-hour sketch show, the throughline being me, as a heightened version of myself, having a nervous breakdown, and then I would cut out to self-contained shorts where I played characters and end in a showbuzzy lipsync number. [Netflix was] so excited about it, and I wrote drafts and they never once pushed back. They bought the rights to the song I wanted to lipsync to [Editor's note: xScape's "Who Can I Run To"], and I cast all my friends.

It's all these people I made shorts with in my apartment for no money, and it's really been a thrill for me to tie a ribbon on all the videos I've been making for Showgasm. Normally I'd make them at 2am the week of the show when we were drunk and high, so it's lovely to do it with some professionalism. Now that it's out I can't watch it. Knowing it's available to millions of people is utterly terrorizing.

Tell me about the characters you played.
When I first started doing comedy and making things for myself I wanted to play women. I had the dream of making Thirteen, the Holly Hunter movie, but with me as a teen girl. When I started making these shorts for Showgasm I was dabbling in that. I did some stuff in drag, and then I guess I had this nagging feeling of, What if I actually just looked like myself? It's cheaper and takes less planning, and also it's a great resource—your own body and voice, no one else has it. If I'm on camera as myself and not as a woman what would that character actually be? I think I was suddenly struck with the fact that I was white—Okay, wow, I'm white, I look like a Hitler youth.

So who is this character? I come from the South, from a culture of politeness and not talking about your feelings, so it was very natural for me to create this John character. The character was based on these darker parts of myself—this person who is not good at talking about things and is kind of smiling through everything and has an intense need to control, and blowing that up. I'm not actually that crazy in real life but many of those elements are in me. I was also interested in how gay people make art—they typically celebrate the woman as I do.

I love women on film—I don't understand men on film. I have no desire to see men on film at all. And I love women on film having nervous breakdowns. It's a great trope of cinema. Like Julianne Moore and Gena Rowlands. There's not a lot of examples where there is a gay person onscreen but also where a gay person can dabble in those tropes of lushness and nervous breakdowns. I tried to put the qualities of all the women I loved watching into a gay character.

Good, I just wanted to make sure you didn't hate yourself.
Any negative feedback has always been, like, Googling myself at 4am [and seeing], "Oh, he has such disdain for his characters," and that is so totally offensive to me. I love that John character. I think he's insufferable and super angry and his anger has been misdirected, but I love him. I'm sorry if it's hard for people to like him, but I did provide some moments where you can like him—you can see how people might love him, you can see that he's panicked in a real way and has a need to please people. I'm essentially forgiving myself by making this character. I do well comedically when it's nervous energy and someone trying to control the moment.

You work a lot with comedian Kate Berlant. How did you meet?
We met doing stand up on a mutual friend's show. We were at NYU at the same time and never knew each other. The second we met we said, See you tomorrow, and we had a sleepover for like basically two weeks. We'd stay up till 4am and she was sharing her high school diary with me and I was sharing home videos. I met her parents within a month. We took a roadtrip to Nashville and she met my parents. It was extremely romantic. We basically didn't separate for like two years, and it was clear early on we were going to collaborate.

As a gay comedian, do you think about what you want your persona to be or not be?
I really don't think too much about what I'm doing as a stand-up. I literally don't have the time or the drive or the discipline to think too hard about stand-up. I write my stand-up an hour before the show in a panic because I'm like, I have to do something new, I'm so sick of my old jokes. What I'm doing in stand-up is very accidental, I feel. I think there's this assumption that stereotypes are bad, like the way people look down on Mario Cantone. As if he's doing anything different from Joan Rivers? He's a great comedian. If anything I hope I become more like Mario Cantone.

I want to be a sharper standup, showbizzy and be able to make people on a fucking cruise ship laugh. I don't want to keep performing for white people my age. I'd like to be good enough and respectful of the people who've come before me enough. The audience for comedy right now is very homogenized. Popular comedy looks a certain way—it looks like white male hipster nerd. That's what all the podcasts, shows and people who are at festivals are. Of course, there's great exceptions to that rule, thank god. I'd love to be able to go into a real queeny room and kill—I don't want to just perform for hipsters, I want to be on a Pride float. That is a goal of mine. I would never want to come across as someone who thinks gay performers before me are puppets. The conversation people are always having is like, These people were really using stereotype and doing gay minstrel. And I'm like, I have the privilege to not be a puppet—it's the privilege of my age to not be painted into a corner.

It wasn't evolved enough for those people to do anything other than that. Camp aesthetic comes out of when you couldn't see gay characters on screen, so you had to read gay characters and experience from women onscreen. You had to relate Betty Davis to your own experience because you weren't going to get a lot of fun out of the masculine character onstage. They created an entirely new subculture and way to bring up culture, and I think it's dying now. There are more opportunities and political acceptance and these are all incredible necessary things, but young gay people are becoming less literate in that kind of aesthetic. And if anything I'm trying to hold on to it desperately.
See the show!
The very funny John Early hosts this eclectic neovaudevillian variety show, which features a lively mix of music, comedy and burlesque (with the tart Hamm Samwich sidekicking as DJ). This special mega-edition, a benefit for Ars Nova, features guest spots by Josh Charles, Ana Gasteyer, Bruce Bundy, Cole Escola, Isaac Oliver, Kate Berlant, Cocoon Central Dance Team and Gotham villains Robin Lord Taylor and Cory Michael Smith.