We were there: Jerry Seinfeld at the Beacon Theatre
Beloved New York stand-up Jerry Seinfeld gives the crowd what they crave on the first of five Thursday shows in the five boroughs.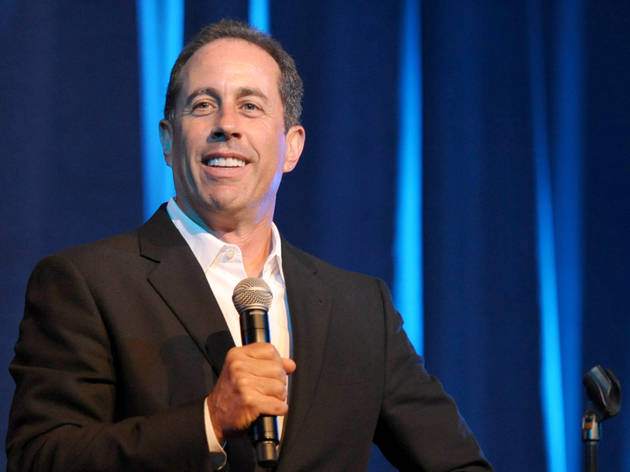 Last night at the
Beacon Theatre
, that Seinfeld—the one New Yorkers have come to expect—was absolutely in attendance. After talking about the inconveniences of getting to the theater and our natural propensity to remain seated, he said, "My job it to slightly distract you while you're sitting in a different chair." The hometown crowd, of course, was more than happy to be carried off by Seinfeld's brand of distraction: He chatted about our beverage-obsessed culture, the omnipresence of technology, and how hot dogs at a baseball game simultaneously "suck" and are "great." These funny tics were new and familiar at once.
During this first of five sold-out shows on successive Thursdays in each of NYC's five boroughs, Seinfeld had new things to talk about (i.e., marriage and kids), but nothing was missing from his emphatic cadence or sharp observations. The audience, who cheered him on by name during pauses in the set, erupted at moments when he nailed his specifics—he portrayed marriage as a Jeopardy!-like game show of husband versus wife, in which the man must accept unwinnable challenges: "I'll take details of an eight-minute conversation we had at 3am eight years ago." His set, just longer than an hour, had several applause breaks for moments like this.
During a Q&A session at the end of the show, the comic told the crowd his favorite restaurant was the Viand, a diner around the corner from the Beacon. This choice seems apt for the evening, and for Seinfeld himself: He was, and is, the reliable comfort food of comedy. He won't provide (in his words) "information of value," and he won't ever challenge you, but he won't let you down either. Earlier in the set, Seinfeld railed against the constant talk about "great restaurants" in the city, saying that he's looking for one that's "not bad." This makes sense too: He's very good at being not bad.