Cast away
Douglas Lee makes his choreographic debut at NYCB.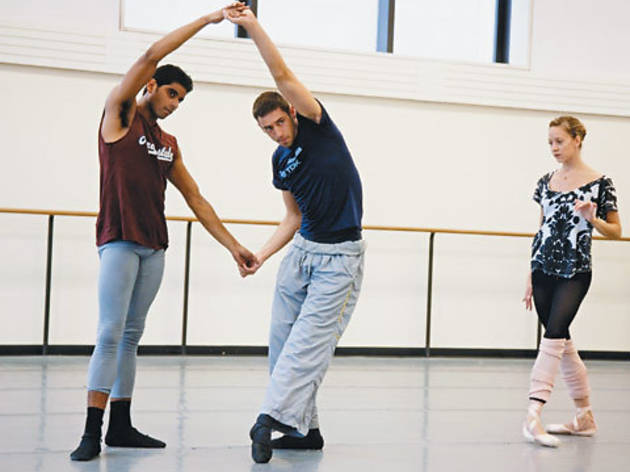 As a dancer, Douglas Lee has the looks of a typical story-ballet hero. Choreographically speaking, he's a dark horse. On Thursday 22, Lee, a 31-year-old principal with the Stuttgart Ballet, will present Lifecasting, his first work for the New York City Ballet, as part of the company's Rudolf Nureyev Fund for Emerging Choreographers. But Lee isn't exactly a stranger to NYCB's dancers; he is a two-time participant in the company's Choreographic Institute, at which choreographers are invited to create ballets without the pressure of a performance (or critics). Peter Martins, NYCB's ballet master-in-chief, felt that it was time for Lee's public unveiling. "His first session with the Institute was impressive, which prompted me to invite him back," Martins says. "And after the second session, I thought that there was even more progress, and I thought, This is what the Institute is all about: to find emerging choreographers and then, one day, give them a crack at the big stage."
NYCB has presented works by nine Institute participants over the years, including those by Christopher Wheeldon, Alexei Ratmansky and Melissa Barak—a former company member who will premiere a new ballet next month. (Alexey Miroshnichenko, who was to be included in the current season, had to withdraw due to complications with music rights and will return with a new work next winter.) "I think it's a unique organization that offers something that really isn't available [elsewhere]," Martins says. "The emphasis is really on process. The choreographers know before they come here that there is a showing, but if at the end of the two-week session they're not happy with what they made, they don't have to show anything. This is not for anybody's consumption other than their own."
For Lee's first session in 2006, he created a ballet for four dancers; the following year, he increased his cast to nine. "Each time, Peter took the choreographers out to dinner and explained that we should experiment as much as possible—that we should feel completely free to express ourselves and to make mistakes," Lee says. "After the first Institute, I learned that you could do anything you wanted. I think I was just a bit more courageous the second time around and more clued in about how to use the opportunity. You can't rely on lighting and sets. It's purely about dance and trying something you haven't done before. It's using the opportunity to find out something about yourself as well by doing something different. Kind of taking a leap of faith."Raised in North London, Lee began his training at 11 at the Arts Educational School. He continued at the Royal Ballet School; after graduation in 1996, he joined the Stuttgart Ballet, where he was promoted to principal dancer in 2002. Under the auspices of the company's Noverre Society's Young Choreographic series, he choreographed his first work and has been creating ballets steadily for the Stuttgart ever since.
In Lifecasting, a ballet for 11 set to Steve Reich's Triple Quartet and the third movement of Ryoji Ikeda's Op. 1 (for 9 Strings)—111, Lee's basic theme is to use dancers as sculpture. (The title is taken from the technique a sculptor uses when creating forms by taking molds of actual body parts.) Although there are two adagio sections for Maria Kowroski and Kaitlyn Gilliland—two of the tallest women in the company—Lee stresses that Lifecasting is a group work. "It has an ABAB type of structure, and I like that contrast: The idea is that it's one piece almost repeated twice with a different outcome the second time," he says. "One of the ways I like to work, whenever I choreograph, is to start with basic phrases to get people moving—it's kind of a break-the-ice situation. And then, immediately, you realize who moves in a very specific way. I liked the idea of using the dancers' individual qualities through the way they move. You get to achieve something different. I didn't want to repeat things that I've done in the Stuttgart already."
While Triple Quartet makes up the bulk of the work, Lee sets the tone with the Ikeda piece, which he regards as a prologue. "It's almost like an installation onstage," he explains. "I started to think about the piece in sculptural terms. I collected some images of sculptures and friezes." The costumes, by German designer Ines Alda, also reference the art form. "She's using green, copper and some bronze, and there are also some nude palettes in there," Lee says. "They're quite bright and maybe there's some humor in there because it should be fun." He smiles. "Not necessarily in a comedic sense, but it should be a pleasure to come to the ballet."
Lifecasting will be performed by NYCB Thu 22, Sun 25, Jan 31 and Feb 3.