Heads up! We're working hard to be accurate – but these are unusual times, so please always check before heading out.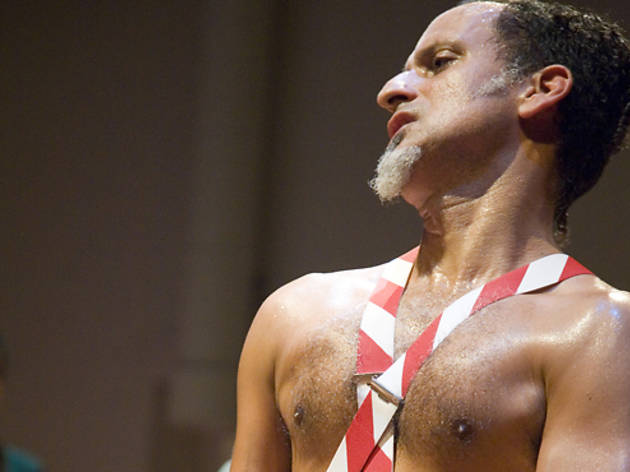 David Zambrano
It's a blessing: Soul Project has a second life.
Certain things in life—and especially art—are worth revisiting. One such is David Zambrano's intoxicating Soul Project, which had its U.S. premiere in 2010 and returns to Danspace Project beginning Thursday 19 with an array of international dancers and soul music. The evening, masterminded by the Amsterdam–based choreographer and improviser Zambrano, takes place with the audience members in the same space as the dancers. In this intimate setting, Edivaldo Ernesto, Nina Fajdiga, Milan Herich, Peter Jasko, Horacio Macuacua, Young Cool Park and Zambrano perform virtuosic solos as powerful and personal as the live recordings they're set to. Zambrano, a hugely charismatic performer and teacher—his roots are Venezuelan—recently spoke about the project from São Paulo.
How did you come up with Soul Project?
Just before it, I did a group composition called Twelve Flies Went Out at Noon, and in that, all the dancers were dancing together—going under, over and around each other to jazz music. We were a big mass of people constantly moving through the room. I thought, Wow, this reminds me a little bit of a social-centered society, where all of us make and follow decisions together. When I was doing that, I thought it would be really great to do an egocentric piece: The dancer is in the center, and the center is any place in the room, and people have to go and watch it from close up. I thought to do solos instead of a group piece, and all the solos would have to be spontaneous. In the process of doing, I thought if we plant the soles of our feet on the floor, people have to come to us; we go in all directions, but we stay in one place. By doing that, the soles of the feet get very open and free, so then our souls get a little bit freer.
Did the work you set to jazz music become an actual piece?
We did a performance. I have been working on an instant composition that I call Passing Through. We work onstage or in a studio with finite borders—walls and a ceiling—and inside that, we dance with each other through infinite possibilities. We create pathways. I was working to define a structure with infinite ways of working inside of it. In doing that, I related very much to the free structures of jazz music. We made a piece at the end and premiered it in Amsterdam, and also performed it in Belgium. Like so many of my projects, the dancers were from different countries. It was a short thing, but the process enriched my artistic life, and I continued working on that composition wherever I went. It became quite influential on my work.
How did you find the dancers?
I get most of the performers that I work with from my workshops. I see how they work with their bodies, how they perform their life experience through their dancing and how they deal with group dynamics. I was in Mozambique for six weeks working with a group of fantastic dancers, and that's where I selected Horacio and Edivaldo. I brought them to work with me on other projects, like Twelve Flies. I selected the others pretty much from the workshops.
Will it be the same cast that you had in New York?
Yes, plus a South Korean dancer whose name is Young Cool Park. He is a choreographer from South Korea, and he has worked with me on two different pieces. I like him a lot. His background has a lot of qigong, the warm-up for martial arts. He adds a nice ingredient to the group.
This is such an eclectic group. How did you meet each dancer?
I met Edivaldo when he was 17. He was one of the best dancers from the workshop that I did in Mozambique. It was the same time that I met Horacio Macuacua. They have a traditional African dance background and they were just tasting contemporary dance, and I was one of the first teachers for that. And they were also tasting how to play with movement or how to spontaneously use whatever they had learned through traditional dance. They are very different. Horacio is a fantastic transformer of different states of mind, from acting to different kinds of movement. When Edivaldo was in Amsterdam at 17, it was the first time he'd left Mozambique, and he was very timid about going out, so he watched a lot of films that I had in the house. He has gotten very inspired by the films of Tim Burton. [Laughs] He also fell in love with Down by Law. That's how he learned English. I was very inspired by his curiosity. Now he works with Sasha Waltz in Berlin, and he is essentially the top dancer in the company. And Horacio became the best choreographer in Africa last year: They did a selection in all of the countries and chose him. So he is doing very well with his own work. And we still work together.
Who is Nina Fajdiga?
Nina was my student in Amsterdam for a few years, and I always liked her. Her background is a little bit more contemporary jazz. She does these kind of jazz shows—I thought, That has something hot for me. She is very honest and full of expression and is starting to be a choreographer in Slovenia, and she has been teaching too. Milan Herich and Peter Jasko have been with me since they were 19 years old. First, they were my students. I invited them when Slovakia was still very poor and outside of the European Union, and paid for them to come and study with me. After that, they went to study at P.A.R.T.S., the school of Anne Teresa De Keersmaeker in Brussels, and they also made a group, Les SlovaKs. There are five of in the collective.
They performed at the Baryshnikov Arts Center, right?
Yes. They are really one of the few companies in Europe that just dances. [Laughs]
It's coming back, though.
Yeah. It's true. [Les SlovaKs] are really physical. They are fantastic folk dancers and also singers of folkloric songs. I still work with them. They have become very popular teachers, too. They teach almost all the time.
You play such an enormous part in discovering dancers, right?
I must say I always love that, and it's not like they have to stay with me; but I love to help them to become stronger at what they already do, and also as makers. They can live from that. Teaching, choreographing, dancing—they can fuel their lives from dancing.
Why are you so generous?
[Laughs] I don't know. One thing is that I am a pig from the Chinese [zodiac], and one of my defects, or that is a little bit negative, is that I'm too generous. I'm still working on that, but on the other hand, I love to do this. In one way, when you pass generosity on, somehow it comes back to you, and I have always liked that in my life. The arts are so selfish—everybody fights for their own, and I love to be in a community where we are all super powerful individuals, and that we can share our imagination and fulfill our dreams with the support of the others. But to tell you the truth, more than that I don't know. I just do it. I like to support talent. People that have strong charisma—I love to help them to be presented in the world.
When you see a talented dancer from, say, Mozambique, how do you know that they're a good fit for contemporary dance? Is it that they have the mind for it along with the body? In other words, the openness?
From my trips—teaching, performing and working very deeply with the dance communities in different countries—what I have learned is there are some dance cultures where it is already in the genes or in life. Everything is celebrated by dancing, and dance is taken for granted; you just do it. Sometimes in those cultures, you run into people who are a little more curious, like, I wonder what else I can do with all of this rich movement vocabulary? When I am teaching and run into people with a little more curiosity like that—when the head or the rationalization starts questioning: How can I use this body knowledge?—I get stimulated. What I have learned a lot, for example, about dancers in Africa is that their bodies are fantastic, but the moment you ask them to compose or to use their life experiences in a spontaneous way, it's very difficult. So I look for intelligence, an academic culture somewhere in the North. [Laughs] So that the intellect is strong, and they can say, "Yes, we can help you to use this movement." But many times in other cultures where education is so high, the body hardly moves. You rationalize everything so deeply that you don't need to move anymore. You just talk about it. So for me, it's a very strong question. I think both are needed. I really need my head and I really need my body. The two of them together need to constantly pass through each other and constantly learn from each other. I like to play like this in my life. The papa head is always judging and saying, "This is not right," and the mama body always wants to go. "Why not? Just go for it." So I like very much when these constant interconnections with the rationalization and the body/animal instincts go through each other. This is fantastic, and it's very seldom that I see it. In Africa, if you want to become an artist—or in Italy, or in Latin America, too—people look at where the festivals are happening and where the money is. What is the work there? I need to make work like that. It's almost like selling your soul to the devil. You let go of all the other things that are so fantastic in order to get into that system.
Do you direct all the solos in Soul Project?
I direct everybody, yes. And I direct them until the point when every time, every day, every moment they can perform it [as] spontaneously hot. Like caliente. You get touched by their heat, and then you go, Ah! I would like to perform like that. And I was thinking, How can I transmit that to different individuals from different countries?
Who chooses the music?
I select most of it, but I also brought a lot of different pieces of music to them. They also give their input.
What do you look for in terms of music?
For Soul Project, I want it to be very focused on the way the singers are singing. The power of the voices—the power of that sound coming from their bodies. Sometimes it makes us tremble or shake or gives us tension or electricity. And sometimes it knocks us down into the floor like Tina Turner did when she was younger or James Brown. And then also, the voice of Patti LaBelle when she goes so far, and it moves beyond the ceiling of the theater, and she stays there and takes us through all of these places where we hardly go. It's like a fantastic trip. When I listen to these singers singing, it's like one of the best ways to get in touch with whatever we call God. Whatever we call something more powerful than us.
It's interesting that these singers are also great dancers—that when they sing, they know how to move.
Exactly. Sometimes when I watch them on videos, it's like the whole body is singing. This is amazing. I would love if Patti LaBelle would come to watch our show at Danspace. [Laughs] Just to see what she would say! I think she would like it.
What do you dance to?
I selected Bettye LaVette. I love her comeback. Her timing, the way that she plays with the music. I selected her also—well, to tell you the truth because the others had already selected some of my favorite pieces of music. So I said, "Okay, I'll take that one," but then I liked it a lot. For Obama's inauguration, he invited her to sing "A Change Is Gonna Come," and she was hot. We have that piece of music in the show. And also, when we were making Soul Project, James Brown died. It was a little bit touching for us, because we were playing his music all the time and some of the dancers had never heard of him, because they come from different cultures. They fell in love with this guy, and all of a sudden he was dead. And then we have "At Last," but it's not Etta James singing. Still, it's her song somehow. She died this year.
Who sings the version that you use?
It's Stevie Nicks. I like her a lot. Why not?
Why do you want this piece to be so intimate? What does it create when you have the audience onstage with the performers?
One of the reasons is the movement vocabulary. There are very meticulous and small particles that you have to watch closely. It is very difficult to see it from far away. I was also interested that the performers be able to express themselves from every angle of their bodies. We made the piece and, in the studio, we were the public for each other. Everyday, we made a circle for each dancer to practice how to spread themselves for more global space than just frontal space. The other reason is because of the composition I had before, Twelve Flies, where the dancers were going through the room all the time, through pathways. I thought it would be great to have the public go through the room while we stayed in one center.
How set are the solos?
You need to stay in the center of the circle that the audience makes around you, so the space is limited, and we work with five different movement qualities: shaking or vibrating; floating like a feather, very light; out of control emotionally and physically without losing your feet; and tension in many layers. The last one is a little bit like break dancing. The body moves in parts.
Like popping and locking?
Yes. A little bit like that. Then the dancers always need to go somewhere, and that means that they need to arrive in the middle of nowhere in order to continue to another place. [Laughs] There are certain rules that we all respect, but at the same time, they are very spontaneous.
Soul Project is at Danspace Project Apr 19–21.