Heads up! We're working hard to be accurate – but these are unusual times, so please always check before heading out.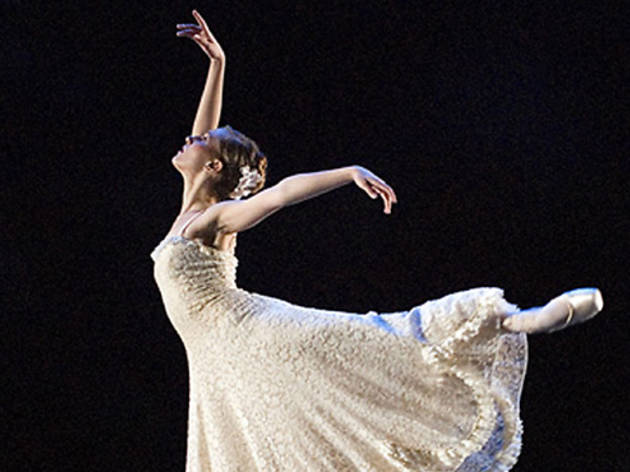 Devon Teuscher
ABT has a new Myrta in the house
The spirits, or Wilis, that haunt the second act of Giselle are young women who have perished before their wedding days. When men enter their moonlit world, you can be sure to expect trouble—if not a dance to the death. Myrta, their fearless leader, is one of the most powerful roles that a ballerina can undertake; this season at the Metropolitan Opera House, American Ballet Theatre has a new dancer in the part. Devon Teuscher, a member of the company since 2008, makes her New York debut in the role on Friday 18, having performed it once in Chicago. The elegant member of the corps de ballet spoke about becoming Myrta.

Where did you start dancing and why?
I started dancing in Champaign-Urbana [Illinois], because, honestly, I was terrible at sports. I was awful at hand-eye coordination, and I needed to have some sort of exercise, so my parents put me into dance. I started with jazz, tap and all that competition-team stuff. Ballet clicked for me, and I decided that was the thing I loved. There was a small ballet company in Champaign under Deanna Doty, and I studied with her for about five years. She really helped me along that path.

How old were you when you started with Deanna?
I was about nine or ten.

That's kind of late.
Yeah. Like I said, ballet just felt natural to me; it wasn't something that I ever expected, and it was never a forced thing. My parents always said, "Do it as long as you want, as long as it's fun. When it stops being fun, you don't have to do it anymore."

Has your early jazz-and-tap training training in jazz and tap influenced your ballet dancing?
Definitely. Jazz and tap are a lot more flashy. They gave me a sense of how to perform and—when we were doing the competitions—how to work the judges. Just performing for the audience—making them enjoy it. It also helped keeping me a bit well-rounded, too. I could do other things, and that's helped me to be able to dance in the contemporary and more modern pieces in our rep here.

Did you compete often?
I did a fair amount—about two years' worth. My teacher always made me do ballet solos at jazz competitions. I mean, they were awful ballet solos, but I was the only one at the jazz competition that would do them. When I was ten, I went to nationals and won first overall in a ballet solo at a jazz competition, and everyone was like, "Who is this girl? What happened?" It was very strange, and I think that's when I finally realized, Oh this is something I'm good at and I enjoy, so I might as well focus on this. I guess my teacher saw that ballet was my thing from an early age.

Your family moved around. Where did you go next?
We moved to Vermont. My dad's a professor. He works in immunology and is a research scientist. He had offers from all over, but they knew that I wanted to dance, so we made sure there was a school, and Vermont happened to have a decent school with Alexander Nagiba, who danced with Pittsburgh Ballet [Theatre] with his wife, Kirsten Nagiba. They both trained me. They have a small preprofessional company and I started dancing with them. I was with him quite a long time.

Tell me about working with Alexander.
He's hilarious. He's Russian. He's great. He's like a father to me now. He's funny, because we had no boys in school at all, so he would make me do all the boys' steps too. When we did Études, I did the boys' variation. [Laughs]

That's great training though, right?
He was very strict and very excited, and it was great that he pushed me in other ways. Kirsten would push me in the pointe work and all the more delicate, girly things, but he made me do the men's variations, and jump and turn. He always saw that in me.

How did you make your way to New York?
Summer programs were the path for me. I did the Kirov one summer. I did PNB [Pacific Northwest Ballet] for two summers and tried ABT, and got in with a full scholarship. That was kind of the thing: I had to go where I got a scholarship, according to my parents. I did four summer programs with [ABT]. They had a national training program where they would pick a group of kids from the summer program and send them stipends to get them to come back each year. So after my first summer program, I received that. That's why I kept coming back to ABT, and after my second summer they were starting the school and asked me to come [during the school year]. I was 14 and my parents said, "There's no way you're going to New York." The next year they asked again, and finally my parents said, "Let's try it. If you like it, great—if not, we'll come home and you'll be done." So my mom moved down here with me. I was 15. All my brothers and sisters were older and out of the house. We lived together in a tiny little studio apartment. I finished high school. That was their big requirement.

What was it like living with your mom in a studio apartment. Are you close?
My mom and I are so close. It was great. I actually don't think I could have done it without her at 15—that's just way too young. I mean some people do it, but I probably would have burnt out. She kept me really grounded, and that's what I love about my parents: They keep me down to earth. So I loved living with my mom. [Laughs] That wasn't bad. It was a big change. I think for her it was probably harder than it was for me. It was hard for my parents to be apart, but since Vermont's so close, they were able to visit often. My dad would come down on the weekends.

What did you like about the school?
I loved being at ABT all the time and seeing all the company members. I remember on Saturdays we would have our class, and we used to peek in and watch company class. I was so excited to be dancing at the same place and being able to watch all these dancers I respected and admired so much. That was a big part of it for me. I never had that [before]. I was in small places where I never had big stars or big dancers that I could look up to.

Was the training similar to what you had experienced previously?
Generally. The school was very different when we first joined. [Laughs] There was a lot less structure than there is now. There was no dress code. You could wear whatever you wanted, and it really changed when [Jacqueline Kennedy Onassis School at American Ballet Theatre principal] Franco De Vita came. I remember when he came to audition to teach, I was wearing bright orange tights and a crazy leotard, and he even commented later, "I remember that outfit and being like, 'What are these kids wearing?' " So that just kind of shows the lack of organization, initially. But the training was pretty similar. It was different in that I was getting pas de deux classes, which I rarely had until I came here. That was kind of shocking to me.

Did you join the Studio Company?
I did. Kirk Peterson was in charge, and then I was there for half a year [under the artistic direction of] Wes Chapman.

How did you get that position?
Once Franco took over, they really wanted the school to be a place where they looked for their future dancers. They wanted everyone to come from the school so that they could train them and watch them grow. So they hired four of us.

What did you take from the Studio Company experience? How did you grow up in that environment?
I must say, Studio Company was probably one of the hardest times I've been through at ABT. Kirk—I have huge respect for him now—but at the time, it was very difficult. He works his dancers really hard, which is just great, but as a 17-year-old, I didn't understand this. I can kind of do anything now. We would work really long, hard hours, like 10am to 7pm, and we would have kind of no break. Sometimes we would be here until 8pm or 9pm. The company would leave, and we'd still be rehearsing Flower Festival [in Genzano] at 9pm with two separate boys. When you're 17, your body is changing so much. I feel like I'm generally a hard worker, and I think that was also an issue: If you have someone pushing you, and you push yourself even harder, you don't know a limit. I tend to overwork myself as it is.

It also plays with your head if you're that kind of person, because you start to question: Am I not working hard enough?
Definitely. I was young, and I just wanted to please him. I wanted to get into the company, so it was a mental game as well.

What did you get to perform?
I loved Flower Festival. I did that with Joseph Gorak a lot. I was like, He looks prettier than I do doing it because of his feet and legs. We would do that tendu section and I would ask, "Can you not point your feet so hard?" [Laughs] But that ballet has a soft spot in my heart because we performed it everywhere. It was our go-to piece. I enjoyed Kirk's The Eyes That Gently Touch. It really helped me grow as an artist, too, because I was young, and there was a connection I had with Roddy Doble, my partner, about love and about what love is. And then we also got to perform Jardin aux Lilas, and honestly, looking back at that—I was way too young. But again, I grew so much.

What part did you dance in Jardin aux Lilas?
Caroline. I felt completely overwhelmed. I didn't think I could even comprehend that role at 17, but it turned out to be such a good growing experience. It's such a beautiful ballet. We did it a couple of years ago, so it was fun to be a part of the process again. I was the White Girl, and I got to watch Julie Kent, one of my idols, do [Caroline]. Watching her dance that was very interesting after having done it [myself] at such a young age.

What did it teach you?
It taught me a lot about how I express myself through movement. I was so focused on my technical abilities, but I had never been pushed artistically to really convey a story, convey an emotion in some way. So that was kind of the first big part that I was able to explore.

What did you learn from watching Julie?
I learned that the little, subtle things are so important. She's great at nuance. I remember watching and being like, Oh my gosh—of course that's right. Those little looks and those little gestures that maybe some people make too big of a deal out of can be so small and so emotional. The smallest gesture can really convey a story.

You've been at ABT longer than I realized.
[Laughs] I feel like I've grown up here. I've been here since I was 15.

How old are you now?
I'm 23. So they've seen me become a woman. They know me by now.

What did you first dance with the company?
Kevin's [McKenzie] The Nutcracker in Washington, D.C. I remember dancing Snowflakes and Flowers and a Doll and being so excited. But it's a hard transition going from Studio Company—especially with Kirk—to the [main] company, where you're just kind of standing on the side learning stuff. I mean, I expected that. I had a meeting with the company, and they told me to expect to be standing quite a bit and learning, and probably not performing as much as I had been. I did have a heads-up, which was really nice, because if I hadn't, I don't think I'd have been able to handle it very well. It's a big change from performing Flower Festival to performing Waltz of the Flowers.

Were there senior corps members who helped you out?
I was lucky in that I was tall. I think the small girls have it a bit harder, honestly, because [ballet mistress] Susan Jones sees them more, and they have to be right on top of it all the time. I got put in the back of the line, and they don't often look back there. [Laughs] They do, but it's just different back there. Maria Bystrova took me under her wing and helped me out with Swan Lake and La Bayadère and all the big ballets. She was always right behind me, and she told me the choreography as we were going sometimes. I think Susan knew that her dancers back there, the tall ones, were reliable and that they would take care of me.

I miss Bystrova.
I do, too. She's so beautiful. Really, really, really talented. And she was always a great person to me, and I appreciate all that she did for me. I always watched her. A great actress, a great dancer.

When did you become a member of the company?
I think it was a couple months [after dancing The Nutcracker. I don't even really remember when it happened, but it just kind of happened. I think it was that Met [season] after I joined.

Was that more of the same?
Yeah. It didn't really change from apprenticeship to the corps de ballet. I feel like it was the same corps work and that kind of thing. I feel like my first year, though, I definitely got a lot of opportunities that I was shocked to get at such a young age. I worked with [choreographer] Lauri Stallings for my first City Center season; it was kind of a big deal for a first-year corps member to do that. I had worked with her in the Studio Company, so she knew me. I really enjoy City Center. It's fun to get to do some different stuff, different roles.

This year you danced in Duets, the Merce Cunningham piece. Had you ever done anything like that before?
That was really enjoyable. In the school we did a little bit of Cunningham training, so I had a little bit of a background. I loved it. It was a really fun experience. Different.I mean, I'd never danced something with no music in the studio, and then all of the sudden gotten onstage and had music. That was a great partnership—Luis [Ribagorda] and I; we had so much fun doing that together.

What else has stuck out in terms of the more contemporary repertory?
I was able to do [Twyla Tharp's] In the Upper Room as well. When I joined the school, ABT did it at City Center and I remember being like, I have to do this role someday—the stompers [three couples who wear running sneakers and stomp throughout the stage]. When I got put on it, I had so much fun. I think that's especially where all my jazz and all that came into play. I just had such a blast doing it every time. It's hard. [Laughs] It's really, really hard. You feel like you might die.

How did you find out about getting the role of Myrta in Giselle?
It happened last year. Susan Jones came up to me in rehearsal and said, "We're going to have you start learning it, because we have a lot of people injured—we want to get you ready just in case." I remember thinking, Are you talking to the right person? Me? Really? I didn't end up doing it last year, which was fine. I don't think I probably was ready to do it, by any means. [Laughs] This year, I was shocked that I got to do it. It's a principal part; it's a big opportunity, and I never expected to get that opportunity this year. When I found out I was doing it in Chicago, I was thrilled. I couldn't believe it. So that's kind of how it came about. I was excited to be doing it with Yuriko [Kajiya] and Jared [Matthews]. It was their first time as well.

Did you know the part?
I did. We do Giselle often in the corps. But I'd never really paid serious attention to it. In the corps de ballet, you're like, That's a principal role that I'll maybe do someday. And you're standing there as [Myrta] goes around in circles. But I knew it was a great role, a very strong role.
Who coached you?
I worked mainly with Irina Kolpakova and Nancy Raffa. Irina taught me the role, and then Nancy and she kind of tag-teamed rehearsing me. So that was really great. Honestly, Myrta is the hardest role I've done to date. All those male variations I practiced in school finally are coming into play.

Myrta is a ballbuster.
Yeah. She is! That's for sure. It was daunting at first. I had about six weeks to prepare before Chicago. And I feel like the first four, honestly, were about getting stamina and remembering the steps. I had to build the strength to get through it to the point that I wasn't dying after I stand off to the side. Then, I started to build my character—to build my own ideas of Myrta, and what she is. It's an interesting part, because she's still dead technically. She's still a spirit. So there is an essence of some softness to her that I think is often forgotten. There is a bit of eerie softness, yet she's so strong. It was hard finding that balance, and I still am struggling. I think of when you can see spiritual parts of her, and when she is very strong, and keeping that throughout the strong parts.

I agree. It's not that she's vulnerable, but there is something else to her.
Yeah. If you think about her, she's not evil. What she's doing to Giselle is not evil. It's simply revenge, yes, but it's justice. She's justice, that's what she is. And I think that's often forgotten, that she's pure strength and…

Resolve?
Right. But I think there's a sense that what she's doing isn't wrong. She's not trying to kill someone just to try to kill him. This is what she thinks is right and this is what needs to happen.

I can tell by talking to you that you have strength of character. How do you find the iciness?
That is really hard for me. [Laughs] I tend to be a bit more sweet—that's my personality. I had to really focus, especially on my face—keeping it cold and very bland almost. It's in the eyes, it's in the way you interact with Albrecht [a nobleman who disguises his identity in order to win Giselle's love] and Giselle. And so that was difficult for me, because even in the beginning, I would do the sweet little face. I had to realize that you can't. I'm sure it's something I'll probably always have to work on—finding that cold part of my face, and how to show it to the audience and in my body. I think it's a lot in the body language, too. The way you hold your back is the important part.

How do you think of your back?
Very strong and big and tall. When Albrecht comes on, he should see this big, strong character. There's something about her—when you broaden yourself and make yourself very wide and large, it can be intimidating.

How many times have you performed this?
Just once in Chicago. And then I'll do the Met season, and then I have one in Korea as well.

Is that a lot of pressure?
I feel quite a bit of pressure, but I've gotten one under my belt in Chicago. Worked some kinks out. So I'm happy that the Met isn't my first one. [Laughs] Honestly.

What were the kinks?
The spacing. I had no idea how much mime [Myrta] has until I started working on this role. In [the Chicago] show, I was still like, Is this the time? So I feel like now I can not relax more, but enjoy it more. I'll know what I'm doing a bit more.

Did you do research on your own?
I did. I read a couple of books. They were just sections about Giselle. It's funny, there's not much about Myrta. I did watch [Herbert Ross's] Dancers, the movie, and there's a tiny bit in there. I had just taken a dance-history class right before starting to research this role, and I asked the teacher, "Is there much information on this role?" and he said, "No, it's always been about Giselle and Albrecht." I watched a lot of videos on YouTube and went to the library and watched some videos there. It was interesting to see different interpretations.

Was there any one particular Myrta that captivated you?
Not necessarily. I think I just pulled from all of them. I honestly don't like to watch that many videos because I feel like I want to get my own sense of it instead of copying someone else. I do think you can pull things from [other dancers] in how they portrayed a character and that kind of thing. Or musicality is often something I like to watch for.

Are you dancing with the same cast as you did in Chicago?
No. It's with Xiomara Reyes and Herman Cornejo.

That's great! You'll look really tall.
I'll be a giant. I'm actually only 5'7" but they think I'm really tall. I must look taller than I am. I'm with the tallest girls in the corps all the time, the back of the line. I have more room. I like it.

What other featured parts are you dancing this season?
One that's possible, but I'm not positive about, is Apollo. Polyhymnia. I've been rehearsing that variation. They haven't put up the casting for that yet. I'll also be doing maybe—again, this is all maybes—the Swan Lake pas de trois with Joseph Gorak and Christine Shevchenko. It'll be a new cast, a little breath of fresh air. And then the Shades trio [in La Bayadère]. And possibly the Odalisques [in Le Corsaire]. I'm not positive. I've been rehearsing, but, again, casting doesn't go up for a while. I'll be doing [Christopher Wheeldon's] Thirteen Diversions as well.

You've done that piece before.
I performed the principal [part] for the first time in Orange County. I've been doing the corps since we started, so it was fun to finally graduate a little bit up to the principal. So those are the big things I'm looking forward to in the Met season.

That's a lot.
I'm a bit overwhelmed. [Laughs]

Because you're having to balance your corps work with those featured roles, aren't you?
Yeah, that's the really hard part, I find.

How do you do it?
I'm figuring it out. I have to be really smart about my body and about how I work in class and how I work throughout the day. I'm finding I can't push as hard as I want to in everything all the time. It's been good for me to learn that lesson. It's a hard balance to find, because I love my corps work and I still want to be doing the best I can. I am a corps de ballet dancer; that's my role, that's my title in the company. Yet I would love to be doing these roles to their fullest as well. So it's a hard balance to find. Like I said, I think Kirk really prepared me for that. I'm ready for anything. I got through that [Studio Company], so I know I can get through this kind of time period where they push you pretty hard.

Do you have mentors?
Actually, [company member] Alex Hammoudi. We're dating. We've been together about three or four years. He's been through this process of being in the corps de ballet and dancing soloist and principal roles. He's doing great stuff, so it's nice to have someone who understands that it's hard. We both understand that situation. Before, I never really understood. I'd be like, "You're fine, you can work harder." I didn't understand how hard it was. And now I'm going through the beginnings—by all means, not the same process, but the beginnings of that hard corps and soloist work. He works with me a lot; he helps me.

With particular roles or just by giving you someone to talk to?
Both. Sometimes we'll work on roles together. He'll ask, "What do you think about this?" And I'll ask him to rehearsals every once in a while. But just to have someone to talk to. It's good to say, "What happened here? What about this? This is crazy!" Those kinds of things. It's nice to have someone to confide in and know that you have a safe place to go to. Because I feel like often, there can be a lot of gossiping and all of that kind of stuff. I'm a very private person generally, so it's hard for me to open up to people, and it's nice to have one person to feel safe and comfortable with.

It seems like you're happy with this company and that it's a good fit. Are you?
I am. Like I said, they've seen me grow up. So it would be very strange to go anywhere else. There was a while, maybe a couple of years when I was in the corps, when I was a bit frustrated. I felt like I wasn't doing as much as I wanted, and I was getting a little bit bored. I think everyone goes through that. I was like, Maybe I should go somewhere else, maybe I should do this. But I would think about it, and there was nowhere else that I found would suit me, really, with the rep that we do. I love the big full-length classics. I couldn't imagine doing any other Romeo and Juliet. And then we also get to do all the great contemporary works. I also love New York. I couldn't imagine myself living anywhere else.

What do you want out of your career here, do you think?
That's a hard question. I mean I have to be honest: obviously, to be a principal ballet dancer. I think that's everyone's goal when they come in to the company. And everyone is capable of that, I think, when coming into the company. So that's honestly what I would say, but I think also to enjoy myself and grow as an artist, and grow as a person. I've done that thus far. I feel like if I can keep going in that path, and as long as I'm happy and loving what I do, I think I'll be fine here. Like I said, I always keep that motto my parents had: If I don't enjoy it or I don't love it anymore, I can stop. That's easier said than done, but I keep that in my mind. It's too hard of a career to do if you don't love it.

American Ballet Theatre performs at the Metropolitan Opera House through July 7.