Heads up! We're working hard to be accurate – but these are unusual times, so please always check before heading out.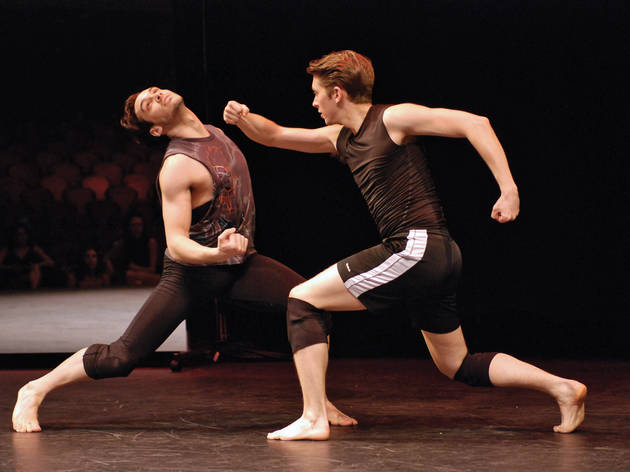 Jack Cole
The choreographer is reborn thanks to a new show by Chet Walker.
Like so many who grew up watching old movies, Chet Walker knew Jack Cole's dances before he even knew who Jack Cole was. Recognized as the father of American jazz—a dance form that, let's face it, has been horribly maligned—Cole drew on a wealth of styles, including those from East India, Africa and the Caribbean, to transform theatrical dance. (Just before his death in 1974, he was researching Cambodian dance.) Cole's magic touch is immortalized in cinematic performances by leading ladies like Marilyn Monroe, Ann Miller, Rita Hayworth and Betty Grable, and also lives on in the work of the choreographers he inspired, from Jerome Robbins and Alvin Ailey to Bob Fosse. In Heat Wave: The Jack Cole Project, which opens on May 3 at Queens Theatre in the Park, Walker—a Fosse protégé himself—recreates Cole's works from film to the stage. He spoke about the process.

On the origins of the show:
"Through all of my work with Gwen Verdon and Bob Fosse, Jack Cole was always part of the conversations. I wanted to get the technique on record—not the original, because that's something that's been kind of lost—but what he was using in the 1970s before his passing. So we have reconstructed and codified his warm-up and technique. The idea came about five years ago. I'm the director of the jazz and musical-theater program at Jacob's Pillow, where Jack Cole was one of [founder] Ted Shawn's original dancers. Now, at the Pillow, jazz is not a big push or emphasis, but that's kind of where it all began. Something I've laid out for the rest of my life is to get some recognition for jazz as an art form."

On Cole's work at Columbia Pictures:
"Mr. Cole was fortunate enough to have a [dance] company at Columbia Pictures. It was an unheard-of request at that time. When he was choreographing, there weren't choreographers, there were dance directors. The shot would be on the principals and the dialogue and the constant cutaway. But Jack Cole, as he got further along, started demanding for that not to happen; in having his corps of 12 dancers, he could really show what he was inventing. Having a group of people that he could depend on and who knew what he wanted was phenomenal."

On excavating Cole:
"I decided that we would do workshops and residencies to see what kind of information we could unveil. The show is an homage to Jack Cole in the style of Jack Cole, because I've taken scenes from movies and constructed numbers. It's like movie numbers made for theater to look like movies. It's not an easy feat. I'm not sure everyone understood what was going on in the films; that was my main reason for wanting to see them on the stage. This is not a tribute; it really is an homage to his movie works. I want to show what it was—not negating the stars that were brilliant in them—but to really show the choreography and the structure behind this amazing man's work. Gwen Verdon said that Jack Cole was the first choreographer to bring jazz dancing to the American musical stage. That's a pretty powerful statement. When people come to look at things that we've been doing over the years, a lot of comments are, 'Oh, I've seen that before.' I'd go, 'Where?' And they would say, 'In this show or in that show.…' Yeah. Those were disciples, if you will, of Jack Cole's work."

On the rehearsal process:
"I had a group of dancers from my company, the core four, and we have been working for 12 weeks in different residencies or workshops. When you find out how this man took East Indian dance, Afro-Cuban dance and the Lindy [Hop] and put that all together to create his formation of a technique? For a lot of choreographers, we don't have a technique. We have styles that we work in, but Mr. Cole had an amazing technique and for that technique, you could then do many styles. It's fascinating. He had the largest collection of dance memorabilia of anyone in the world. This person just kept collecting ideas and possibilities."

On Cole's technique:
"Your core needs to be so strong that you can move in any moment to any side—up or down, and you've got it. It's interesting to look at a lot of this, because I've realized it has so much to do with Pilates. Joe Pilates was around at the same time. Jack Cole talked about a plié with your arms. And you go, 'Plié with your arms? Really?' It's about landing on the floor and using your arms as a cushion, like you would in a plié if you were to jump. It's not about muscle, but having that strength."

On the dearth of rigorous dance on Broadway:
"You said that. [Laughs] But things changed in the '80s. [AIDS] was a plague, and we lost so many creative people; that created a void in terms of the passing onto a new generation. They had to pick their boots up and go forward. I was part of that [new] generation. The whole generation of people that didn't make it were going to be the heroes for young people. Maybe that stunted or scared people. Or maybe creativity was not high on all of our lists at that time; survival was."

On choosing numbers for Heat Wave:
"What are the humorous numbers? What are the men's and women's numbers? [Cole] helped to create some of the most glamorous women of that time: Rita Hayworth, Jane Russell, Ann Miller, Marilyn Monroe, Betty Grable, Gwen Verdon, Carol Haney, Mitzi Gaynor, Marge Champion. They were all stars, but when they got with him, things got brighter. He knew how to do that. And those ladies would then ask for him in movies that they were doing that had nothing to do with Mr. Cole. But I want to do an homage to the choreography, not to the ladies. 'Diamonds Are a Girl's Best Friend,' for instance, is an iconic thing. It's really not a dance; it was for Marilyn Monroe. I want to show the creative numbers, the dancing numbers that show the different aspects of the man—as much as you can in two hours. This is not like a dance concert. There are visual aids. There are transitions. All the numbers are costumed in the feel of the number, so visually, you get a sense of where we are and what's happening. About 80 percent are all sung and danced; rarely is there a number without vocals. It's in two acts. It's like tapas: You get a little bit from everywhere, and hopefully tastes that you get excited about wanting to know more about."

On the challenges today's dancers face in grasping the choreography:
"I think it's more of a mind-set. We are very humbled by the work. We're not afraid that we're not going to get it—we know we're not there yet. We keep going. The work that we're doing isn't a completion; it is the beginning. With Mr. Fosse's work, I never felt that we ever got it, but that it was always a work-in-progress. Like good theater, or good writing. Do you ever get Shakespeare? Ibsen? Chekhov? Is ballet ever perfect? There's something about the living arts: I get one more chance. I think that's rewarding, because isn't that what art is about? The continuation, the exploration? That's how I feel. It is a constant discovery."

On his aspirations for the show:
"I want it to be seen by as many people as possible so that they can be inspired by the possibilities. I will also take the knowledge and go on an educational route—lecturing at universities. There are not a lot of books written about Mr. Cole, but there are a lot of visual aids. I would love for the show to have a life outside of this with more money and more people so that we could do more; because there is more, but a big part of why I do this is that I want to get his name out there. It's not really known by lots of people. I love what Julie Newmar once said when she was asked why a lot of people didn't know Mr. Cole's name: 'All the important people know.' More people need to be the important people. The people in the know know, but I want the club to get a little bigger."

On why never having worked with Jack Cole is not a terrible thing:
"I see it as a positive thing. I look at the work from the finished product and then get to delve into: How did that happen? You look at his choreography and think, These are steps that he uses, but now they look totally different. Look at the rhythmic changes. I'm not sure if I had been working with him from 9am to 5pm everyday at Columbia Pictures that I could get have gotten that outside perspective. It's the same thing with Mr. Fosse. I got a chance to work with him as a performer, but I also got to sit on the other side of the stage and to learn about what he was seeing. He taught me by example. I think I could always see how he did things. When I would watch Mr. Fosse rehearse Sweet Charity—and the different people who played Charity—it ended up being the same story, but certainly there was a different way of getting to it. It looked different, but the intent was exactly the same. I think it's that way with Mr. Cole's work, too. There's so much to look at. There's so much to have. And where was he going? Cambodian dance."
Heat Wave: The Jack Cole Project is at Queens Theatre in the Park May 3–20.