Heads up! We're working hard to be accurate – but these are unusual times, so please always check before heading out.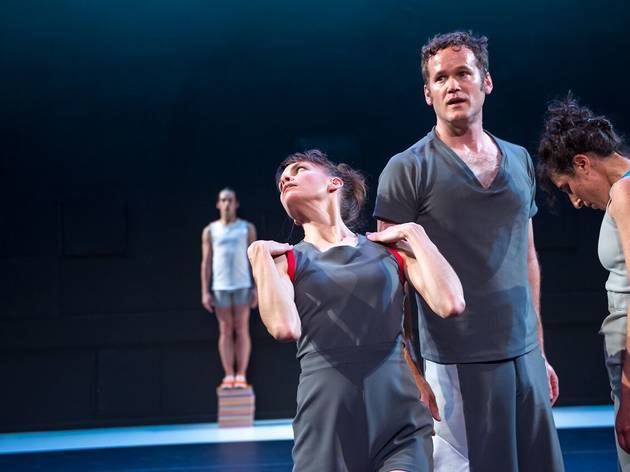 Joanna Kotze talks about her innovative performance Find Yourself Here
A joyful exploration of process turns investigation into choreography in the site-specific dance at Baryshnikov Arts Center
The ruthlessly elegant dancer-choreographer Joanna Kotze is interested in dance—but, crucially for her current piece Find Yourself Here, she is also interested in not-dance. The Bessie Award winner (for the ravishing It happened it had happened it is happening it will happen) has spent the last several years putting dance into conversation with visual art, making hybrid works that move far beyond the "painting-as-backdrop" model. It's the kind of objective that requires the long haul: She began her current work in 2013, creating short component trios that would eventually be fused into a single, evening-length piece. In the first installment, Kotze worked with the artist Jonathan Allen, the noted painter-collagist—an artist who also happens to be Kotze's husband. Find Yourself Here: Trio A took place within a gallery show of Allen's: In the site-specific performance, Allen, Kotze and the dancer Netta Yerushalmy used art making (Allen drew on the floor with chalk) and dance to make a work that was not sculpture or choreography, but both.

In the time since, Kotze made two more such Trios, each performed by two dancers and one visual artist. Kotze has now fused these three elements, and Find Yourself Here is the end result of all her explorations. In the final version of the iteratively composed piece, dancers Kotze, Stuart Singer and Yerushalmy join the artists Allen, Zachary Fabri and Asuka Goto for a layered work of lovely, modernist playfulness. It's sometimes hard to distinguish the dancers from the nondancers: All six act as visual artists—they move stacks of materials, including little plastic tiles that catch and hold the light like glass mosaic; all six act as dancers—Goto, whose own work includes making her own gallery walls, dashes around the Baryshnikov Arts Center studio, making the room's huge, hanging panels glide and sway. Kotze spoke with Time Out New York about her process, her motivations and what she's discovered in plunging so deeply out of dancing's usual waters.

You have a background in architecture—how has that influenced the pieces you make?
That's right; I have a bachelor's degree in architecture. And definitely, I feel like that study went hand-in-hand with my choreography interests, even though I was mostly a ballet dancer until I went to university. It was only then that I joined modern dance, and so I was being exposed to both simultaneously. There I was, coming up into both modern dance and architecture at the same time, and they were both informing each other. Both are about looking at bodies in space; both are about designing the space for that function. Since I have a design background, that information always works its way in. For my last project, I built 27 movable lights, and then in this one I have the visual artists. What it comes down to, in the end, is I think I'm finding an architecture of the body.

How did you approach the piece through those earlier iterations?
I was very conscious with this process that I wanted to make shorter, more intensive first stages, because I was interested in things that were attached to a space that wasn't theatrical—and then eventually fusing them and bringing them into a theater.

How much of the earlier Trios still exist in the full-length work?
I began in the spring of 2013: I had a solo residency at the Bogliasco Foundation in Italy. I worked there by myself for four weeks and built 40 minutes of material, which I then distributed throughout the three Trios. Since Trio B, the one with Stuart, was made out of the city in an larger area, you can see the movements that have survived from it reflect that sense of openness and space. After the company was whittled down just to the three of us, we found that Netta and I had shared material from the Trios we had done, but we didn't have material with Stuart—so he winds up moving through the room in something like a solo. It still has a sense of landscape to it, a sense of a laborious path, and so his movement hasn't lost the sense of difficult, difficult work. We've done so many miniversions, and yet from all the different spaces—the gallery spaces and the Trio B residency space—there's always some residual element. It's an accumulation rather than a taking away.

The bodies in this piece are very different—you are all precise angles, Stuart has a kind of louche grace and Netta is explosive. How did you select the performers for the piece? Would an architect select such different materials?
You know, I like that they're not like my body, that we're all very unique. I'm interested in the ability each body has—some things my body can do, but then there are things that they can do that I can't. A gesture reads very differently on Stuart's body than on mine. Simultaneously, there's a history to our relationships, a way of working that we understand yet can refresh each time we get into the studio. All of us are interested in pushing things forward, a similar interest in finding the potential in the body. Stuart and Netta have a lot of skill physically, but they are also interested in collaboration—that's crucial, because my process isn't just me giving a dancer movement. The dancers are a huge part of the process, and I rely on their feedback, their movement, their generosity.

How did you select the visual artists?
Well, I'm married to John [laughs]. Then John and Zach and Asuka all met during a residency in LMCC in 2010. The first project John and I did together was in 2011 during a solo show of his; then Asuka and I made a piece in which she made movable walls, and we did a performance in the gallery. I was interested in the fact that they all use movement in some way—John uses painting and animation, so there's a lot of movement even though it's two-dimensional; Asuka makes movable walls and columns; Zach is a performance artist, so he moves and then videotapes his works. I was not interested in them creating a visual design that we could dance around. I knew it should inform what we were making, and I also knew from working with John and Asuka that it would challenge what I would want to make. There's a lot of back and forth—and compromise.

Does this mean the piece is about process? Do you think of a dance being about something?
I don't start there. I just started with working with visual artists and asking, "Can our processes inform theirs—and theirs inform ours? How could that work with the objective of using movement as communication?" The composer, Ryan Seaton, who live-mixes every night's score, has been working with us for more than a year—and so the collaboration here has been intense. The result shows us as a unit but also as unique individuals. We're communicating across disciplines, and we've found a kind of common ground and also a real dynamic tension. The things don't mix perfectly, which is the interesting part. The thing we share is that we're all there moving the materials. If it's "about" something, then it would just be about our lives that have all converged in this way and about how we're doing this task together.
See the performance!
Joanna Kotze concludes her multiwork series with a site-specific performance that continues her investigation into process: Three visual artists (painter-collagist Jonathan Allen, video artist Zachary Fabri and sculptor-installation artist Asuka Goto) perform with and among three dancers—Kotze herself, Stuart Singer and Netta Yerushalmy. The composer Ryan Seaton live-mixes the sounds of the room and the performers' movements into an eerie, propulsive score.