Heads up! We're working hard to be accurate – but these are unusual times, so please always check before heading out.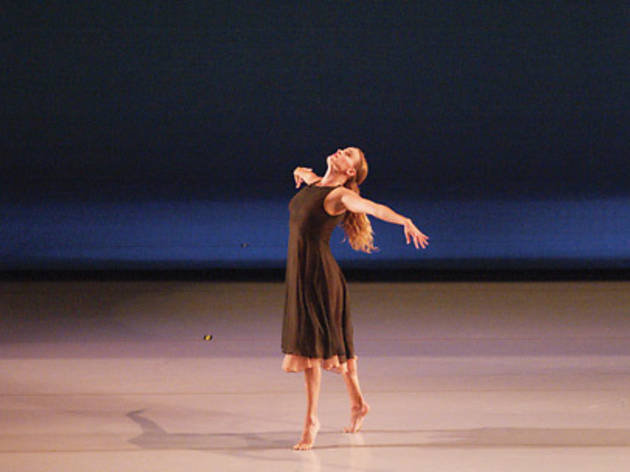 Julie Worden
The Mark Morris dancer performs L'Allegro.
Julie Worden dances with such sculptural depth and purity that what she leaves behind is a rare sort of unaffected grace. This weekend as part of Mostly Mozart, Worden appears with the Mark Morris Dance Group, of which she has been a member since 1994, in Handel's L'Allegro, Il Penseroso ed Il Moderato at the David H. Koch Theater. The masterpiece was choreographed by Morris in 1988; to date, Worden, a graduate of the North Carolina School of the Arts, has performed the dance 103 times in 17 cities. Just as the production is one of the most transformative meldings of music and dance, Worden is one of its most transfixing interpreters. She discussed her career—which began at the age of four in Naples, Florida—at the company's Brooklyn dance center.
Why did you start dancing?
Every little girl went to dance class. You ended up dancing in the swamp-buggy parade and at the mall and in elderly homes and at the Moose Lodge. We danced everywhere in town, as much as we could.
What's a swamp-buggy parade?
[Laughs] Swamp buggies are these really strange vehicles that don't go too deep into the muck, so you can travel through the Everglades. It's kind of a redneck thing; they celebrate the design of each of them. It's a nighttime parade and somehow they added dancers to it. A very local scene.
When did you start enjoying dance?
I really got into it when I was 9, and that's when I started doing more jazz and tap. I felt there was a lot of freedom to express myself. I was never big on the formal structure of ballet, although I took it. Then I sort of got addicted. I was deadly shy as a kid, so it was a way that I could express myself without having to talk to people. Then I kind of fell into it more, almost as an escape route. Naples is a pretty conservative town; I found a way to communicate without words. I wasn't really that social. My mom would drive me to Miami, across the Everglades, to take more serious classes, and at that point I was pretty certain. I actually had two knee surgeries when I was 12.
You're kidding!
No. My orthopedist was like, "That's it. Get another hobby. This is stupid." He was also a very conservative surgeon, and so I think part of him saying that made me really push to go, Wait a minute—you don't realize this is my passion. I love this. I can't just drop it and pick up some other thing. So I really was determined to be strong enough to pull it off. With my family's help I could get the kind of PT [physical therapy] to keep pursuing it and get more serious.
What happened to your knee?
I basically had bad bone alignment, and dancing on pavement in tap shoes—it just added up to overuse, which is crazy for a 12-year-old, but my legs were all bent out of shape. Through dancing I've actually learned a lot about how to straighten them out.
What kind of surgery did you have?
It was arthroscopic. As a kid, you can bounce back, and in a month, I was dancing again. When you get a limitation, it's almost like a kick in the ass. My mom helped me [to be able to take] classes in Miami, but then I was ready to move on and that's when I went to high school in North Carolina.
Did you audition for North Carolina School of the Arts?
I auditioned in ballet. Failed miserably. Thank God. It's not what I wanted to do but I had seen ABT [American Ballet Theatre] for years and those were Misha [Baryshnikov]'s great years in the '80s. I was really gung-ho to do that. And luckily my body wasn't natural for it, so I found my way into modern. They accepted me early—I was young for the program, but they allowed me to come in at 14. There were people in my class who were 35; it was very disparate, but because of that we all helped each other have a new perspective.
Were you there with [former Merce Cunningham dancer] Glen Rumsey?
Yes! He was my partner of choice. I choreographed with him. We used to have the same body back then. [Laughs] Jeannie Steele [of Cunningham] was around my time. Heather Berest from Paul Taylor.
It's an important school for dance.
Yeah. I don't know what it's like now because of the two Dicks being gone [Richard Kuch, assistant dean of the dance department, and Richard Gain, a dance teacher]; people had conflicts with them, but I really learned so much. They tore people to bits, and I have some conflicts with the way they carried things out, but there were some things that were amazingly—you were just stuck out there. We had bikini class. I don't know if you've ever heard about this.
No.
They were based in Graham technique and in winter term they would make the first-year students do the whole Graham class in a bikini so you could see every little detail and your vanity would take over as to how you would fix things yourself. So people have had some conflict with that over the years. There was lot of squeaking going on—all the floorwork and the skin! But you were sort of forced into, Oh. I don't like that. I'm going to change that. So they had very extreme measures, but they worked for me. I like to work hard.
Was it difficult for you to leave home at 14?
For the first week—and then I was ecstatic. I'm still really close friends with my parents because I did all of my experimentation outside the house. When I'd come home, I couldn't wait to spend time with them. So during all the kind of yucky, teenage rebellious years I was busy throwing that into dance and doing that in another state. I grew up fast.
And not just in life, but your training was probably drastically different for you in North Carolina.
Yeah. Everything—life responsibilities are quickly thrown into your own decision making.
Had you studied any modern dance before?
A tiny bit, but I would say it was mostly jazz, ballet and tap.
What did they have you do at the audition? How did you get into the modern program?
Oh, God, this is sort of embarrassing. They had us do a mellow technique class. Then we had to do three-minute solos of our choice; mine was a jazz solo that I had won a bunch of competitions with. It was set to Deniece Williams—a gospel song—so it was really saturated with over-emoting and splits and it was very, very jazzy. The faculty made fun of me afterward, but they could tell that I had a lot of soul, and they could help me with the other stuff. I couldn't point my feet but I could express my feelings.
And they could see your line?
I had no line. [Laughs] I danced from the guts.
Did you learn the Graham technique right away?
Graham was the main thrust of technique. Dianne Markham, who's still there, taught based on a Nikolais sensibility. She's a really good comp teacher; she was great with creativity. Mabel Robinson was from Ailey, but she was also based in Graham. [The school] was very heavily Graham-based, which made me really strong. I was a toothpick. I had no musculature.
Did you also study ballet?
We did. And the ballet teachers had giant careers—Melissa Hayden was harsh. We didn't get her because we were too beneath her. They definitely had a lower idea of the modern department; we were sort of the dogs of dance. I basically learned all of my ballet from Marjorie Mussman in New York because she had a way of teaching people—getting the best out of each person individually and they weren't capable of that at the school.
How long were you in North Carolina?
I went for all of high school. During that time, I auditioned for Hubbard Street and got a job. I worked with them very briefly; we were not a good match. They were too technical for me, so I was let go. Then, I worked with a couple of small companies in Chicago.
What do you mean by "too technical"?
I remember I would get notes on the distance between my fingers. It's an incredible company, but as it was more like a group of corps de ballet dancers—I was a little too rough around the edges for that and I couldn't do the gymnastic feats they wanted. So I was happy they let me go. Again, happy to be sent out of the room. [Laughs]
When did you first encounter Mark Morris?
I met Mark in 1989. He was in Brussels at the time, but he came back to Jacob's Pillow for a three-week residency with his company. I took the workshop when I was 15 and returned to the School of the Arts. Part of their jury system was that the faculty would grill you and rip you to pieces. The questioning was, "Who do you want to work for?" When I met Mark, I thought, I have to work for this guy. Their immediate response was, "He's a mess, he's never going to make it, he has no future." Swear to God. The following year, they were showing the BBC program [about Morris] and going, "You should really keep an eye out for this guy." I was so proud.
That was in 1994. In 1989, though, you were only 15 when you met Morris. What was that experience like?
It was incredible. I learned some of Dido, some of Soap-Powders and Detergents—ancient dance. Kraig Patterson choreographed a piece. Oh, and [Morris's] Strict Songs—that's a great one—to Lou Harrison music. A really hard dance. And Mark was working on The Hard Nut. He has no shortage of ideas, so when he said, "Let's do the 'Waltz of the Flowers' dance," I don't know how many versions I saw. [The company was] rehearsing and he would let us look in the doorway, which now he would never let happen. [Laughs] But one day, he had a gigantic scenario and the next day he tossed it out completely and started over. The company was so happy to be back in the states; they were so friendly. Even though I was young, they were very receptive, and we all were hanging out together at the barn and going out for drinks. It was a different scene back then.
Did Mark say anything to you?
He was very complimentary; I'm pretty sure he met my parents. There's a picture of us—and me with braces—that's pretty unbelievable. I think it's up in my locker. Because I was so young, I escaped some of the wrath that he might have given other people. I didn't get that till later. [Laughs] He knew about my surgeries, so he thought that was sort of tragic. He's always been really supportive.
When you got the call from the company, you were living in Chicago?
I was dancing with small groups. Jan Erkert, who now runs the [dance department at theUniversity of Illinois at Urbana-Champaign]. Bob Eisen. I was just taking jobs. And then I was waiting tables, and I got a call from Barry [Alterman], the manager at the time, and he said, "Come to New York and start understudying." I lost the feeling in my legs completely. Then, I got in a truck and came. Luckily they did a ton of L'Allegro's that year. There were a couple of older dancers who were making their way out. The first time I did it was in Boston in '94 and over the course of that year I got to do more and more in it. The first place we performed was Australia. I went from not touring ever to this—and this was my dream. I looked up to these people so much I couldn't even talk to them. The age difference was so big that I was sort of a nervous wreck around them.
What was the age difference?
There was a girl I went to high school with who was two years older than me and then there was a big jump. And then the older people were over 40. I was 20. That was hard for them, too. And Mark couldn't even believe that he couldn't take me out for a drink to celebrate. [Laughs] It was a very different separation in age than there is now. It was a little more mixed up. But yeah, over the course of that year I did a bunch of L'Allegro's with them and took up odd jobs in New York, and then they asked me to join full time.
Was it what you wanted work-wise? Did you feel you made a mistake?
No. There are very few of us who get to come in and do a bunch of stuff right away, which I think is great. I'm really glad I got to watch L'Allegro from the house. I got to see a lot of the repertory from the house or from turning pages [for the pianist] in the pit. We used to have a whole system with Grand Duo: You turned pages, then you picked up costumes, then you got to do one section. The pit was the best seat in the house. Between the violinist and the pianist? I got to watch the older company do things, and so it really affected the way I dance. There are certain dancers—I still try to do it like them.
Did you have dancers who mentored you in the company?
Actually two male dancers: Guillermo Resto and Kraig Patterson. Guillermo's dancing is so straight-ahead, so straight out of humanity, but with absolute grace and soul. There's no way I can look like him doing it, but I know he took audiences to a place where you could feel his heart. And Kraig has such delicate intricacies and levels of creativity that it's almost too much! Absolutely astonishing possibilities watching him. There's always a surprise. It comes out of nowhere.
Was it difficult for you when they left?
Yeah. Definitely. There have been chunks of people leaving, but that was an end of a true era of different dancers. They both coached me back in 1989. Not that it was that private, but I remember learning New Love Song Waltzes, which is one of my favorites; you'd throw yourself to the floor. Because of my intense training, I held myself like an inch above the floor thinking that that was what was supposed to happen, and Guillermo came over and was like, "Just let yourself go." I realized I was suspended off the floor and I started laughing. It was the dumbest thing that I'd been ingrained to make shapes in a certain formal, strenuous way and to actually just fall and let yourself absolutely be into the ground was refreshing. [Laughs] It was like, Duh! That has a totally different feeling.
Tell me about L'Allegro. You watched it before you danced it. Where?
I first watched it from the house in Australia. It blew me away. It was beyond all the dancers on the stage. For instance, the pastoral scenes just carried on into the wings—they went on forever and ever. There was no limit to the proscenium or the music or the design. It just continued beyond all the personalities, beyond Mark's personality. It was just larger than life.
What did you first perform?
I did all the group sections. He gave a lot of weight to the women's roles; for instance, "Mountains" is done by a baritone singer, and it's always performed by a very lean woman, and it's a huge, muscular solo. Fascinating, that choice to me. Now the specialty things I do are "Three Graces" at the beginning. I do "Come and Trip It," which has the male section—I love doing that section because, again, he has the section for men start with two women. It's very meaty. Then I do a bird solo, the "Sweet Bird." Those are the main things. My second act is a lot calmer. Although I get to do "Melancholy Octet," which is an absolute honor. It's probably my favorite section.
Why?
The lyric has to do with how the line between sorrow and joy is so fine that you don't really know where one starts and where one ends. It's ecstasy and agony at the same time, which to me refers to some of the greatest art. If you're laughing and crying in the same instant? It's absolute.
What did you learn about Mark's choreography from having L'Allegro be your first show?
I learned about grace, strength and community. The patterning is so specific that if you're not in the right place, the whole thing doesn't work. And about expression. Over the years, I've gotten to experience those different parts and how they make you move. For instance, the "Sweet Bird" solo—there are all these birds, there are solos, duets and flocks of birds and then it ends, and the cadenza is for one woman and a flute. And there are thousands of people looking at you and there are no moves, there's no movement. Every year I do it, Mark makes me do less. He's forcing this entire room full of people to listen to one flute player and watch the tremor of the ends of my fingertips. I can barely move, which I think is incredibly frustrating and against my instincts. And it feels crazy magical.
Does Mark talk to you about that?
Oh, yes. [Laughs] I get more notes than anybody, I think.
About doing less?
No. He tells everybody to do less. Even in an audition, he'll tell people who are trying to impress him to calm down. It's very counterintuitive. But it's clear. I see it happen when he coaches someone. You can see that it often just makes it clear, and his dances are so dense, musically and rhythmically, that if you had everybody at a thousand percent, it would blow you out of the water. There would be no shape.
And it would feel cheap. It's that intricacy on top of the simplicity that makes it explode.
Yeah. To do it bigger doesn't mean better. But there are real subtleties in Mark's work, like the way the upper body has to be supple, that isn't in a lot of dancing; it seems almost like you're not doing enough or that it's too subtle to be noticed, but it shows humbleness and a level of expression that's very subtle.
So what does he give you notes about?
[Squeaks] Everything! He never wants you to feel like once you've done it correctly that it's for a lifetime. He wants to keep you on the edge, and he knows this about himself: Sometimes he has to step out of the kitchen. With an old dance, he's going to want to keep fussing with it and sometimes he actually has to force himself to step out and let it happen. He tweaks things every time we're with him. He may be trying to show a newer dancer through coaching an older dancer how to behave or how to learn subtleties in his work, how to move other parts of the body, but you don't necessarily know that. You think you're being ripped to shreds and it might be for someone else's benefit. [Laughs]
It's so complicated being a dancer.
It is, it is. But that's why people stay—because there's so much variety and Mark is so brilliant. There are so many levels. Some not so easy, but it's constantly fascinating.
Can you give me an example?
I think music pieces he chooses, where you go, That's totally undanceable, or, Why would someone ever choose that? And then we end up humming it like it's a folk song. Stuff like that to how funny he can be—how ingeniously creative he can be on a daily basis, but that he requires so much of your attention that sometimes even if we're not dancing hard, your brain is zapped. In working on new dances, he has mathematical challenges that he'll give us, conceptual challenges that are very intellectual, and there's not any other field that I would find that in. It's not like we just do his steps. He needs us individually to manifest his ideas that are often very complicated. He admits that the only class he failed was geometry, so he's spending the rest of his life changing that. You look at his dances and they're so specifically geometrical and there's some systems within dances that you may not be aware of as an observer, but that are absolute math and absolute science and that's the kind of stuff that's fascinating to us in his company. It keeps us alive, because we're a part of that.
What are some recent dances that mean a lot to you?
I find the Ives Piano Trio, Empire Garden, fascinating. There are these unbelievable layers of Americana folk themes played over crazy polyrhythms. You can make out "My Old Kentucky Home" in the midst of mayhem. Inside the dance it feels like pure chaos. Watching it, you can see these layers fit together, as a quilt of old folklore. I find it incredibly vibrant and fresh. It really moves me intellectually. There are moments of pure communism, where we are a part of a political concept that feels so real, I get chills. I love All Fours [set to Bela Bartok]. It's very complicated musically, but he clarifies it through his choreography. It's really edgy and it was different stylistically than other things he had made previously. Although he made Foursome [set to Erik Satie and Johann Nepomuk Hummel] shortly before that, and I loved that piece for its simplicity—for the opposite reasons that I love the Bartok. He tends to do that. He'll make something that's very dancerly, very complicated and then the next one might be just the inverse quality. I don't know if it's so black and white, but he goes into these beautiful patterns that I think are interesting. Because I'm an older dancer, I like the nondancing dances. I think the Satie turned out surprisingly beautiful: Socrates. While we were doing it, we went crazy because there's no change in dynamic—you would actually get sleepy listening to it and I would get more air-headed or slow over the day because of the style of music. But through the work of the designers, the whole effect felt absolutely stunning once we were onstage. It felt new, that Mark had tapped into some new territory that was absolutely grueling in the process. And terribly boring for us individually. And then when you finally felt it—it was almost frustrating that it worked so well. [Laughs] I was really surprised by that one.
Is he moving in that direction?
He's definitely moving away from dances where there are more steps. That's also because he's not dancing as much, but I think he feels dance is dying. He's said it publicly. So in order to reinvent it somehow with himself, he's blanking out the slate and starting more—I don't want to say pedestrian.
How do you feel about dance?
I never go to see dance. I go hear music as much as I can. I like the way dance feels and I do love Mark's works. I'm not a big fan of dancing that has to do with tricks and natural agility just for the sake of agility and the show-off aspects of dance. I'm not a big ballet fan unless there are certain qualities that are expressed more through older dancers or that relate to life. I am not proud to say that I don't see much dance. I like to have my expression affected more through visual art and music and the things I see on my own and literature. It suits me better than to work on, I want my legs to look like hers. That never really worked for me. Maybe it's cause I can't! [Laughs] Or from the beginning, I couldn't, so I went for something else. I love the Wooster Group. My favorite dance is what Kate Valk and Willem Dafoe do with stools attached to them in Emperor Jones. It's the greatest dance in the world.
How do you view musicality?
To me, it's very black and white. Mark is so specific with rhythms that you don't have a choice to rebel against them or not. I was lucky to get rhythm from my dad. [Laughs] Certain dancers have to count differently; some dancers feel more naturally, and I'm like that. It actually messes me up if I start to count too much. But sometimes things are very tricky, and we'll have to count in 16 bars of three before an entrance, and that is agonizing for me.
Is your father a good dancer?
He's a great dancer. He is a doctor and he would put down his doc kit coming home from work and I'd say, "Dad, stand over there!" and I had been waiting for him to come home and I'd choreographed some overhead lift in my head and he'd have to pick me up. I made him perform with me a lot when I was little. When he was about 40, I made him wear a long-sleeved white unitard, and I choreographed a duet to the love theme from Flashdance and he performed it. [Laughs] I cherish that. I thought that took a lot of guts. He's a doctor.
Or from anyone! A white unitard? Cruel.
[Laughs] I know.
You perform the male role of Tybalt in Morris's Romeo and Juliet. How did that happen?
I feel really lucky that I get to do a crazy villain part. Mark asked us in rehearsal whether we wanted to play a villain or a nice guy and I chose villain and luckily got it. It's exhausting emotionally for me. I have to eat a lot of red meat and I have to fire myself up because the Tybalt character—out of nowhere—is so spastically angry. It's really hard to gear it up because everyone's sort of dancing together and you have to be the real asshole. You have to be the serious jerk. It's thrilling to try to make it work, especially as a woman. I know that half of the audience isn't going to buy it. And they've told me. [Laughs] So maybe it helps put a little edge in it, but it's hard to be believable and not be a caricature of a male dancer. So Mark helped me with some things and then I would watch dancers who I felt moved more masculine than others as far as how to hold you hands and the weight in your arms and your gait. It was fascinating to figure out for me. And again, without cheapening it and making it a joke on a male character.
And Tybalt can look cheap, even when a man is dancing.
If the audience doesn't believe in your anger, you kind of blow the whole story because you set up the tension, and so the chip on your shoulder has to be so realistic. And obviously, it's not something that I'm familiar with. I am part Italian. [Laughs] But I don't have any real experience with grudges. I come from a very forgiving Catholic family. It's absolutely exhausting to keep up the menace. There was a time when I was almost joking and I went to strangle Romeo and I smiled; I was playing around but Mark saw it and asked me to do it. It makes it so sinister, the pleasure I receive out of this evil—it's gotten sicker since I started doing it. Yes. I can almost taste it. It's almost nauseating when it's over because I have gone to that dark place. I love doing it; it's emotionally nauseating but I feel really lucky to have gotten a part like that.
What about The Hard Nut, which will be at the Brooklyn Academy of Music in December. You play the sister in the first act?
Yes. I have a blast with that. Again, I really like the theatrical roles. It's a personality that is really unlikeable. Is there a theme with that? But it's fun to play a part so obnoxiously. To take it to the extreme. And that one is such a parody; the comedy aspects are really fun and as long as you're completely brash and out there—he very rarely pulls you back from that one. I really get to be cartoonish, and we all like to play something that's not in our normal personalities, to play up a certain level of sickness. Tina Fehlandt did it originally.
Did she teach you the part?
She was around. Mark coaches whether you're going the right direction or not. So they both did.
How do you make that one your own?
You have to keep trying new things. If I do, say, the party scene in a similar way two times in a row, I think I've failed. So it's to be open to what other people are doing with you and to not set any real planned reaction. There are certain choreographed jokes, but if you plan your reactions, it's not believable.
It's gross.
And it feels gross. It's more fascinating—and way more scary—because sometimes you try things and they don't work. [Laughs] As long as I'm testing out new things, I feel like I'm still doing well.
Mark is still in that, right?
Yeah. I have a lot of stuff with him, which is great. It also means that he trusts me. He doesn't trust everybody so intimately. He makes jokes onstage that just crack us up and it's a real celebration. It looks like we're having a good time, but we actually are. [Laughs]
What is your relationship like with Mark Morris as a boss, and how has it changed over the years? Or is there not so much separation?
There isn't, and that's how it's changed. He's definitely my friend. When I've been injured, he sent me books. He told me to just get better. There wasn't any pressure from him. We cook together, for each other, and have real respect for each other in that aspect of life. I've been to India with him twice. One time he went on a grant and I just tagged along and the second time, he sent me to Nrityagram [Dance Ensemble of India]—it's like a women's commune dance company where they grow their own vegetables, and he sent me there to do some teaching and to cook for them and to talk about art and to commiserate as a female artist from the states. [Dancer] Rita Donohue went with me, too. He exposed me to a completely other part of the world. And then had the respect for me to send me to work with them. It was not an exchange; the guru was having some hip injuries and so he said, "Show her what you know," and I have a bible of exercises from being injured at a young age, and she was like, "So you will teach it to our class in the morning?" and I was like, "What? I don't teach." I pulled some of the stuff that I've learned out of my back pocket and she was very conducive to learning it and said it helped her a lot. We mostly talked about art, and I cooked.
When did you start cooking?
My mom is a great cook. I learned from her and started cooking slowly when I moved to New York, but it's become a passion. I spend most of my time thinking about the next meal. I've learned from Mark, because he is an incredible cook and has ways of resourcing stuff—I think I've learned that from him. Like if you have one little chicken bone and this piece of cheese and this egg—to have the faith in your self to experiment. I don't use recipes that much anymore. I mess them up. He sent me to the village and said, "Cook Christmas dinner," so I told them, "I'm cooking Christmas dinner," and one of the older Indian women was laughing, like, What is this white woman expecting to do with our vegetables? I had to use what was there—I was looking at things that I didn't know how to cook, and I had to do it! Mark asked me to make Christmas dinner. They liked it, thank God. It was terribly strenuous. I made a cake and I was fluffing egg whites with two forks—it must have taken me 30 minutes. [Laughs] It was great to feel that perspective of cooking. We all get spoiled.
Does Mark come down hard on you in the studio?
Yeah.
How do you handle that?
I'm not one to show much of my frustration in the studio, although I did snap at him one time. It had to do with weight; there were littler men trying to lift me and he was making a sarcastic remark like, "She's not that fat" or "she's not that big." He tends to like [to pair] big women and small men and it's a pet peeve of ours. So if he gets in there with that sort of thing I get really sensitive. But I usually keep it to myself and try to sort it out later and I realized if he's so hard on somebody it's usually because he sees a way of them doing it well. That means he has hope for you. If he's not hard on you it might mean that he's given up; that's the only way I can balance it out over the years. Sometimes, like in L'Allegro, I've been doing the piece for so long and he might change his mind about something or make me feel like I'm sabotaging the piece, although this is something about our relationship: He knows that I love his work. He has a trust in me. When he makes you feel like you're sabotaging the work, that's really upsetting because he knows that you want to do it the way he wants it. I don't have a better idea or something. If he keeps changing his mind, I just have to know that if he's not hard on me, it means he's stopped caring. [Laughs]
Why can dancers stay in this company for a long time?
Because of the variety and styles and the fact that we have live music—we get to have a real relationship to dynamic and tempo with live musicians and singers. There are so many musical terms that I've learned. The actual physical movement is less damaging than some. He doesn't like to do things that are dangerous for our health just for effect. It's a little easier on your joints, and through his technique class he's actually really smart about teaching alignment.
Is it ballet technique?
Now it is. Back in 1989, he had all kinds of crazy modern classes that he taught, but it's now strictly ballet. It was an absolutely gradual shift. Since I've been working for him professionally he hasn't taught a modern class as a company class. I miss it. I think he should, but that's not my business.
What are you interested in? You don't want to teach, do you?
No, I don't. I would like to try something else.
Like what?/>
That's a giant hole. Anything from scuba diving to cooking to music, but I didn't go to college, so I have to start from square one.
Do you think about how much longer you will dance?
Yeah. I think I have a little bit more in me. I also have to weigh when to leave in order to have the chance for something else. This is the only thing I've ever done. I definitely want to leave in time to have faith that I have the concentration to learn something else. I think the older I get, the more difficult it's going to be to learn a new trade. I have to weigh that out with the aches and pains and the passion.