Michael Schumacher
The American dancer teams up with Jiri Kylian in Last Touch First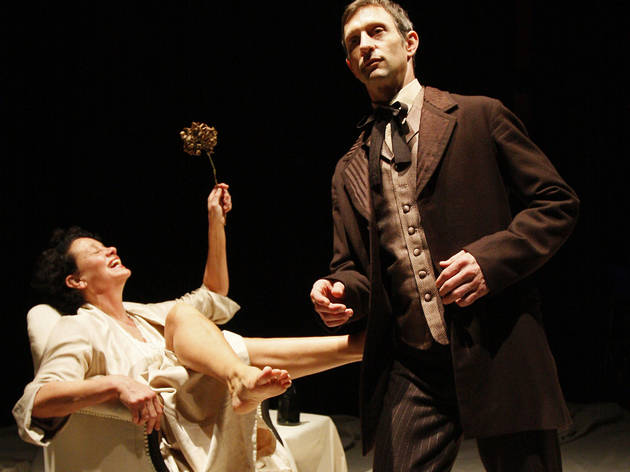 As Michael Schumacher sees it, the trick of getting through the first ten minutes of
Last Touch First,
a dance-drama for six characters who move at a snail's pace within a surreal Victorian parlor, is simple. "Keep breathing," he says with a laugh. "That's what I'm doing." In this luminous, painstaking production, created by Schumacher and Czech choreographer Jiri Kylian, the story unfolds like a slow-motion photograph. (Their source material is
Last Touch,
which Kylian created in 2003 for Nederlands Dans Theater.) Schumacher, an American living in Europe who has danced with Eliot Feld, Twyla Tharp and William Forsythe, views the production as "the other side of the time game." In other words, just focus; you'll see more than you think.
How did this piece start?
It started with a conversation with Sabine Kupferberg. You probably remember NDT3 [Nederlands Dans Theatre 3], the company of dancers over 40? A few years ago, it closed, which left Sabine in an awkward position of being unemployed for the first time in her life. I suggested that we do something together. We spoke to Jiri, and he remembered
Last Touch
and suggested we take a look at it on video.
How did you want to change it?
My feeling was that the characters needed more development. It was more of a tableau scene; Jiri's inspiration was about how slow the dancers could move, and what kind of tension it would create with a spectator. I thought, If we're going to do something, let's take it further in terms of its theatrical development. What is the subtext of each character? I wanted to flesh that out. Within a very few weeks, we had a new piece that was twice as long, and it gave me the opportunity to work with Sabine—to bring her a little bit more into the world of freelance work. Subsequently, it was also the same for Jiri: He, at the time, was in the process of leaving NDT, and wanted to work more independently. For both of us, it was a great adventure.
Was this a real collaboration?
Yes. Stylistically, it looks very much like Jiri's work, but there is a departure and a development that's not typical. That probably has to do with my theatrical background and with some of my improvisational work, too. It has a strange dynamic to it. The slow-motion element begins to play a game of temporal mechanics with your observation; a lot of people comment that because it's slow, they think it's going to be boring, and they're going to have to wait for it to develop. In fact, because it's so slow, the perspective of the eye can only see one area of the stage, so what is shocking is that when you look to the other side of the stage, you realize a lot has changed, and you can't understand how. It's a paradox. It's slow motion, but you cannot keep up with it, which is great.
How is this a departure from Kylian's work?
I would say most clearly in terms of character development, and the time that was allowed for us to develop the characters. That may have not been so well-explored in his previous work. His work has a great range, but primarily his choreographic aesthetic focuses on the forms of the dancer in space.
Last Touch First
is more about the form of the dancer internally, or the internal development of the dancer, performer, artist. In this case, it's a collection of six dancers who have something like 250 years of experience among us. [
Laughs
] It's packed with information. It continues to develop and to grow because at every performance, we bring something new to it. We have a score and a script, and it feels very much like a play to me. The paradox is that it's set—it should be the same every time; but because it's moving so slowly, we notice how different it is every night, and that's when the improvisational side of our experience is fully utilized. I find that fun. People comment that they want to see it again because they feel that they've missed so much. The director of the Holland Dance Festival, Samuel Wuersten—who commissioned the work—has seen it several times, and he still says, "There's one part I keep wanting to see and I keep missing it!" I find that element of it is positive: It has a life, and we continue to find subtext with each other, which is also unusual in dance. Sometimes you reach a plateau, but we haven't reached that yet.
What is an example of the way in which the production continues to grow?
I'll give you a microscopic view: At one point, I sit in a chair and reach over and pick up a glass. For the rest of the day, every time you reach over to pick up a glass, think about how many times you do it exactly the same. If that's your script, and your character has a certain way of handling a glass and drinking from it, then that's a huge amount of information and a huge amount to deal with from performance to performance. It relates very much to my philosophy about life and improvisation. There are many sides of our daily lives that we incorporate into our improvisational behavior. Not everyone may see it that way, but I do, and that's why I find it entertaining that in a dance-theater piece like this, it's readable. You have to see it a few times to understand that, which is why a lot of people see it more than once. It's hard to catch all of the elements the first time; you're busy trying to put all the pieces together.
So do audience members get overly absorbed in certain sections and miss others?
From what I understand, you get the mise en scène. You understand, Okay, this is a parlor in a period roughly around the turn of the century, and the characters resemble people that may or may not have been in a Chekhov play. We use Chekhov as a reference, but it was never intended to be a telling of his work; it's more an impression of Chekhov and that era, with characters who have a dissatisfaction with the banality of daily life. However, because our eyes work very much in different levels of focus, it's easy to get distracted by certain details. You might start to focus on small gestures and objects. I find that may be the key. Not only is it a piece in which to observe the whole, but it is also a time to think about how you, as an audience member, observe.
Were you thinking about that specifically when you were creating it?
Very much so. I was keen about keeping a constant dialogue with Jiri about character development: that any movement that happened onstage was relative to the character at that point in the piece. It was a blueprint for us to keep the piece moving along in a way that had theatrical integrity.
Can you describe the characters?
There are three women; we refer to them as the three sisters of Chekhov. You sense that they have a family relationship. The three men are of different ages. One is an older gentlemen; one is middle-aged, who I play. He's more of a card shark and deceitful—a bit of a trickster. And then there's the younger one, the innocent, love-lost character. In some ways, he's the most tragic and the one who's abused the most. In my mind, it's quite sad what happens to him. These are very subtle and personal observations. I think the piece is strong in that it allows for different interpretations. There's nothing fixed in our telling.
What was the process like with Kylian in terms of expanding the original characters?
We started with the characters that he had mapped out, and what he thought about each of them and what their backgrounds and intentions were. Jiri understood who they were, and each of the dancers had written a piece about who they thought they were—that was an assignment he gave them. So it came with a good template of character and some development, but it was very short. The piece was 25 minutes; there were one or two steps and it was over. I thought, If we're going to work on it, let's really dig in and find the movement that relates to the characters. What happens to them? What's really under their skin? That's what we were interested in. We've even talked recently about developing it further. We're not aiming for a finished story. It has a feeling that it could have more life in it. So we improvised a bit and tried different scenes, different movement vocabulary. It was easy to find what was true. I was looking very much at subtext. There were times with Jiri where I felt, Okay, this has become visually impressive, but I don't understand why the characters have moved in this way. So we would go back and look at it again and try another version to keep the characters' inner lives visible. The back-and-forth of that dialogue was wonderful, and he was very receptive and open to my questions and suggestions. I had never worked with him as a dancer or as a collaborator [before], but I was really impressed with how open he was.
What is the experience of performing the piece?
It's incredibly engaging and challenging because when you're moving slow, you have more time to notice every detail. I break into a sweat, and that's quite surprising. In a way, it's more challenging to keep the flow and the concentration and also to keep the sense that you're alive and not becoming a frozen object. That's the fine line: You want to go slow enough where you seem to be almost inanimate, but you're not. [
Laughs
] It has a lot to do with controlled breathing and a sense of ease inside the energy. The biggest challenge for me is to make sure that tension doesn't take over.
What is your warm-up like?
I do a combination of yoga, tai chi and ballet. The preparation after the warm-up is more specific: It's about moving really slow for a good amount of time—just practicing that. It seems easy, but it's not. The shifting of weight in slow motion, without losing your balance or becoming tense, is very challenging. You have to really let yourself be where you are. You have to accept that maybe I'm falling off in this moment, but then bring it back to the center without creating a crisis. [
Laughs
] A crisis works well in some situations. I love the idea of throwing myself into an impossible coordination that creates a crisis, and then the recovery is something else; but in this case, we're not allowed that. It's not in the script. It's a different kind of improvisation. When you're off in your own trajectory, it's easy to get lost and not connect with each other, and now we're finding that the more we pay attention to each other, the more we have created these extended subtexts or stories between us that were not originally spoken about. It grows all the time.
Are you a huge Butoh fan?
I am! Kazuo Ohno is one of my all-time heroes. I go back and forth between Fred Astaire and Kazuo Ohno in terms of what is entertaining and what is beauty. I love Balanchine, too. These artists I've worked with—Eliot Feld and Twyla Tharp and Bill Forsythe and Amanda Miller—celebrate the mix of what it is that dance can be. That's always been my appetite. What is the edge of what is considered interesting and marketable in the dance world? [
Laughs
] I'm looking forward to bringing it to New York. I danced there 30 years ago at the Joyce Theater.
Was that with Eliot Feld?
Yes. It's fun to go back there, of all places. Eliot gave me my first work right out of Juilliard. I was in the company before I finished school.
Did you audition?
I did. It was one of the first companies I'd seen in New York. I moved to New York to work on Broadway. My initial experience was in musical theater: singing, mostly tap dancing and jazz, and it wasn't until I was 16 or 17 that I started studying modern and ballet. It was recommended that I find a university to study dance. My parents thought that would be more advantageous, and I ended up going to Juilliard because I saw in the catalog that they had a video camera. In 1978, that was, like, wow. That's so high-tech. [
Laughs
] Of course, the video camera was bigger than my suitcase. My mother said, "You do know what Juilliard is, don't you?" She was a musician, so she was a bit shocked that I was so clueless. I auditioned and luckily they accepted me. I never made it back to Broadway. [
Laughs
]
What pulled you toward Feld's work?
The obvious mix of modern and ballet. The reaching toward a new contemporary vocabulary. I found his dancers amazing. The group at that time was very inspiring.
You went from Feld to Twyla Tharp. Did you break your contract?
I did. That was an abrupt change. It was a move of aesthetic as well. Twyla was putting together a new company, and I was incredibly enamored of her work. A couple of other friends from Feld were also going to audition; in a way it was a flow in that direction. She was very welcoming, so I jumped a couple of months before I should have, but it was good in a lot of ways. It woke me up in terms of the bigger picture in New York. I learned a lot about what it is to be a dancer in the broader context as an artist and independent agent. With Eliot, it was easier for me to fit into the [traditional] mold of a dancer.
Why did you leave Tharp?
I was there for almost two years. I felt a bit frustrated. She wasn't around as much as I was hoping. She was busy trying to establish a school and a new studio space, and I was missing a collaboration with her of some kind. It was a lot of repertory and touring, and I began to get impatient. When you're in your twenties, you tend to see things as very immediate, so I decided to move on. I spoke to her about it, and she was disappointed, and I was too, but I felt, Okay—if I'm going to really do this, I'm going to learn how to be on my own. So I left. I first went to work in Portugal for a few months with my friend Mark Haim, who I went to Juilliard with. After that, through other friends, I visited Frankfurt and met Bill [Forsythe], and I fell in love with his work. He opened his door to me as well. I moved to Frankfurt and worked there for five years.
How did you come to dance in the first place?
I was an athlete when I was younger and I thought, This is interesting but it's a little bit boring. I enjoyed being on a team, but I didn't find the right sport. When I started dancing, I realized, this is it. You're not playing to hundreds of thousands of people, but you do have a captive audience. I also felt how the rush of the performance in a theater was much different than it was on the field. I think it had lot to do with the coordination and the physical exactitude that was needed to be a dancer. It was much more challenging than all the sports I was playing. [
Laughs
] And I was a born entertainer.
Last Touch First
is at the Joyce Theater Apr 10–15.
See more in Dance