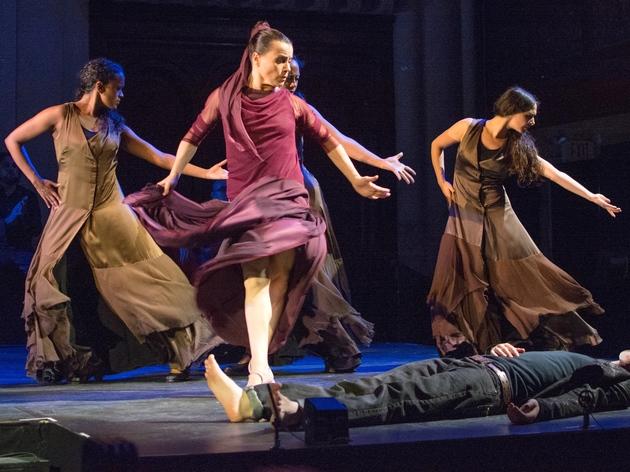 1/2
Photograph: Courtesy Zarmik Moqtaderi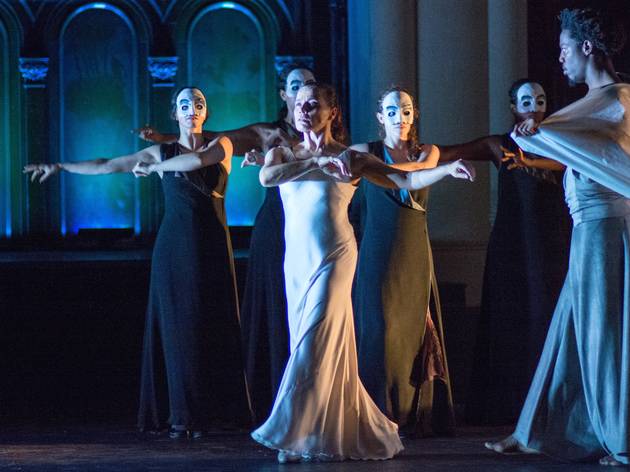 2/2
Photograph: Courtesy Zarmik Moqtaderi
Noche Flamenco's Antigona
Time Out says
Friendly warning! We're working hard to be accurate. But these are unusual times, so please check that events are still happening.
[Note: This event has been postponed because of travel restrictions related to the coronavirus. New dates will be announced as soon a possible.]
Dance review by Helen Shaw
[Note: This is a review of the 2015 production of Antígona. The production is scheduled for an encore run at La MaMa starting March 19, with Soledad Barrio, Emilio Florido, Manuel Gago and Mania Elana reprising their roles.]
The best part of Noche Flamenca's flamenco musical Antígona—and it is full of astonishing parts—is the way it tosses you between states of delight.
At first, the delight stems from the ridiculous. Stalking the stage at West Side Presbyterian Church, our Master of Ceremonies (a hilarious Emilio Florido) sings us the rundown on Oedipus's family with elaborate disgust. Incest! Suicide! Fratricide! It's dark. The flamenco company plays an abbreviated version of the entire Sophoclean trilogy with the emotional volume cranked to 11; their operatic intensity is joyful and absurd. (Spanish speakers may have a little extra fun: The elegant supertitles seem to leave out a bit of the cast's improvisatory swearing.) Most deliciously of all, director-adaptor Martín Santangelo conjures a '70s New York vibe—black silk flutters, masks abound, and by the time Antigone's warring brothers Eteocles (Ray F. Davis, rocking a leather vest/bare chest ensemble) and Polyneices (Pepito Jimenez, sweat-soaked hair to his waist) dance-fight each other to death, you'll be a) giggling and b) wondering why no one has made a musical of The Warriors.
And then, seamlessly, the laughter shifts to awe. Antígona—the great dancer Soledad Barrio herself—begins to mourn the fallen Polyneices, sprinkling petals over him and defying her uncle Creonte (Manuel Gago), who has decreed that the boy rot unburied. The comedy drops out of the show like a bomb from a plane. Barrio's feet drum a constant, anxious rhythm; her face, a study in grave beauty, turns first to the musicians, then to her sister Ismene (Marina Elana), then to her cousin and lover Haemon (Juan Ogalla). Barrio twists in paroxysms of grief and rage, her arms turning in the flamenco braceo, the form's sinuous movement that makes the air seem thick. She drives herself, matching the keening intensity of the singers' cantes,and the piece starts a dramatic acceleration that does not flag for 60 minutes.
One of the great pleasures of living in New York isn't just seeing world-class artists performing, it's seeing them in dilapidated churches, 10 feet away. Barrio commands the stage whenever she's on it, but Santangelo also gives the production's other masters time to astonish us: Guitarist Eugenio Iglesias plays a solo, with a tragic mask perched on the side of his head; Ogalla stamps out an exhilerating, romantic tribute to his doomed love. Gago and Pepe "El Bocadillo" (playing the blind prophet Tiresias) sing their battle-of-wills, crying like eagles into each other's faces, and all the deliberate goofiness of the first half's dance battle couldn't seem further off.
Antígona, it turns out, has had something very serious to say all along. A program note points us to Santangelo's interest in recent stories that recall the ancient tragedy, and it is no coincidence that Creonte uses the fascist Roman Salute, familiar from Franco's Spain—and, horribly enough, recent Falangist rallies. It's clever to use Sophocles to talk about the disappeared, but it goes beyond cleverness to reanimate an ancient tragedy in this way. Antigone is a classic of the canon, but it can often seem so dry. It's only one reason of several you must go: Santangelo and Barrio have made the story throb again with rage and wonder and blood.
By Sophocles. Adapted and directed by Martín Santangelo. Choreographed by Soledad Barrio. With ensemble cast. Running time: 1hr 30mins. No intermission. In Spanish with English supertitles.
Details