Heads up! We're working hard to be accurate – but these are unusual times, so please always check before heading out.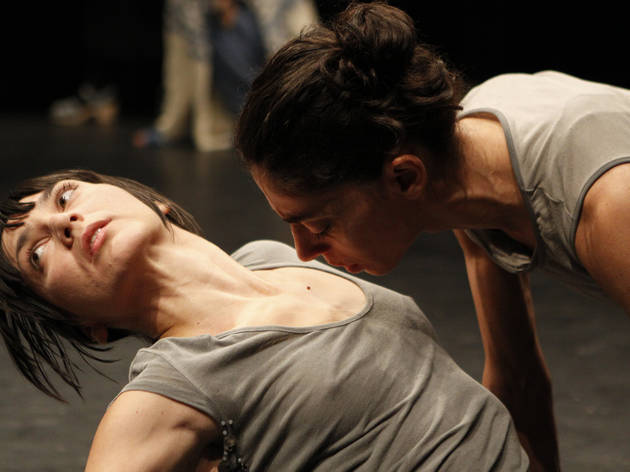 Summer dance: Head to lower Manhattan for River to River 2012
The summer dance season kicks off with the River to River festival, which brings outdoor dance to lower Manhattan—along with some of New York's hottest contemporary choreographers
Summer dance ushers in some experimental—as in excellent—fare to lower Manhattan, courtesy of the revamped River to River festival. Performances take place in downtown site-specific locations throughout the season: Catch cutting-edge productions by choreographers that include Beth Gill, Maria Hassabi, Luciana Achugar and Tara O'Con as they restage award-winning dances in nature. Best of all, it's free.
Beth Gill, Maria Hassabi, Luciana Achugar, Tere O'Connor, Wally Cardona… What is going on with the River to River Festival? This isn't the usual list of middle-of-the-road choreographers one associates with outdoor summertime dance, but serious, respected experimental artists. This season, Sam Miller, president of the Lower Manhattan Cultural Council, and Andrew Horwitz, its director of public programs, have overhauled the festival, which runs June 17 through July 15, by presenting—or re-presenting—much-admired works such as Gill's Electric Midwife and Hassabi's SHOW in an outdoor setting. It's a fresh take all around.

What steps have you taken to overhaul River to River's programming?
Sam Miller: Last year, we converted it from 12 weeks of events to four weeks—making it a more traditional festival with multiple events every day of the week. This year, we've really begun to fill that out and, particularly, add to it a dance strategy.

What is your programming strategy?
Miller: As you know, dance is where I've spent most of my time, and I love it very much. One of the great things about the LMCC is that it has a very strong residency program that is only growing in terms of its ability to serve dance. What we've tried to come up with is a dance plan that links our residency resources to public performance in a way that's complementary to the work that's going on in New York and that serves the artists. So what's behind that is this idea of extended life. We've supported a large number of residencies for dance artists who are making work for other venues, and the idea was: Could we give those works that often just have two or three performances in a venue a longer life? We're giving artists a second residency and working with them to convert traditional venue-based work into site-based work. It gives them more time in the studio and more time to work on a piece; it gives them the opportunity to develop a second version of the work; and it gives audiences a chance to engage with works that they're either familiar with or not familiar with in a new setting.

How did you choose these artists? Did they all have residencies with LMCC?
Miller: Most of them, but not all. Some were works that either Andy [Horwitz] or I saw in the theater that really deserved this approach, but most of them either have had residencies or are having residencies as part of this strategy.

The first dance event is Sylvain Émard's Le Grand Continental. What is that performance exactly, and does it have anything do with your new programming approach?
Miller: That's a little different. It represents another part of our plan, which is [to have] bigger participatory work. It's a project that came from the Joyce.
Andrew Horwitz: We were talking to [the Joyce's director of programming] Martin Wechsler about working together—the LMCC and the Joyce have a long history of that, and this project sounded really exciting. It's a little different than the work we're supporting with the extended-life concept, but it does play into work that engages the community and is participatory: It's not just "come and watch"—there's a level of interactivity to it. We found about 200 people from all walks of life to learn this dance. It's fun. It's contemporary, but it has its roots in a line dance; they've been rehearsing two nights a week for six weeks.

I'm curious about Beth Gill's Electric Midwife, because it was made so specifically for the Chocolate Factory—and to be seen by only a few people at once. How will it be restaged?
Horwitz: It was an interesting process. I met with Beth and she, too, was like, "I don't know how that's going to work." But Pier 15 had just been renovated, and it's a really beautiful design by SHoP Architects. I felt the lines and the symmetry would work well with what [Gill] was exploring with her dancers in the Chocolate Factory space. She also thought it was visually resonant. It's going to be out at the end of the pier. Brooklyn will serve as a backdrop, and the piece will be framed by the cityscape. [The work] is not going to be modified very much. Maybe a tweak here or there, but it will still be exactly 45 minutes, and it will still be pretty much the way it looked at the Chocolate Factory. Conceptually, it's about the symmetry and the line, and the relationship between the movement and the architecture, as well as the way it will play out against this backdrop.

And the performance will occur at sunset, right?
Horwitz: Yes. If all works according to plan, the hope is to have it end at sunset.

Obviously, Gill can't limit seating like she did at the Chocolate Factory. But is she arranging the audience in a particular way?
Horwitz: No, no. I think part of what she's doing right now is trying to figure out how the altered sight lines affect the spacing. Sam talks about this idea of extended life, and there's also this idea of extended life in terms of perception. Now people will be able to look at it from different angles as well.

What about Maria Hassabi?
Horwitz: I saw SHOW at the Kitchen, and I really liked it a lot. Remember the section where she and Hristoula [Harakas] were moving through the crowd? They were entwined with each other and coming together, but not coming together—it set up this really interesting relationship with the audience. I thought, What would that look like in a place with people happening by? And what would it mean to take this really rigorous and sinewy movement, and to put that where pedestrians and tourists are just around? So she's going to take 20 to 30 minutes of SHOW and play with those ideas that she was exploring at the Kitchen and rethink them in terms of: What does it mean to have a much more transient audience?

Did you choose the site together? It's the intersection of Broad and Wall Streets, right?
Horwitz: Yeah. That's how we have done it. I meet with the artist and talk about the work and what they want to do, or what they want to tease out or explore. Then, we walk around. I've been down here for a little over two years and have really started to learn the topography. Obviously there are places that we like or those that have a certain drama to them, but we work with artists to find a happy medium between what they're trying to investigate and what works for the festival at large. We time performances to try and match peak traffic. One of the operative things about extended life is extended audience. And dance has a limited audience of people who are actually going to buy a ticket and go and see something. The best way to solve that is to take it to people. That's part of what this is about. For pieces that are being reimagined and responding to site, we usually try to figure out when the most people are there. But it's always a balancing act. If a particular place is super beautiful at 6am,and a choreographer wanted to show a piece then, we would probably do it. It's hard to say no.

What is happening with the Trisha Brown Dance Company. Is "Astral Converted in Process" mainly a residency open to the public?
Horwitz: Yes. We met with them about a number of different projects, and it came up that they were doing Astral Converted at the Armory and needed somewhere to rehearse. They had been touring a lot, and one of the things that LMCC does frequently is [to foster] open studios. Part of our DNA is about process and about allowing and encouraging audiences to engage with the artists in process, so this just seemed like a really great opportunity, first of all, to work with Trisha Brown. Also, [TBDC has] never really opened up the process before. There are going to be four open-studio sessions, where people can come and watch the company as they develop the piece. We're going to have a panel discussion with the 1991 cast. We've partnered with the Children's Museum of the Arts and the Trisha Brown Dance Company to do some hands-on—or feet-on, if you will—programming for young people. We're also going to be working with the company on an exhibit. The lobby area between the two performing-arts studios is going to be an archival exhibit of the Trisha Brown Dance Company material. So on one level, I feel like it's just a residency. But on another, it's actually unprecedented. And then people can go to the Park Avenue Armory to see the actual show.

Was it hard to talk the company into it?
Miller: No. They're very open to sharing their legacy and their own process with audiences. I went this past week to see the showing of Aeros, which is the film Burt Barr made about making this piece. I think there's a real interest on [the company's] part in putting some of these things in front of people—particularly Trisha's relationship with Bob Rauschenberg and the history of collaboration.

What about Tara O'Con's Underneath Where We Are?
Miller: I saw this piece at the Chocolate Factory. I really liked it, and I thought that the piece itself was almost investigating the space she was in and going to the limits, going to the walls. I think she's an interesting young artist, and almost intuitively I felt like that kind of exploration could really be interesting to see evolve in a site-based environment.

Will she perform at Teardrop Park?
Horwitz: Actually, unfortunately, the two sites she wanted—and this happens sometimes—we couldn't access. It's very frustrating; sometimes people find spaces, but for whatever reason, just can't get them. The landowners were not cooperative.

What kind of space is she looking for?
Horwitz: Tara did a lot of work with the walls, and also, the movement is very near to the body. She's looking for places with good walls. The site we were looking at is Wall Street Plaza, which is at 88 Pine Street, and it has one really beautiful wall that turns into a fountain in this big silver sculpture. So she was going to explore that with the movement of the dancers being reflected in [the structure] and up against the wall. Now, we are looking for a place with a similar dramatic backdrop. There's another building that we looked at that she was waffling about. I might push her on that one. It's really cool. She was a little nervous, but I think she's up for it.

How will Luciana Achugar restage her recent FEEL…FORM at the Staten Island Ferry Whitehall Terminal?
Horwitz: I think she's going to take a couple of pieces from the beginning with the wigs and the dancers rising up out of the pit, as well as the jeans part—where they put on jeans without using their hands. We're researching whether we can get the band in there or not. At Abrons [Arts Center], she used a half curtain. And obviously, we can't. I think it'll be funnier in a way, and more surreal, to see these bewigged women putting on jeans.
I like it when it's starkly different from the original work—that appeals [to me] more than watching an artist try to recreate an experience. How do you feel about that?
Miller: I agree. That's the opportunity it gives the artist: to take it into an unfamiliar space and to create an experience for the audience in a space they're very familiar with—like the place they commute through everyday—and to defamiliarize it.
Horwitz: It's been really interesting to turn people on to doing site-based work. I think a lot of choreographers don't think of it as an alternative. It's great that under this structure, they have something to start with. It's not like, Oh, I don't know what I'm doing, and there's this space and I have to make something. People really find it an enhancement to their practice.
Miller: There are some artists coming into the residency program over the next few months who are making a piece for a venue. We're telling them now that there is a site-based opportunity, so they can see it coming as they begin to work. In a way, it becomes almost a co-commission, but into two formats.
Horwitz: That's kind of the case with Tere O'Connor and Wally Cardona.
Miller: And DD Dorvillier is going to have a residency and show at Danspace, but beyond that, it will be hopefully be a site-based project with us that will come out of the work at Danspace.

What is the story behind the Jennifer Lacey and Wally Cardona collaboration, The Set Up: Junko Fisher? Are they involved in a residency?
Horwitz: Yes. We are very fortunate that one of our real-estate partners, Savanna, gave us half of a floor at 80 Broad Street. So that's our incubator for all of these projects. In addition to a commission, they all get free studio time, so Wally has been in residence for a month. And now he left to do some investigation in Asia, and then he's going to come back and be in residence again. And Jennifer's going to come in, and they'll be in residence together. So what they will be doing is showing wherever they're at. It's the very first phase of a much bigger work. Here, the idea of extended life goes in both directions. This is the before-it-goes-to-a-venue style, as opposed to after.
Miller: And it comes back, too. You'll see it before and after the Armory performance.

Why has no one been this ambitious in terms of site-specific work before? Is it really difficult to talk good artists into trying it?
Miller: No, I don't think so. LMCC's place in the dance community… We don't have a theater, so what we bring to the table are residency spaces and [the ability] to give the work a longer life. No one else is in that unique position, and we're trying to take advantage of that in a way that is supportive of the artist and complementary to the other dance presenters in the city.
Horwitz: Sam can't say this, but I can, because I'm not him. I think a big part of it is that Sam's vision and his stature recontextualizes the proposition about site work. Sam has offered a context for why this work is important and meaningful, and how it can enhance people's practice. Having the extended-life framework and the residency component is a much more compelling situation.

Why are you interested in bringing more challenging work to a broader audience?
Miller: These artists are making really beautiful work, and they deserve more opportunities to share it. And all of them are not only investigative, but they have a real interest in working in specific spaces—not just generic theaters. So the idea here is to take those abilities and aspirations and put them into this audience context, which I think is great. We want audiences at River to River to stop and look. Lower Manhattan has interesting architecture, interesting views, an interesting waterfront, and we're trying to make people see deeper and really encounter unfamiliar vocabularies and unfamiliar experiences in a way that we hope is transformative. We see these choreographers as our partners and allies in that.

The River to River Festival will be held at various downtown sites June 17–July 15.
You might also like
Read Beth Gill on Electric Midwife
See how Luciana Achugar gets primal in FEEL…FORM
Maria Hassabi and Robert Steijn flesh out their breathtaking collaboration