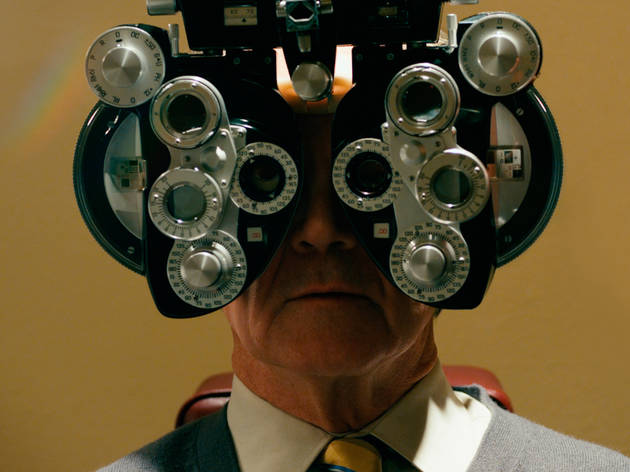 BAMcinemaFest 2013
Five years on, Brooklyn's eclectic indie film fest still pleases and provokes.
It's time once again for Manhattanites to cross the bridge, Queens dwellers to hop the G and Kings County residents to puff out their chests with borough pride: BAMcinemaFest is back for its fifth go-round, and this annual indie cinema showcase has a typically capital lineup. Here's your chance to sneak a peek at a buzzed-about Sundance title like James Ponsoldt's meatier-than-usual take on the coming-of-age drama, The Spectacular Now (June 20 at 7:30pm). You can even spend a night under the stars watching Joe Swanberg make a bid for mainstream acceptance with the not-half-bad microbrewery romance Drinking Buddies (June 27 at 8:30pm), starring Olivia Wilde and Anna Kendrick. Whatever you do, though, be sure to reserve some time and tickets for these five can't-miss titles.
There are fewer story synopses more off-putting to the seasoned festivalgoer than "two men form an unlikely friendship." But Chad Hartigan's This Is Martin Bonner (June 20 at 7pm) sidesteps almost every pitfall promised by its premise. This Reno-set tale of the titular Australian expat (Paul Eenhoorn) and the recently released convict (Richmond Arquette) he gets chummy with is consistently warm and wise about the disappointments adults face in middle age. It helps that Eenhoorn brings some of his own history into the mix; the sublimely meta scene where Bonner dances to a recording made years prior by Eenhoorn's real-life rock band, Kopyright, will have you simultaneously feeling the years and grinning ear-to-ear.
Smiles are precious things for the people in Remote Area Medical (June 23 at 1:30pm), a documentary by Farihah Zaman and Jeff Reichert about a mobile "no-cost" clinic. (Full disclosure: Reichert has edited several pieces I wrote for his online film magazine, Reverse Shot.) The setting is a NASCAR speedway in the heart of Appalachia, where volunteer doctors tend to low-income residents with no access to medical care. A charged issue for sure, but partisan politics matter little to patients concerned with having good enough teeth to feel socially comfortable or a pair of glasses to see what they're doing at their jobs. Zaman and Reichert approach all their subjects with clear-eyed empathy and allow the agitprop to emerge from the humanity on display.
Now on to the divinely alien: What are we to make of the bespectacled, socially awkward techheads populating Andrew Bujalski's Computer Chess (June 23 at 6:45pm)? Indeed, what are we to make of this bracingly bizarre movie, shot on an early-'70s black-and-white tube camera and ostensibly documenting a surreal weekend at a 1980s artificial-intelligence chess competition in an anonymous chain hotel? The real question: Who needs such answers when the moment-to-moment pleasures are manifold? Whether delineating the rivalries and romances between his delightfully doltish characters or exploring the eccentric byways of the locale (kitties, kitties everywhere—analog LOLcats, perhaps?), the "Godfather of Mumblecore" has taken his quizzically reticent aesthetic to thrilling new heights.
No less exhilarating, Jem Cohen's expert blend of fact and fiction, Museum Hours (June 24 at 9:30pm), captures the profound yet transient friendship that blossoms between a museum attendant (Bobby Sommer) and a Canadian woman (Mary Margaret O'Hara) visiting Austria to attend an ailing family member. Cohen complements and contrasts their connection with a richly realized portrait of the city of Vienna, in which you're as likely to commiserate with buoyantly old-world tavern patrons as hear a stimulating lecture on the work of Pieter Bruegel the Elder. The overall experience is invigoratingly heady and deeply moving—a trip to a foreign land that stirs your senses and your soul.
Finally, Malcolm Ingram's documentary Continental (June 28 at 6:45pm) explores another exotic country: the gay bathhouse, specifically the sexual-cultural mecca opened by opera singer turned entrepreneur Steve Ostrow in Manhattan's Ansonia Hotel in 1968. The Continental Baths were one of the few places where pre-Stonewall queers could get off in relative safety (though raids by police did occasionally occur). But when the homosexual revolution hit full stride, the baths morphed into an all-orientations hot spot where the Divine Miss M, Bette Midler, honed her bawdy talents and everyone from Andy Warhol to Alfred Hitchcock made appearances. Gay icons like Michael Musto and Holly Woodlawn are among the wistful interviewees, but the doc's dandyish heart is Ostrow, who recalls the establishment's highs and lows with the effervescent charm of a natural-born raconteur. The intimate and affectionate sense of community he describes as the baths' raison d'être parallels the cinemacentric commonwealth that BAMcinemaFest itself attempts to cultivate—minus the disco floor and dark-room orgies, of course.
BAMcinemaFest runs through June 28 at BAM Rose Cinemas.
Follow Keith Uhlich on Twitter: @keithuhlich