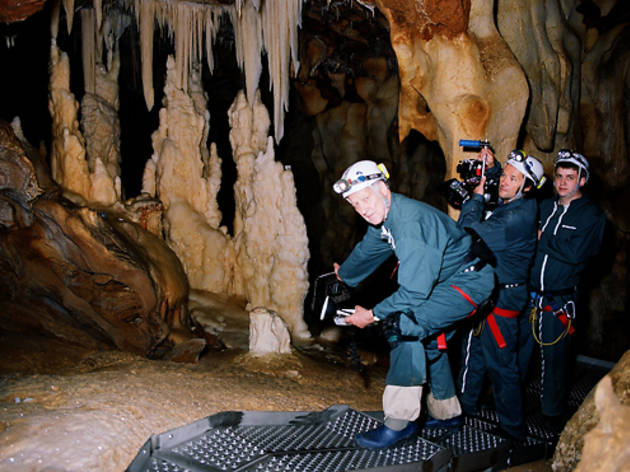 Horses and lions cavort in the dripping darkness: The Chauvet cave paintings are more than 30,000 years old---the oldest known examples of human art, maybe even the beginnings of figuration itself. Feisty German-born doc-maker Werner Herzog has his own take on things. "Do they have souls?" he asks a somewhat mystified anthropologist about the artists. "Do they cry at night?" The questions hang awkwardly.
We love Herzog for his tangents, his willingness to go cosmic after taking hard knocks in the grueling worlds of Fitzcarraldo and Aguirre: The Wrath of God. But (perhaps for the first time) the director has stranded himself in a mystery. Cave of Forgotten Dreams feels stuck in a middling zone of too much conjecture and not enough scholarship. Found in 1994, the cave is a profound discovery of prehistoric culture and fossilized animal remains; Herzog's access is extraordinary. But his resulting doc is padded and ill-lensed, shot in a headache-inducing 3-D. Too often, you feel the weight of a serious subject slackening the normally adroit Herzog. (This should have been a much briefer TV special.)
Still, there are moments of breathtaking beauty, Herzog's camera grazing the smooth walls covered in thoughtful scratches. Coupled with the keening music of longtime Herzog collaborator Ernst Reijseger (a cellist who reinvents the sound of bow on string), Chauvet's mysterious works speak to the attentive. You wonder how torchlight made the animals move---if children stood here, learning the ways of the hunt and the natural world. Like Herzog's steamship on the mountain range, the ancient gallery is a surreal piece of effort.
Watch the trailer
Release details
Rated:
G
Release date:
Friday April 29 2011
Duration:
90 mins
Cast and crew