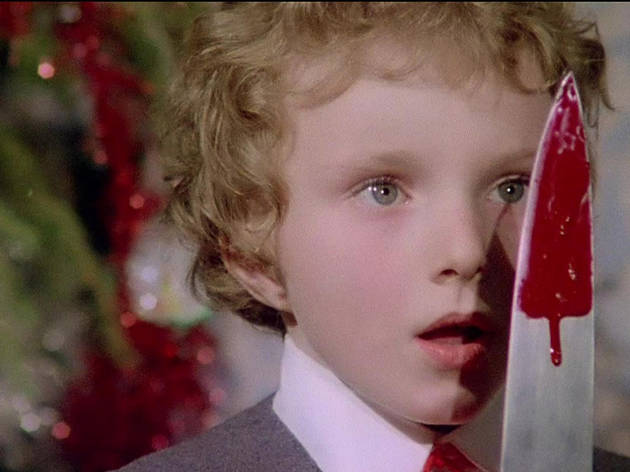 "Giallo Fever!" at Anthology
Break out the black gloves: The Italian horror-mystery subgenre is getting a long-overdue showcase.
History holds that the slasher film was inaugurated into the cultural bloodstream by a British expat (Psycho, 1960) and was codified as a successful business model by a maverick American (Halloween, 1978). But between those two landmarks, it was the Italians who ruled the roost when it came to guy-kills-girls cinema, thanks to the dozens of movies dubbed giallo ("yellow")—so named for the prevailing cover of the pulp paperbacks chock-full of mystery, degeneracy and creatively dismembered corpses. These lurid flicks featuring women in peril, lunatics on the loose and more close-ups of eyeballs per capita than your average exploitation film were grindhouse-ready in their subject matter, but they had style to burn. And there was a highly modernist method to these tales of madness; everyone from De Palma to Darren Aronofsky have borrowed liberally from the giallo playbook.
The first survey of its type in New York per the series programmers, Anthology Film Archives' "Giallo Fever!" dedicates ten days to giving these gorgeous, gory spaghetti thrillers their due, and those who've never experienced the deliciously aestheticized delirium of these Euro-psychological potboilers on the big screen should get in line now. The availability of decent imported 35mm prints means that the selection is limited and far from comprehensive, but you do get a number of essentials, starting with a Mario Bava double shot: 1963's The Girl Who Knew Too Much (Thu 20, Sun 23 and Sept 29) and 1964's Blood and Black Lace (Tue 25, Sep 30). Largely considered to be the first proper giallo movie, the former runs Letícia Román through the scream-queen paces as a tourist who witnesses a murder. Bava's black-and-white whodunit pays homage to the genre's literary roots—his heroine is introduced reading a yellow-covered crime novel. Black Lace then sets the bar for every giallo that followed: the black-gloved serial killer; the Grand Guignol homicides; the borderline misogyny; and the hyperexpressive use of color—notably red.
That shade of profondo rosso is what dominates the work of the genre's second major director, and gives his masterpiece its title. Dario Argento's 1970 debut, The Bird with the Crystal Plumage (Thu 20, Mon 24), built off the first giallo wave of the late '60s, while adding a baroque sense of dread that's equal parts Hitchcock and hyperventilation. (After seeing the film, the portly master himself allegedly remarked that, "This Italian fellow is starting to make me nervous.")
Yet Argento's other entry, 1975's Deep Red (Sat 22, Sept 28), is the one that best exemplifies the way in which giallo could blend splatter-horror, operatic excess and old-fashioned nerve-jangling suspense to such stunning effect. David Hemmings riffs on his Blow-Up role as a musician whose neighbor is found stabbed to death; he starts piecing together various clues to come up with the big picture. On the way to the major revelation are a number of sly visual coups, an impeccable use of deep focus and the most terrifying attack-by-automaton ever committed to film. Godard declared that all a film needed was a girl and a gun; Deep Red and its giallo brethren proved that a butcher knife, a meat cleaver and various other sharp objects will work just as well—a lesson that's still scaring audiences to death.
"Giallo Fever!" plays at Anthology Film Archives from Thu 20 through Sept 30.

Follow David Fear on Twitter: @davidlfear