Guest editor Susan Sarandon interviews Richard Gere: 'No one paid any attention to me. Nobody.'
Richard Gere sits down to chat with his longtime pal about his brave onscreen turn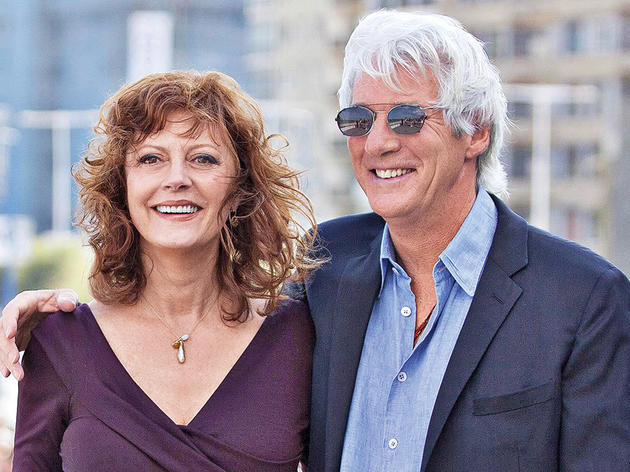 Time Out of Mind,
Richard Gere went method and hit the streets of New York as a homeless man, interacting with locals as the hidden cameras rolled.
Sarandon: What prompted this project?
Gere: You live in New York; obviously,
homelessness
is there if you choose to see it. The script that we began with was actually written 25 years ago, yet surprisingly little has changed since then. The underlying realities for homeless people are the same.
Sarandon: Sadly.
Gere: It's a beautiful story that's haunted me for years. I bought the script a while ago, but I couldn't quite figure out what to do with it, although I was very sure of what it should feel like. I ran into the great writer-director Oren Moverman (
The Messenger
,
I'm Not There
), a good friend of mine, one night and said, "Look, I want to give you this script." Then we basically just dove in.
Sarandon: The film sounds fascinating.
Gere: It's a delicate film, an unusual film, a bit of a fever dream—not at all what one would expect. Oren did kind of a miraculous job with this, I think, and we're all very, very proud of it.
Sarandon: How was the shoot?
Gere: We shot for 21 days. The concept was to shoot on very long lenses with me out on the streets, with almost no moviemaking footprint. If we had to be on the streets, cameras were hidden under men at work signs, behind windows or on roofs. We set up the cameras in a Starbucks on Astor Place, and I just went out there panhandling for 45 minutes. No one paid any attention to me. Nobody. I was just shaking my coffee cup and asking for spare change. No one made eye contact with me. Forty-five minutes. It was scary, it was disorienting, it was challenging, and it was profoundly moving to me. I'm still letting it all settle in.
Sarandon: You were invisible.
Gere: It was worse than being invisible. There's like a force field around you. People can see you from two blocks away, and they're already putting up some armor. It's a black hole. It's a radiation field. It's not that they don't see you; they don't want to go near you. They make a conscious emotional choice to not see you and not engage and not get close enough that they might have to engage. It's not simply about money, although we're all stingy, too.
Sarandon: That's true.
Gere: Everyone has a story, you know? And clearly, there are people on the street who have mental issues. But that's not everybody; some lost a job, have medical bills, bad luck. The reasons are irrelevant from a human point of view. It's still within the realm of our responsibility as social beings to
take care of them
, to take care of each other. I want to tie this very much to policy change.
Sarandon: What organizations do you support?
Gere: I've been supporting the
Coalition for the Homeless
and the
New York City Department of Homeless Services
for years. They're enormously helpful. Authenticity was extremely important to us, and we probably couldn't have made the movie without them. There's also a city program called the Homebase Prevention Network
(311, nyc.gov)
. If you qualify, it will help you pay your rent until you can get yourself back on your feet. We want to keep people in their
apartments
and off the streets. In fact, it's much cheaper for us to keep people in their apartments than to put them through the system.
Sarandon: You're clearly very passionate about it.
Gere: Well, the streets are not a place that one can easily escape from. Once you're there, there's so much damage, so much pain, so much self-hatred. Again, I think eye contact is a big deal, the genuine, respectful engagement. I don't think homeless people want to give their life story to everyone who passes them on the street, but the human touch, the thought, the eye contact, the moments mean a lot. There are around 60,000 homeless people in New York. Twenty thousand are kids. We're in danger of losing them all.
Time Out of Mind
premieres at the Toronto International Film Festival Sept 7.