Judy Moody and the Not Bummer Summer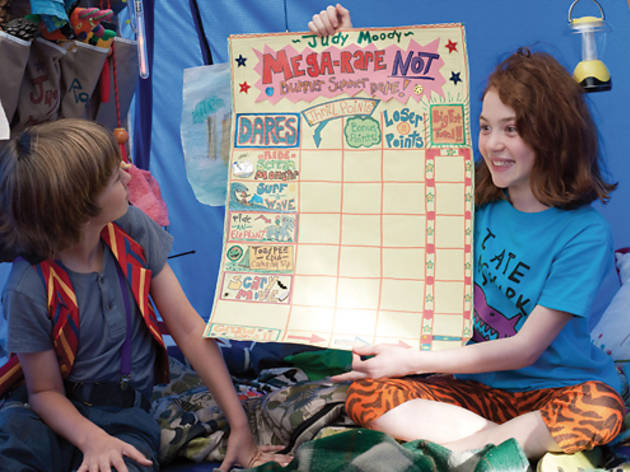 Chart the gamut of prepubescent girls' media from Beverly Cleary to iCarly, and you'd find author Megan McDonald's resourceful third-grader Judy Moody perched right at the midpoint. A kid-lit staple like the Moodster was destined for the big screen, but this franchise kick-starter skews more toward the tweener-TV side of the scale. Judy's hyperactive imagination and Type A personality is translated as nothing but a blitzkrieg of aggressive overstimulation: wacky animated vignettes, bubble-lensed mugging, blurry and speedy action scenes, a pop-up definition of the word scat. (The poop joke has now officially entered the interactive infotainment age.) Kids will find this ADD adaptation to be the equivalent of chowing down several bowls of sugary cereal in quick succession. Adults will feel like they've just endured a Ludovico treatment of nonstop Nickelodeon-channel programming.
Yes, any movie involving our precocious heroine (Beatty, all messy red mane and colt limbs) dreaming up the "most way-cool, double-rare summer plans ever!" via a thrill race is destined to be spazzy, and whoever cast hippie-dippy Heather Graham as the daffy Aunt Opal deserves a raise. But the books' ingenious wunderkind is MIA here, replaced instead by a generic eye-rolling, motormouthed preteen bopping around rote set pieces. All the bigfoot obsessions, busybodying and blue vomit in the world aren't a substitute for actually bringing McDonald's memorably goofy girl to life. Without that, you're just left cringing through a loud, manic bummer.
Watch the trailer
Release details
Rated:
PG
Release date:
Friday June 10 2011
Duration:
91 mins
Cast and crew
Director:
John Schultz
Cast:
Jordana Beatty
Heather Graham
Parris Mosteller