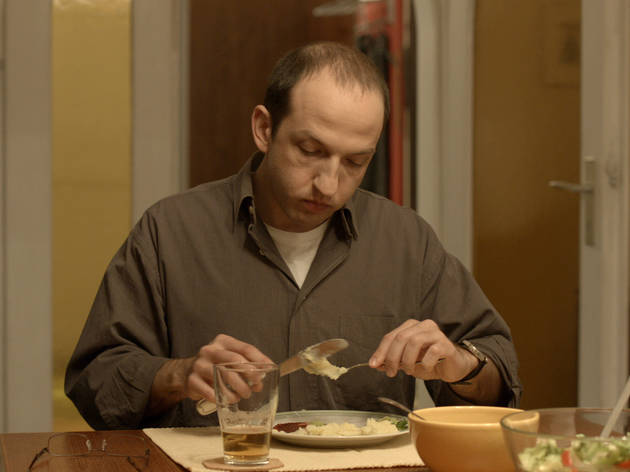 Awful and mind-boggling, the real-life crime bears recounting: In 1998, ten-year-old Natascha Kampusch, a Viennese schoolgirl, was abducted by phone technician Wolfgang Priklopil, who kept her in a specially designed cellar for eight years until she managed to escape. During her captivity, they established a routine that included shared meals, gift giving, abuse and even rare excursions into the outside world. (The more notorious Fritzl case, involving a father and daughter, only makes you feel sicker to consider the dark resourcefulness of Austrian fixer-uppers.)
Michael, based to a large degree on the Kampusch case, is the kind of bold nightmare that, at first blush, has little reason for being. Not your Friday-night date movie, the film delivers no explicit scenes of rape but plenty of queasy moments between the title abductor (Fuith) and exhausted-past-despair Wolfgang (young Rauchenberger, heartbreaking), whom we presumably join some time into their arrangement. We see the kid coloring in his sad underground bedroom and even being taken care of when he's running a fever by his kidnapper---who also digs a roadside grave, just in case.
Never does the movie fall into sympathy for its clammy monster (that would be unconscionable), but Markus Schleinzer's crisp style---he's a longtime Michael Haneke collaborator---becomes absorbing against your better judgment. Michael is a clear-eyed depiction of the unthinkable, a view of inhumanity with zero psychologizing. The tougher pill to swallow: There's more value in the nondescript banality we observe here than in a dozen "true-crime" entertainments, movies that always cut past the terrifying stuff: the way life goes on, even in the veal pen. Brace yourself and go see it.
Follow Joshua Rothkopf on Twitter: @joshrothkopf
Watch the trailer
Release details
| | |
| --- | --- |
| Release date: | Friday February 10 2012 |
| Duration: | 98 mins |