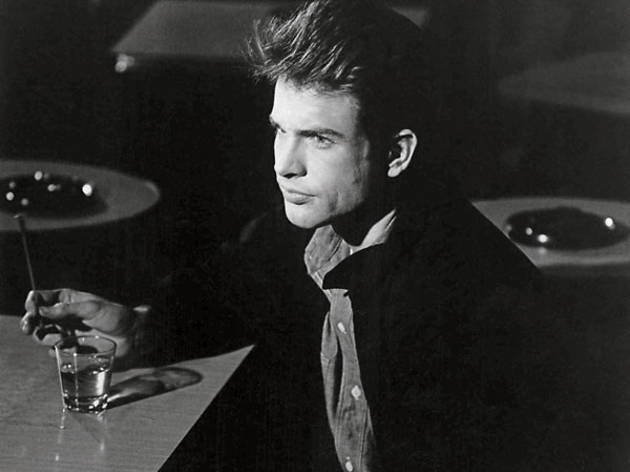 "Your name's Mickey One…garbage!" barks the restaurant manager to his new employee—thus serving up a christening, a nightly duty and maybe even a critique of the film itself. No, Arthur Penn's Mickey One isn't that bad. But its cool shards of French New Wave montage still feel as mannered and awkward as ever: a Hollywood gangster movie of unusual (if not successful) daring. Penn would take his star, the preternaturally beautiful Warren Beatty, and go on to make Bonnie and Clyde in 1967. Here, he's making Art, and you know it.
Nonetheless, Beatty is always watchable as a (fairly talentless) Polish nightclub comic run out of Detroit by the mob. Alighting from a freight train in Chicago's stockyards, he reinvents himself under heavy clouds of existential doom. Though his character is never meant to be funny onstage, Beatty is tapping into a subtle vein of schmuckdom that would prove redeeming in movies such as Shampoo and Bulworth. Penn made a big deal of the Gallic influence, but Mickey One actually plays more like an American response to Marcello Mastroianni, postcoital and constantly confused in his preening quest for self-definition in films like La Dolce Vita and 8½.
Indeed, other artists have drawn more profundity from characters pinned by the spotlight. (John Cassavetes, importing European looseness years earlier than Penn, comes to mind.) But Mickey One remains a curiosity, certainly deserving of its cult status and (how about it?) a friggin' DVD release. It kicks off MoMA's "Jazz Score" series, and while Eddie Sauter's syncopated compositions skitter under the creamy sax lines of Stan Getz, you wish the film itself had more rhythm.
Release details
| | |
| --- | --- |
| Rated: | NR |
| Release date: | Monday September 27 1965 |
| Duration: | 0 mins |
Cast and crew
Director:
Arthur Penn
Screenwriter:
Alan Surgal
Cast:
Warren Beatty
Alexandra Stewart
Hurd Hatfield
Franchot Tone
Teddy Hart
Jeff Corey
Kamatari Fujiwara