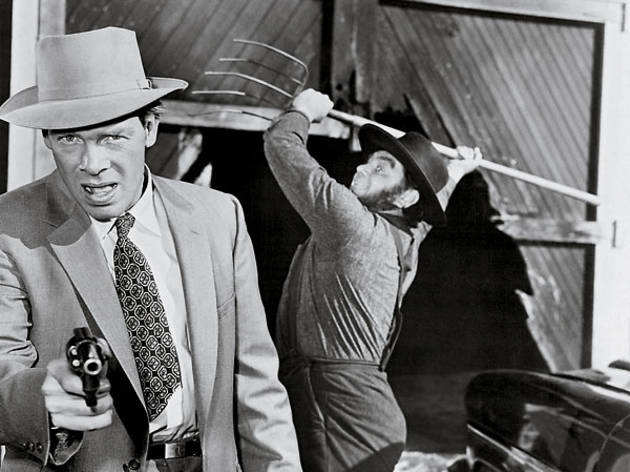 Hollywood will always be a place where artists can toil competently for decades and still get little special attention. This was especially true during the height of the studio era: For every Billy Wilder or Anthony Mann turning the vast machine of production into a personal engine of expression, there were perhaps ten other directors who did the job fine and moved on to the next assignment.
Such could certainly be said of Richard Fleischer, who, despite glimmers of a signature in 1959's Compulsion and some earlier noirs, was really more at home helming bland, big-budget projects like 20,000 Leagues Under the Sea (1954). It's odd, then, that instead of honoring the director, who died in 2006, with a revival of something truly emblematic of his career—say, 1966's miniaturist Fantastic Voyage—Film Forum is programming this uneven small-town thriller, neither one of Fleischer's solid hits up the middle nor a worthy, forgotten curiosity like 1952's The Narrow Margin. Set in Arizona, Violent Saturday is spurred by an imminent bank robbery planned by Harper (McNally) and his gang, but several tedious subplots involving an engineer (Mature), a prissy librarian (Sydney) and an alcoholic cuckold (Egan) simply distract.
Still, there are good reasons to commit, one being a vibrant new 'Scope print. (The movie is actually in sizzling color, ridiculously harsh but evocative of mid-'50s production values.) A second is a vicious supporting turn from Lee Marvin, post–The Big Heat, as a phlegmatic robber with a nasal inhaler. He shoots an innocent woman in the back; it's amazing the actor's career ever recovered.
Release details
| | |
| --- | --- |
| Rated: | NR |
| Release date: | Friday April 1 1955 |
| Duration: | 90 mins |
Cast and crew
Director:
Richard Fleischer
Screenwriter:
Sydney Boehm
Cast:
Victor Mature
Richard Egan
Stephen McNally
Lee Marvin
Sylvia Sidney
Ernest Borgnine
Tommy Noonan
J Carrol Naish