Boomer Banks interview: "I always knew I wanted to be in New York City"
Boomer Banks, the designer, porn star and bacon fanatic gets ready to represent NYC at the International Escort Awards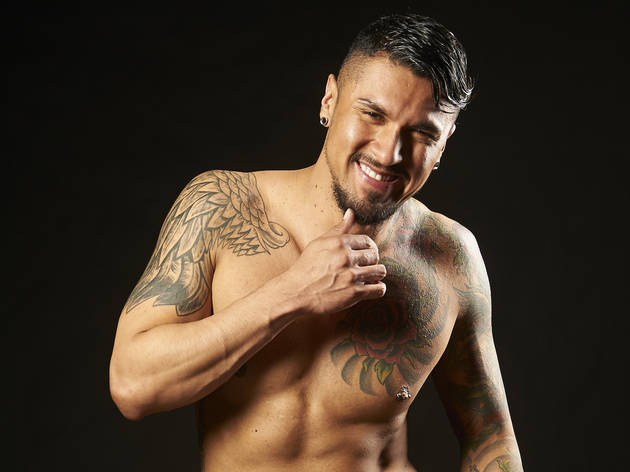 Boomer Banks has made quite an impression in the last year. In the short time he's been making porn, he's become one of the most popular stars at Raging Stallion, the studio where he's currently an exclusive. He was also just named the city's top hustler at Rentboy.com's Mr. New York pageant. (He'll go on to represent our fair city in the Mr. International contest at the International Escort Awards on March 21 at BPM—as well as competing for the titles of Best Porn Star, Best Style and Best Cock.) But he didn't enter the flesh trade lightly. "As an adult, I really weighed out all the pros and cons." he says. "I knew going into it, I had to respect myself first and foremost." Porn isn't the long game, though. He's using his newfound notoriety (and cheeky social-media presence) to segue into doing his first love—fashion design—full-time. Read on for more, including why he named his fans after breakfast meat, and why he'll never move back to Los Angeles.
You're representing New York at the International Escort Awards. How did you get into escorting?
It was kind of a series of events. I had met the owners of Rentboy.com, and [at the time] my career in retail was kind of going nowhere. I'm a fashion designer and I'd moved out here to work for a designer, and she got bought out and things started getting weird. I started doing retail again but at 30…

And escorting led to your porn work?
I just was getting a lot of attention with the escorting thing. Rentboy was really promoting me and I was go-go dancing a lot in New York City. At that point, I was approached by the company where I'm an exclusive now, Raging Stallion. I applied the same kind of thinking [I did about escorting] to my decision with porn, and the rest is history. The adult industry has these awards called the Grabbys, and I just found out yesterday that I was nominated for four of them.

Congratulations!
I'm very humbled. I know it's the adult industry, and people might think it's silly, but there's something to be said about being recognized in the field where you're working your ass off…to achieve something. This is by no means an indefinite career move. I am a designer, and it's my passion and my art, and nothing will compare to that. I thought this was a good way to brand myself. Everybody watches porn whether you want to admit it or not.

You're really active on social media [@BoomerBanksXXX]. Is that also an extension of your branding?
Yes! I do promote my porn, but I'm quite a character on social media. I talk more about bacon than I do about porn.

Is that why you attach the hashtag #baconbits to a lot of your posts?
Those are my fans. [Laughs] I saw quite a few porn personalities calling their fans things that included their name. And I was like, you know, I'm not going to call them something with my name in it, I just thought it would be silly. So I thought baconbitswould be kinda funny.

Well, bacon is huge online.
I'm constantly getting pictures from my fans, like, "Look what I was eating this morning." Every day it's something to do with bacon. It's hilarious.

Do you have a day job, or are you doing porn and escorting full-time?
I've been lucky enough to be afforded the time to do my passion. It's not a secret that I love drag queens, so I've been dressing a lot of drag queens lately.

Anyone you want to mention?
I dressed Chi Chi LaRue for the Hustlaball, and I'll be dressing Sister Roma, she's a San Francisco queen, one of the Sisters of Perpetual Indulgence, and my good friends Vicky Vox, Detox and Willam.
"I'm constantly getting pictures from my fans, like, 'Look what I was eating this morning.' Every day it's something to do with bacon."
Were you surprised to win Mr. New York?
I wouldn't say surprised.… I would rather be winning a CFDA award. [Laughs] But it's what I'm doing right now, and I'm not hurting anybody, I'm working really hard and I respect myself. I understand that it is what it is. But I love New York, and winning that award was fun because it's attached to New York City.

Where were you before you were here?
I grew up in Los Angeles, and I kind of just got stuck there because I'm from there and I knew my way around, but my spirit was dying in Los Angeles, and I always knew I wanted to be in New York City.

Do you have any plans to move back out west since that's where the porn industry is centered?
Well, I'm exclusive with Raging Stallion, and they're in San Francisco, and that's a lot more bearable than Los Angeles. But…noooooooooooo. Never.

Do you have a set timeline for when you start doing what you're passionate about full-time?
A couple years. I'm a very independent person, and there's a lot of things that are happening right now. People are noticing more of my fashion. The things I want to happen are happening. I think initially I'll come out with a men's collection because I think my fan base will be men, and I think I owe the men a little more Boomer before I do my art, which is women's. And it'll be fun, it'll be a cute little small collection that I'll probably have done before the end of the year, and we'll see who picks up on it!

The gay porn industry is really white. Do you run into any racism?
Well, I don't personally run into it, but… I'm a performer, I've taken that on as what it is that I'm doing right now, and my company knows my likes and dislikes, and they always run things by me—

—in terms of who you'll be working with?
Yes, in terms of who I'll be working with. The movie that's out now, Into Darkness, it's got just one token white man. That movie was made to kind of counteract that some individuals refuse to work with…ethnic people. But everybody enjoys my personality; I'm such a big dork. I think the worst thing that I ever heard was someone say they didn't want to work with me because it would be impalement. [Laughs]

Well I guess that's a compliment.
I don't know! [Laughs]

Are you dating right now?
I'm too busy for a relationship. I'm single—and I'm not looking.
To vote for the International Escort Awards (a.k.a. the Hookies), go tothehookies.com/vote.
Follow Ethan LaCroix on Twitter: @LaVieLaCroix
And check out the competition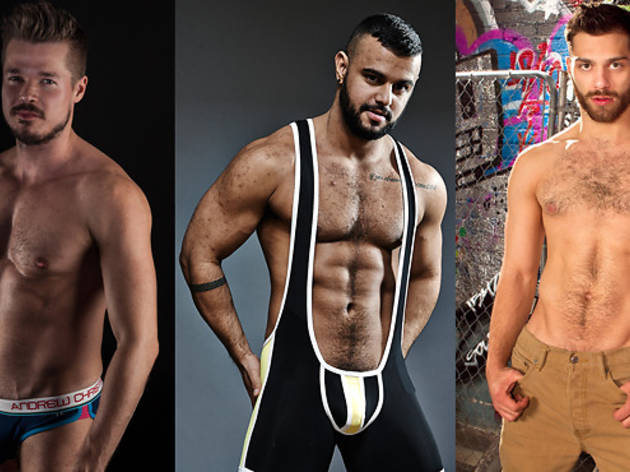 See the hunky hustlers who are going up against Boomer Banks for the Mr. International title, as well as other honors, from Best Newcomer to Best Ass.