Hangover-relieving spa treatments
For those times when your bender seems straight out of The Hangover, these soothing services will get you back on your feet.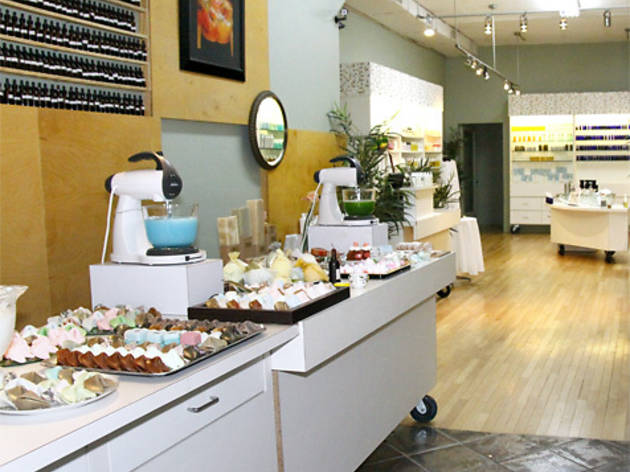 1/6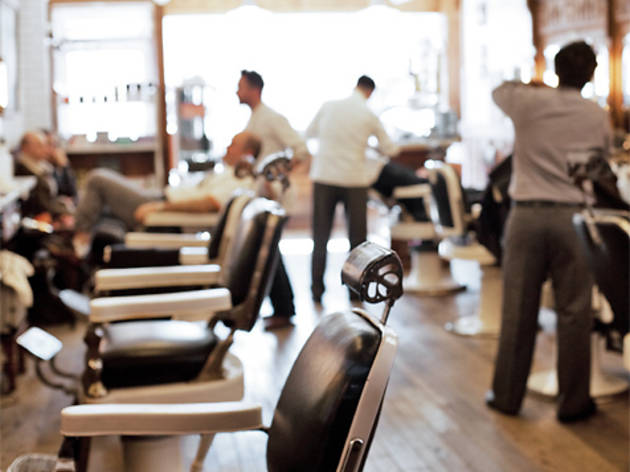 2/6
F.S.C. Barber
F.S.C. Barber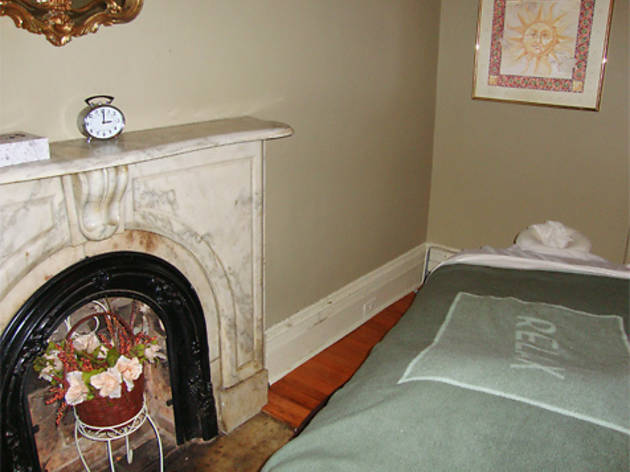 3/6
Relax on Cloud 9
Relax on Cloud 9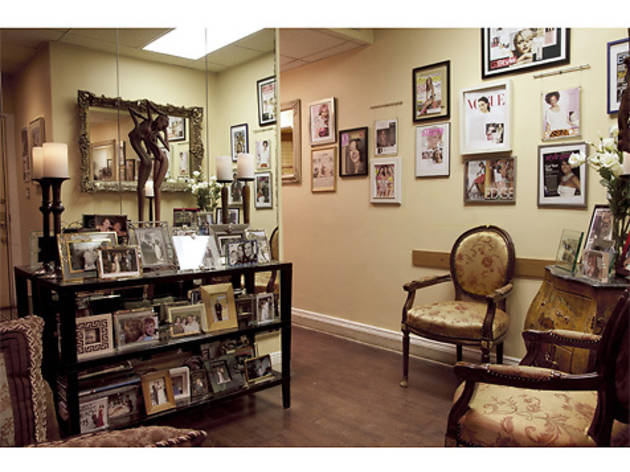 4/6
Mamie's Skin Care Center
Mamie's Skin Care Center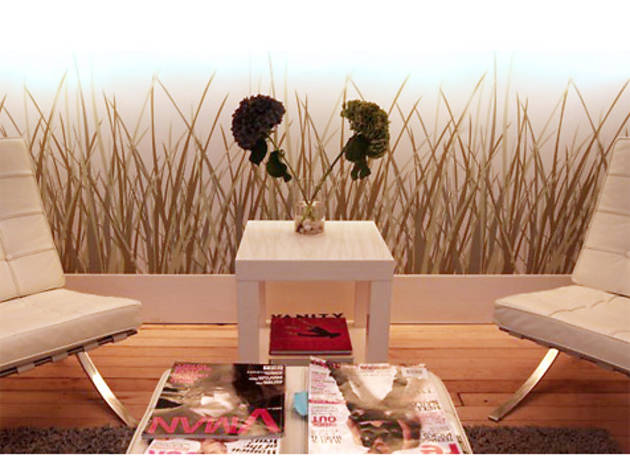 5/6
Face to Face NYC
Face to Face NYC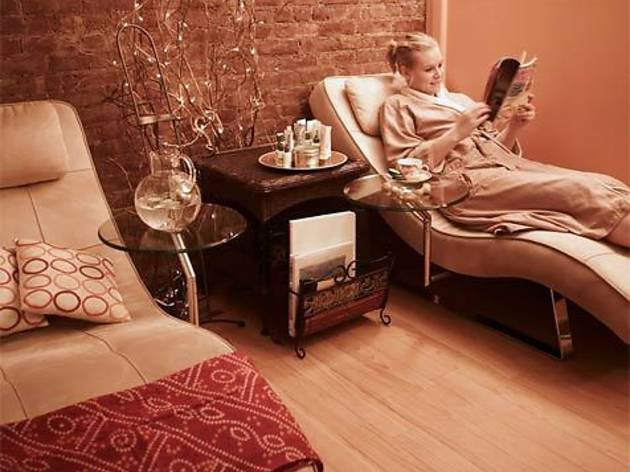 6/6
Double-activated charcoal body wrap with mini facial and lymphatic massage at Spa Lab
Similar to the way that a Brita filter cleanses drinking water, this treatment package utilizes charcoal's naturally detoxifying properties to pull impurities—including alcohol—out of your system. My aesthetician, Julia Trasca, greeted me in the cheerful retail and reception area before guiding me to one of four private rooms in the back. Using an exfoliating sponge, she buffed my skin with a silky lotion that incorporates pure charcoal extracted from carvo, or Brazilian hard wood. Once I was covered from shoulders to toes, she encased me in a plastic sheet so that my body heat could help the product do its job. While I lay burrito-style for about 25 minutes, I was treated to a mini facial: After priming my skin with a sweet-smelling strawberry-papaya--enzyme cleanser, Trasca gently applied a special snake-venom moisturizer from the spa's MedZen line to get rid of puffiness around my bleary eyes. With my pores unclogged and my face hydrated, I got flipped over for a lymphatic massage—one last way to hasten my body's natural detoxification process. I left finally able to appreciate the glorious spring day without hiding behind sunglasses. 30-minute body wrap with 30-minute mini facial and 30-minute lymphatic massage $112 (normally $160); individual services as one-hour treatments $120 each. Mention TONY to receive this discount through June 26. 40 W 36th St between Fifth and Sixth Aves (212-695-7711, spalabnyc.com).—Sarah Bruning
The Hangover Treatment at F.S.C. Barber Horatio
More often than not, a hangover isn't something you pencil into your planner two weeks before it strikes. So on those days when you wake up with a throbbing head and a sallow visage from last night's Four Loko binge, hightail it to this no-reservations grooming shop for a quick fix that will get your day back on the right track. The speedy service is like a mash-up of aromatherapy, a facial and a power nap. To kick things off, my barber, Bret Reichley, placed a hot towel infused with tea-tree oil over my face as I reclined in a barber's chair. This was followed by a Malin + Goetz foaming gel mask that tingled pleasantly as it dissolved, clearing out my pores and firming my bender-damaged skin with soy proteins. After another hot towel, a cold towel soaked with lavender oil cooled me down, and then a smooth, SPF 15 moisturizer was applied by way of a soft facial massage. The whole process was fuss-free and effective. I walked out feeling calmer and looking several hues healthier. 20 minutes, $25. 5 Horatio St between Eighth Ave and W 4th St (212-929-3917, fscbarber.com).—Chris Schonberger
Headache Relief at Relax on Cloud 9
Located in a Victorian-era Staten Island home, Relax on Cloud 9's cozy interior is reminiscent of an old-school bed-and-breakfast, with hardwood floors, rich green walls and wing-backed furniture in the waiting area. To begin the treatment, I slipped under a thick blanket, which kept me toasty while technician Claudia McGuire worked on my noggin. The eucalyptus-and-grapefruit--infused oil she used quickly filled the room with a fragrant scent that I found to be both calming and invigorating, even in my queasy state. McGuire began by pressing her thumbs into the base of my skull, followed by more of the same to my temples, along my jaw and under my eyebrows in order to break up toxins that build up in the muscle tissue. The effect of her firm touch was twofold: It distracted me from the discomfort I felt elsewhere and alleviated tension in my neck and head. After the acupressure segment, I was lulled into total relaxation as a cold pillow was placed over my eyes and McGuire began to work her fingers across my forehead, crown and face in gentle motions. I left feeling rested, loosened up and ready to take on the rest of the day. 30 minutes, $36 (normally $45). Mention TONY to receive this discount through June 26. 694 Clove Rd at Martling Ave, Staten Island (718-448-3412, relaxoncloud9.com).—Mary Squillace
Herbal body wrap with oxygen therapy facial at Mamie's Skin Care Center
Mamie McDonald, the sweet-as-pie proprietress of this cozy Upper East Side spa, tackled the damage wrought from a few too many mint juleps with incredible finesse. Her two-hour offensive began with a dry brushing to slough off my moisture-starved skin and an application of a beer-belly-defying slimming gel. She then bound me in warm bandages (soaked in a proprietary mix of essential oils, herbs and Aztec clay to extract toxins through my pores), tucked me into an insulating Mylar wrap, and commenced a gentle, hydrating facial. McDonald's holistic approach left me feeling healthy and rejuvenated after a long night of boozing, and her doting manner—more like an affectionate aunt than a spa-bot—was as soothing as the treatment itself. A word to the wise: McDonald says she "doesn't do gimmicks," and she isn't kidding. The heat, fragrant herbs and wrap compression can add up to an intense experience: You may need a disco nap before heading out to court your next hangover. Two hours, $200 (normally $275). Mention TONY to receive this discount through July 2. 30 E 60th St between Madison and Park Aves, suite 208 (212-260-9372, mamiesskincare.com).—Jordana Rothman
Indecent Sweat at Face to Face NYC
Following a night that ended with greasy 2am grub, I entered the '60s-themed spa feeling bloated and less than energetic. The space is small but chic with white walls, lounging cushions and not-a-hair-out-of-place mod furnishings. My aesthetician, Diane Zdesar, led me to a minimalist room and had me strip naked and lie on the table on top of a heating pad and a film of insulating Mylar. After draping a tiny towel over me for modesty, Zdesar proceeded to rub Yonka Paris detoxifying oil made from rosemary, sage, lavender and citrus over every inch of my body to help pull impurities out of the skin. Then she wrapped me up in the Mylar and added a blanket on top to help me sweat everything out. I stayed supine for about 20 minutes as she treated me to a relaxing scalp massage. I was unwrapped when she could see a "puddle of toxins" on the table. While the spa only has one shower in its apartment-like bathroom, it's stocked with shaving cream, razors, hair goods and warm towels to help you wash the oils and sweat away. Zdesar warns that the weight you'll lose is water, so you'll gain it back once you drink (H2O, not cocktails!), but this way you'll be replenished in a healthy way. I left feeling relaxed and undeniably refreshed. 90 minutes, $144 (normally $180). Mention TONY to receive this discount through June 4. 20 W 20th St between Fifth and Sixth Aves, suite 603 (212-633-0404, facetofacenyc.com).—Elizabeth Denton
Luzern OxygFresh facial at Euphoria Spa
For party animals who attend thirsty Thursdays or Friday happy hours, this rejuvenating facial will have your skin looking Facebook-photo-ready come Saturday night. After I sank into the plush, heated bed, the process began with a double cleansing using sulfate-free products so as to not dehydrate my already parched skin, followed by a purifying facial massage meant to break down alcohol toxins. My aesthetician, Kara Pursley, had a firm but gentle touch that put me in a relaxing coma, and she continued to give me a gentle micro exfoliation using jojoba beads and aloe-based extracts. She next applied a cooling rice-enzyme exfoliator using a soft Dermatologica fan brush. The gentle formula does not leave redness, so you can walk out the door and head straight to a boozy Sunday brunch. While Pursley popped my zits, I felt little pain thanks to the hot steam blown at me during the pre-extraction prep. Next came the oxygen mask with hyaluronic acid and TRS BioDyne, which builds collagen, heals wounds (ahem, in case you got into a bar fight) and nourishes the skin. While it sat on my face for about eight minutes, I received a foot massage using a cucumber-and-aloe cream that effectively battles stiletto and dancing blisters. Customized serums were applied to my face (one to deal with swollen eyes and another to address oily zones), and I was hosed with the much-anticipated oxygen-blasting machine. A tiny nozzle shot 95 percent pure oxygen and more serum at my face. While it felt a bit chilly and tickly, it left my visage with a vibrant glow. Pursley allowed the mixture to soak in for a bit and gave me a soothing hand and arm rub. The treatment came to a crescendo with serums applied to my under-eye area comprised of soy, rice, vitamin C and glacial water, and I received a titillating scalp massage. As promised, I left with a dewy, compliment-inducing complexion. 60 minutes, $130 (normally $160). Mention TONY to receive this discount through June 30. 18 Harrison St between Greenwich and Hudson Sts (212-925-5925, euphoriaspanyc.com).—Lauren Levinson
Technology-relieving spa treatments
Sponsored listing
Café Zona Sur
This casual Sunset Park dinette run by a husband-and-wife team serves breakfast, lunch, brunch and dinner. For the morning meal, start with a La Colombe espresso ($2.25) along with lemon-ricotta crepes ($7), huevos rancheros ($10) or a pesto focaccia topped with mozzarella and two sunny-side up eggs ($14). Not a fan of brunch? Try something savory from the lunch menu, like the croque monsieur ($10) or Zona Sur burger with gruyere, caramelized onions and roasted tomato on a brioche bun ($14). The dinner options include larger portions like a seafood linguini with mussels, cockles and the catch of the day ($16), pan-seared salmon with kale ($17) or cavatappi mac and cheese ($16). Thirsty? Order a glass of red or white sangria ($7 for a glass, $25 for a liter), or one of the assorted wines and beers. Cafe Zona Sur even offers a few sweet options for dessert fiends, like a chocolate souffle ($7), apple bread pudding ($6) and tiramisu ($6).
Venue says: "SERVING BREAKFAST, EGGS PANCAKES AND CREPES EVERYDAY UNTIL 4PM!!!"