Heads up! We're working hard to be accurate – but these are unusual times, so please always check before heading out.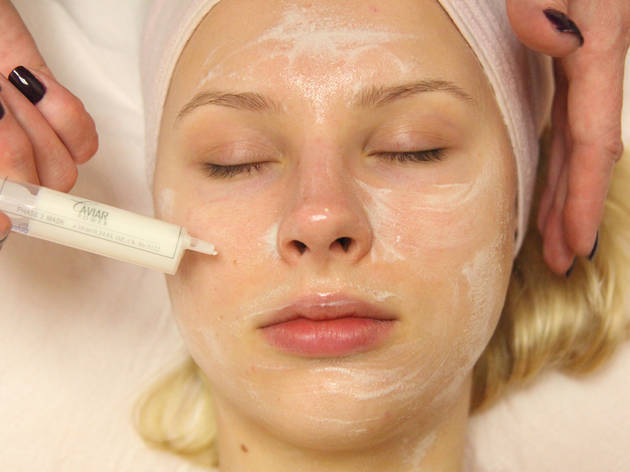 Offbeat spa treatments
We tested three wacky services to find out if they actually work.
Dyanna Body and Nail Spa: Caviar facial
The treatment:
Specialist Alla Mintc applied a series of German brand Farah Beauty Wellness's Caviar DNA products, which contained caviar extract rather than actual fish eggs. A light cleansing lotion prepped my skin for a fruity-smelling peeling lotion and an alcohol-free tonic.
The final touch:
a gentle aloe-and-almond mask, which left my face super smooth.
The purported benefits:
Caviar contains peptides and essential amino acids, which help regenerate skin cells and stimulate their metabolism. Posttreatment, skin is supposed to look younger, healthier and more lustrous.
The results:
I had major concerns that I'd reek of fish, but Mintc allayed my fears by patiently answering all my questions and explaining the products she was going to use. Prior to the facial, I was channeling Rudolph with a red, dry wind-burned nose. Afterward, my face looked bright and dewy. •
212-995-2355, dyannaspa.com. 45 minutes $60.
The treatment:
My therapist, Yosue Komiyama, led me to a private area, where the sight of a tub surrounded by candles and bamboo instantly helped me relax. She poured a bottle of sake into the bath and set a loofah and washcloth beside me. I was left to soak for a half hour with a refreshing Shibui Cucumber Cordial (
yuzu
, agave nectar, fresh cucumber juice, fresh ginger, sparkling water), plus a paper fan (to cool off) and a bell (to ring in case I needed anything else). The water was pleasantly hot, and I followed instructions to scrub my body toward my heart, which is supposed to help improve circulation. I enjoyed every second of my soak, emerging from the tub feeling limber and revitalized. I even splashed some of the sake water on my face to alleviate my tired eyes (and yes, I could taste the alcohol!).
The purported benefits:
Geishas bathed in sake daily as a way to moisturize their skin. The practice continues today throughout Japan, but the modern-day purpose is to cleanse the body, mind and soul.
The results:
My skin was baby soft the next day. •
212-941-8900, thegreenwichhotel.com/spa. 30 minutes for one person $75, 30 minutes for two $95.
You and Her Spa: Face massage and scraping
The treatment:
A popular add-on to massages, the scraping process differs for every person. Based on my combination skin, technician Candy Teng used two thin, white jade stones to massage my face, followed by my shoulders. Teng thenbegan by smoothing light milk-extract–based lotions into my skin, being extra careful around the delicate area near my eyes. She also paid close attention to pressure points on the sides of my nose and mouth, as well as those above my eyebrows, which she said comprise my calming zone.
The benefits:
Scraping is used on the face and upper body to improve circulation, remove toxins and reduce the appearance of under-eye bags. When applied to the scalp, usually with a flattened ox horn, the technique is said to prevent hair loss. It's also considered to be a treatment for insomnia.
The results:
My face looked flushed, like I'd finished a brisk run or exited a sauna, and spotless. The next day, my eyes appeared perkier and I still felt refreshed. •
212-625-3388, youandherspa.com. 30 minutes $45.