Top ten: Cheap blowouts
Get your mane coiffed for a party or big meeting without spending a bundle at these salons, which will straighten your locks for $20 or less.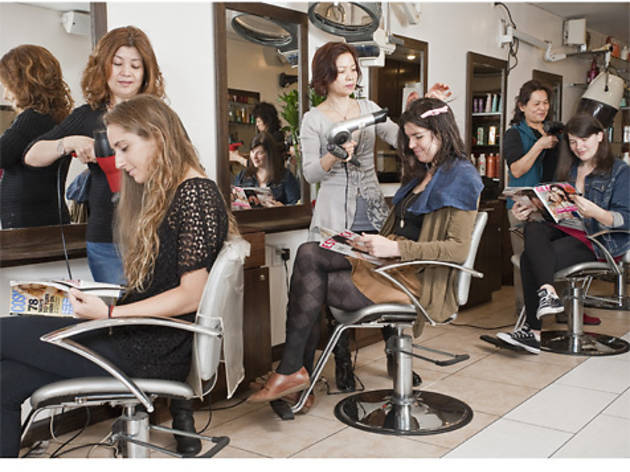 Amy's Hair Salon
Owned and run by Amy Ooi for 16 years, this narrow, low-ceilinged spot in Chinatown may be on the utilitarian side—cream-colored walls, linoleum flooring, somewhat harsh lighting—but the friendly staff and reliable service make it worth a stop if you're in the vicinity. Even with an appointment (highly recommended on weekends and toward the end of the day), clients can end up waiting 15 or 20 minutes. A scalp massage accompanies each of three wet steps (two washes and a conditioner) in one of three sinks in the back, while Ooi, a veteran hairdresser by day and a chef by night, orchestrates the steady stream of female clients up front. She typically takes over blowouts from an assistant midstream, processing them with practiced, speedy assurance. Whether employing an unusual flatiron-like brush or a steam flatiron that manages to banish every last rebellious piece of frizz, her blowouts leave some body and impart lots of shine. The preponderance of Mandarin spoken by staff and clients alike is classic Chinatown, and could, with a little imagination, transport you to a faraway land. • (212-406-2746). $18+ depending on length.—Lee Magill
Encore Beauty Salon
It takes some serious sleuthing to find this old-school salon, hidden on the ground level of an apartment complex largely occupied by Columbia University's Committee on Global Thought (you'll need to buzz in through a side door and then follow the smell of hairspray to discover the tiny, three-chair parlor). But that hasn't stopped a loyal clientele of Columbia and Barnard students and faculty from holding long-standing appointments with owner and head stylist Ricky Shimabukuro, who, according to one customer, "has been here as long as this building." Based on the salon's well-worn appearance—the retro pink gingham wallpaper has started to peel, there are cracks in the tiled floor, and the lettering on the front door has faded to almost unreadable—you wouldn't doubt such a statement, as the space looks straight from of a bygone era. Yet Encore's budget blowout comes out thoroughly sleek and modern: After Shimabukuro washes your hair in a basin concealed underneath the styling station's countertop, she'll use a round brush to blow strands dry and then flatiron them pin-straight. Though Encore occasionally takes walk-ins, it's best to call ahead and have Shimabukuro literally pencil you in to her oversized appointment book. And because she refuses to accept tips (she's a Buddhist and doesn't believe in excess), the service won't cost you a penny more than the asking price, regardless of your hair's length or texture. • (212-222-1241). $15–$18.—Cristina Velocci
Hair Plus Design
Don't even bother making an appointment at this spacious, lengthy salon: With eight styling stations lined along the front wall and another three tucked in the back of the shop, you'll hardly ever encounter a wait, and walk-ins are more than welcome (in fact, if the management's laissez-faire phone manner is any indication, they are encouraged). After being draped front to back with towels, you'll recline in what may be the most comfortable washing chair in the city—it's permanently stationed on a horizontal plane, eliminating neck cramping and allowing you to enjoy the thorough, vigorous scalp massage. A stylist will then wordlessly provide you with a stack of People and Elle magazines as she ushers you to one of the unadorned stations, comprised of an oval mirror and a steel shelf drilled into the wall. Ask for some body to your blowout and you'll be rewarded with soft, bouncy locks that swoop into curled ends—a style achieved using nothing more than a round brush and some finishing serum. • (212-406-1909). $20.—CV
Hair Village
Keep in mind that the ends justify the means at this haven of cheapo salon treatments, founded in 1996 by owner Min Bok Kim. Since walk-ins are more than welcome, the small, lackluster space fills up quickly, and even with an appointment you won't be attended to until after perhaps 15 minutes of whiffing formaldehyde fumes from straightening perms ($150), the salon's most popular service. When it comes to Hair Village's standard blowouts, any pleasantries offered at pricier venues are sacrificed. The assembly-line system starts with one woman roughly massaging your scalp with a nondescript shampoo and conditioner. Another blow-dries your hair before the actual hairdresser finally attends to you at one of six stations and uses three sizes of flatirons to straighten strands section by section. While any type of social interaction or ambience is nonexistent, the job gets done—and well. Locks come out straight, soft and sleek enough to justify a trek to either location. • 63-02 Roosevelt Ave at 63rd St, Woodside, Queens (718-507-6244) * 444 9th St at Seventh Ave, second floor, Park Slope, Brooklyn (718-768-9444) * hairvillageny.com. $15–$20.—Kristina Rodulfo
Mian Tian Sing Hair Salon
Yes, you might not speak Chinese, and the friendly, accommodating staff doesn't speak a lot of English, but Mian Tian Sing is worth struggling through any language barriers for the massage alone. Walk up a flight of stairs and you'll find a small Chinatown salon where the decor is functional rather than fancy. After a vigorous shoulder-and-neck massage, you'll get a proprietary shampoo while you're still seated at your chair that involves drizzling two types of liquid onto your mane to form a lather (miraculously, no dripping). Then it's over to the basin—a remarkably comfortable one—for a traditional wet wash and condition, with a deliciously lengthy scalp massage. A team of coiffed young men perform the actual blowouts, lavishing tons of attention on each section. If you have a specific style in mind, you'd be well advised to bring a picture of what you want, as communication may be difficult—we asked for waves and got stick-straight strands la Rachel from Friends—but either way, your hair will be wonderfully soft when you leave. • (212-571-0820). $15–$20.—Sophie Harris
New Ocean Salon
Strolling down the block, you might pass this unassuming storefront without a second glance—but you'd be missing a killer stick-straight blowout. After walking in (no appointments accepted), one of the half-dozen staffers will lead you to the three-sink enclave in the back for a double-shampoo and conditioning session, which encompasses a pampering head massage and concludes with a firm shoulder and neck rub. Despite the eight styling stations, you'll likely end up waiting about 15 to 20 minutes for a stylist to put the finishing touches on your locks, but the delay is well worth it: Once your strands lose the excess water, they'll be slicked down root-to-tip by a flatiron, resulting in ultrasmooth locks that resist frizz for up to two days. • (212-431-7266). $15–$17.—Sarah Bruning
Pell Hair Salon
For the past 21 years, owner and stylist Tony Tao has been offering friendly service and solid blowouts in his 12-chair salon. Walk-ins are welcome and accommodated quickly by one of the eight talented stylists or Tao himself. Relax in one of the three shampoo stations as a styling assistant thoroughly cleanses your scalp using ISO hair products. You will then be handed off to a stylist, who will smooth your locks using a round brush and diligently curl the ends of your hair with a curling iron to give you bouncy, beachy waves. • (212-233-6789, 22pellst.com). $15–$20.—Karla Mayenbeer Cruz
Red Hair Beauty & Salon
Those looking to tame their frizz in about 20 minutes or less should head over to this nondescript space, decorated with a red awning (and not much else). But what the no-frills salon lacks in ambience it makes up for in speed: The stylists don't waste time making small talk as they shuffle you from the sink to their stations, where they'll blow-dry your locks using a large round brush and then smooth over strands with a flatiron. Although the process may feel a little assembly-line, the sleek finished product hardly looks generic. Appointments aren't necessary (or even encouraged), so stop by when you're looking a little greasy and expect little to no wait time. • (718-998-8421). $18.—Hallie Gould
Salon de Tops
For the past 17 years, this large-by-NYC-standards salon has been providing residents of Little Italy with quality hair services, and its popularity shows: The 15-chair space is routinely packed with older women getting perms ($100--$200) and young, stylish locals receiving edgy cuts ($30+) and color ($85--$150). If you have an appointment, you'll be taken right away to get your hair washed by the amazing Yi, whose scalp massages are so long they feel like a spa treatment. Stylist Sam Wai Chung will then give you a choice of straight or wavy styles and proceed to finger-dry the hair until it's almost waterless and smooth. After touching up with a round brush, Chung busts out the curling iron and meticulously rounds the ends of each section. A little more than an hour later, you'll have waves that rival Kim Kardashian's. • (212-219-0728). $30.—Elizabeth Denton
Nestled in the heart of the Village, Salon G provides an entertaining atmosphere as well as reliable services. Receive a blowout for just $20-$25 from one of eight employees with experience of twenty-plus years. If you're daring, hit up stylist Steven Hammond for a Mohawk (starts at $20).
Read more