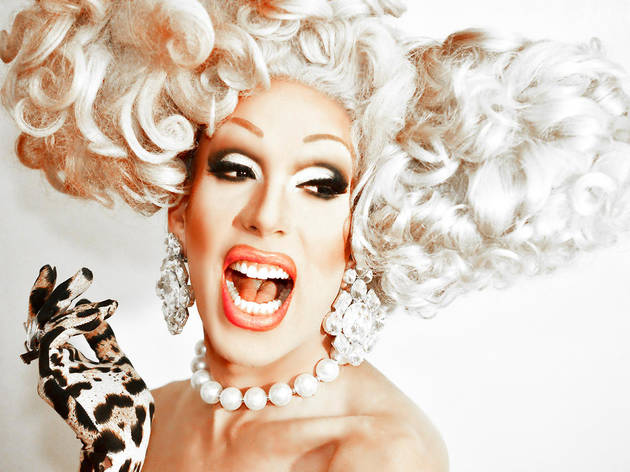 Alaska Thunderfuck talks about her new album and RuPaul's Drag Race
The sweet-natured comedy queen has a brilliant new album and a lot of opinions on the best way to talk to a drag star
Seemingly every queen who's graduated from
RuPaul's Drag Race
has released music in the wake of her time on the show. The results have been mixed, but gender-bending stars like
Willam
, Shangela and Manila Luzon veer toward the comedy side of the charts. So it's a bit of a surprise that unabashed comedy queen Alaska Thunderfuck's new album,
Anus
, actually works as an
album
, not just a collection of jokes. Throughout the record, Alaska dives into retro house ("Hieeee"), sweet girl-group pop ("Pussy") and dark industrial rock ("This Is My Hair"). Tying it all together are Alaska's sometimes strange, sometimes sincere and generally hilarious lyrics, which touch on everything from how to respect a
drag queen
in a club to gender-oblivious love. We caught up with the drag genius about Season 7 of
Drag Race
, her personal idols and what inspired her to call her album
Anus
.
Well, it is
Pride
season, and it's a really special Pride because we now have marriage equality. It's really cool to be gay right now, so I think this is a really appropriate show to be doing. My music partner Jeremy and I—and he's also my best friend—we're really gay individuals, so this is definitely a gay spawn of our love of all things homosexual.
Are you going to be doing songs from your new album at the show?
Um, definitely, because what is possibly gayer than an album named Anus?
Good point. Why did you decide to call it that?
Anus is a word that I've used for a long time to punctuate sentences. For a example, "I'm bored, let's go, anus." It's a way of sort of snapping you out of whatever you're thinking of and snapping you into the present moment. And I think it's really unifying, because most people have an anus, so it doesn't matter whether you identify as a man or as a woman or as something in between. The one thing that is unifying to all of us is the fact that we have... ani.
Are you surprised that the album is so well received?
That's really awesome! Because I worked really hard on the album, and I wanted to make it really personal. I always had these really personal relationships with music. When I was little, while the other kids were out experimenting with drinking and drugs, I would stay in my room and draw pictures and listen to my music. I would listen to Ace of Base, I would listen to Toni Braxton, I would listen to Jewel and No Doubt, and those albums are really a part of me. So I wanted to create an album that takes you on a journey and you can have a really nerdy, personal relationship with.
So you wrote the album?
Yeah! I wrote almost every word. A couple songs I cowrote, but I wrote most of the words.
I travel a lot doing shows and performing, and I find it offensive when people say "I love your wig" because that's assuming that you know something I'm not telling you. That is assuming that you are aware of what is growing out of my head or what is not, and I think it's a really personal thing. I mean, when I wrote it, it's just something that sounded cool and it's something I say to people. Like "Oh, I love your wig!" No, this is my hair, I don't wear wigs. I like to make songs about things I say anyway, but I think it ended up becoming a song about passability, and what the boundaries are, and not making assumptions about people and about their lives and just being sensitive about those things
Speaking of boundaries and sensitivity, it seems like you wrote "Pussy" about a trans guy.
Yes. Again, it came from something I say a lot. Like, when fans at a show say "I love you," I don't really feel comfortable saying "I love you" back because usually I've just met them. So I say "I love your pussy." Because I do! But I was really inspired because I have very fond feelings for a gentleman friend of mine, who happens to be a trans man, and it was just a really sweet time that we had together so I wanted to encapsulate that feeling. The truth is, as I get older, and I learn more about this world, I'm more open now to being with a woman, to being with a man, to being with a trans man or a trans woman. Those barriers have broken down for me. I hope that that can happen for people everywhere.
How has life changed since you were on Drag Race?
Oh my! It's like A.D. and B.C. It's totally changed. I'm really grateful to be working in this really special field that's having a really special moment in time. It's like drag queens are like the Beatles in the '60s right now. I'm grateful for the opportunity—for the exposure that RuPaul and World of Wonder have given me and all the people who have come through the show, and just to drag in general. The more people doing drag the better.
Did you watch Season 7?
Oh, of course! Drag Race is my favorite show.
Some people have been saying that this season was a bit boring.
I think that those people need to sit the fuck down, because it's a show about
drag queens
! Where they compete against each other! What do you expect? I'm shocked when I hear that people have said that. We need to just be appreciative that this exists. So go back and give it another watch. I mean, I'm ready to go back to the beginning and watch it all again.
What was it like when you got the call that you'd be on Season 5?
It was immediately a very exciting and a very ecstatic moment, which led immediately to a feeling of dread and terror, because you have a really short time to get ready. It's a very long process for the audition. You wait weeks and weeks and months and months, and suddenly it's like, Yes you're on the show and you have a week. So here's a list of things to get ready, and I hope you don't fuck it up.
What first inspired you to do drag?
Ever since I was a little kid, I always loved dressing up in girls' clothes, much to my mother's chagrin. Let's face it, girls' clothes are just more fun, and they're more beautiful. So I've always had a propensity for cross dressing, but it wasn't until my early twenties that I really started to have the urge to get up in it and do the makeup and the hair and everything.
Do you have any drag icons or inspirations?
I'm of course in love with Divine. I want to be Divine when I grow up, so I need to start eating more. RuPaul is someone who I really look up to because he's very much a renaissance man. He's making music, he's done films, he's done television. And I love monster drag: I love Squeaky Blond. I love Christeene.
How about musical inspiration?
Well, I love Britney Spears, and I condider myself to be Britney Spears. I get to work a lot of times in nightclubs and large theaters, so I wanted to make music that is fun to perform in those settings. But I also wanted to contrast it with really serious, sincere ballads. Because there's nothing more off the wall than doing a really sincere ballad in a nightclub when everyone's sweaty and drunk.
You have a reputation for being nice, for not being shady to anyone. Is that something you strive for?
Well... yes! Why we gotta be shady to each other! We have enough obstacles as the human race, and I think finding the flaws and the negative within our community is a waste of time. I don't want to waste my time. I want to make the world a better place, and I think we can all work together to do that.
See the show
Much-adored RuPaul's Drag Race alum Alaska Thunderfuck 5000 makes her returns to NYC with a night of musical comedy, raunch and blasphemy. Expect to hear songs from her surprise hit, the new album, Anus.