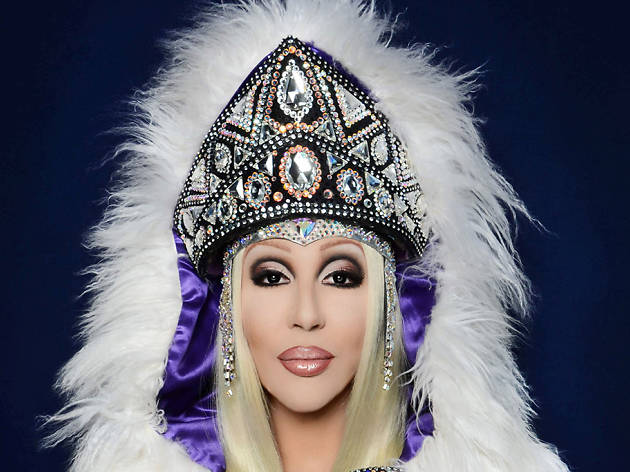 Drag Race winner Chad Michaels tells us about his holiday Cher extravaganza
One of the ultimate queens tells us what it's like to Cher 'til it hurts, and still come back for more
Drag queens love a reason to party, and the holidays are no different. Chad Michaels All Star Christmas Cher brings together many of your favorite Rupaul's Drag Race queens, including Raven, Adore Delano and Courtney Act, but Chad Michaels as Cher is the main event. Check out what Chad Michaels had to say about his lifetime as a Cher impersonator, and check out our top 10 gay Christmas shows in NYC. Christmas in New York is gay as ever!
RECOMMENDED: See the full guide to Christmas in New York
What's the hardest part of being a professional Cher impersonator?
Hard? It's not brain surgery. I focus on getting the costumes right, getting the body language. I do what I can with the makeup. My Cher is still a work in progress.
What's the worst part?
People always want you to do Cher.
Like, at Target?
Ha! No, at gigs. I don't always want to do Cher. I've been doing Cher for 25 years.
Think of what it's like for poor Cher!
I'm not shedding tears, honey. She's crying all the way to the bank.
You've met Cher a couple times. Was it, you know, weird?
No. She's not pretentious at all. I love that about her. I mean, she's this giant icon, but then she's just this little bohemian chick in Ugg boots and sweats. Sadly, Cher is only human.
Would it be inappropriate to go to Cher's funeral as Cher?
Absolutely. So inappropriate. It would be a cry for help.
What would you say if you were asked to deliver her eulogy?
Uh, like right there on the spot? How about, "Here lies Cher; she always bought good hair." Maybe that would be better on the tombstone.
Fuck, marry, kill: Cher in Moonstruck, Cher in Mask and Cher in Silkwood.
Okay, fuck Cher in Mask because she was a super hot biker mama. Marry Silkwood Cher because I loved her in that. Kill her in Moonstruck because, well, she was fuckin' annoying.
See the show
O, come all ye gypsies, tramps and queens to midtown for this blockbuster drag event. Chad Michaels leads a roster of Drag Race alums like Courtney Act, Adore Delano, Willam, Detox, Ginger Minj and many more for a show that's a half-breed of Cher worship and gay Christmas pageant.