Five reasons why Thoroughbreds is already one of the best films you'll see in 2018
This stylish and shocking indie thriller invites us into the wealthy world of two troubled Connecticut teenagers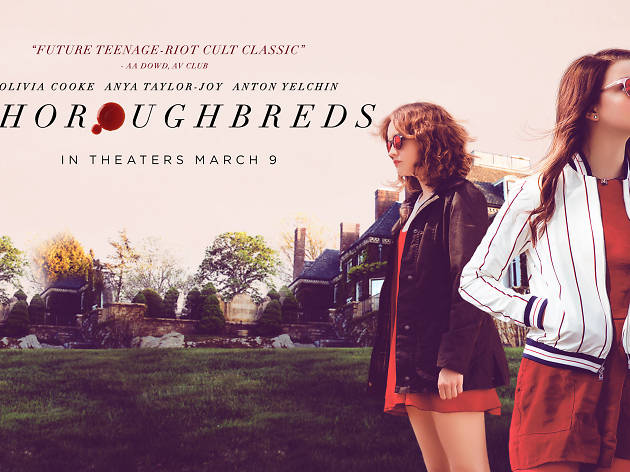 Ever wish they still made movies like Mean Girls, Heathers and Heavenly Creatures – clever, funny films about twisted female friendships? If the answer is yes, you'll be thrilled to discover the new movie Thoroughbreds, a stylish new comedy about two wealthy Connecticut teens who decide that murder is the best way to solve all their problems.
Thoroughbreds is an intense and mysterious thriller which also has a delicious sense of humor. It tells of two old school friends, Amanda (Olivia Cooke) and Lily (Anya Taylor-Joy), who reconnect when Amanda visits Lily at home, and the pair begin to hang out at the palatial house Lily shares with her mom and the stepdad she hates. Amid a suffocating atmosphere of wealth and boredom, Amanda and Lily's thoughts turn to murder, and that's where a local drug dealer, Tim (Anton Yelchin), comes into the picture…
Smart, unsettling and compelling – Thoroughbreds is one of the most fascinating debut movies to emerge in a long time. Here are five reasons why Thoroughbreds is also one of the best films you'll see this year.
'Thoroughbreds' opens on Friday March 9.
It's edgy and disturbing—but it has a wicked sense of humor too
First-time filmmaker Cory Finley gives us a convincing world of wealth and luxury—a suburban Connecticut dreamscape of big driveways, manicured lawns and stabled ponies. Finley's camera glides through scenes like a hand running luxuriously over velvet. His story is extreme: let's just say that these rich girls prefer guns and knives to ponies and pearls. But it's also a brilliantly witty film. The chat between Amanda and Lily has a killer black humor to it, and the relationship between the two young women stays powerful and intriguing right to the end.
Olivia Cooke and Anya Taylor-Joy are both a joy to watch
As the actors playing Amanda and Lily, Olivia Cooke (Me and Earl and the Dying Girl) and Anya Taylor-Joy (The Witch) give a masterclass in weird, intense friendships, nodding back to past films about tight teens in trouble like Cruel Intentions and Heavenly Creatures. Each young woman brings out the worst in the other. At first it seems like Amanda is the difficult one: she's full of attitude and notorious for killing her own horse. Lily seems more prim and proper. But once she and Lily begin to bond, it's clear they're both as bad as each other.
Equally brilliant is Anton Yelchin, in his last film role
With Lily desperate for her stepdad to disappear, and Amanda unable to feel any emotions or care for other people, the pair enter into a dangerous relationship with a local drug dealer, Tim, who's played by the late Anton Yelchin. Tim is a shaggy-haired, twitchy criminal, but Yelchin plays him as more sad than seedy. It's a great performance. We end up feeling sorry for Tim, especially when Amanda and Lily start to play with him. The scenes of the three of them together are electric, not least an unforgettable episode at Lily's house involving a classic stand-off with a gun.
The film's dialogue is a character all of its own
Writer-director Cory Finley is a genius with dialogue. The talk in Thoroughbreds is extremely careful, with as much attention paid to timing and pauses between lines as to the words themselves. It's full of quotable lines, right from when Amanda tells Lily at the start how she plans to 'Steve Jobs her way through life' rather than bothering with education. We're 'just two minors with incredibly expensive family lawyers' they later tell Tim. It helps that Cooke and Taylor-Joy are such great performers, lending these words a sense of cool detachment that gives the movie such bad-assed attitude.
It's a masterclass in carefully controlled tension
Thoroughbreds is a story that creeps up on you. First, you're loving the chat and the playful, strange relationship between Lily and Amanda—then the next minute you're watching the film through your fingers and worried if you're going to be able to deal with the next scene. It would be unfair to give away much, but let's just say that what begins as a portrait of an unusual friendship turns into something much more unpredictable and nail-biting and bloody. It's a highly original and expertly crafted film, and you'd be foolish to turn down an invitation into its world of twisted humor, privilege and power.